Astrill Setup Manual:Getting started with ASUS Merlin firmware for routers
Jump to navigation
Jump to search
Install Astrill Router Applet directly onto ASUS Merlin firmware (RMerlin/ASUSWRT-Merlin firmware) routers.
Install ASUSWRT-Merlin Firmware
First check if you have compatible router, and then install ASUS Merlin Firmware onto your router.

ASUSWRT-Merlin firmware supported routers:
GT-AC2900
RT-AX86U
RT-AX56U
RT-AX58U
RT-AX88U
RT-AX3000
RT-AC66U_B1
RT-AC86U
RT-N66U
RT-AC1900
RT-AC87U
RT-AC5300
RT-AC3200
RT-AC3100
RT-AC88U
RT-AC68U
RT-AC66U
RT-AC56U

ASUSWRT-Merlin Firmware:
---
Developer website: https://www.asuswrt-merlin.net/
Changelog: https://github.com/RMerl/asuswrt-merlin/blob/master/README-merlin.txt
Source code: https://github.com/RMerl/asuswrt-merlin
Download: https://sourceforge.net/projects/asuswrt-merlin/files/
---
Enable JFFS on ASUS Router
Enable JFFS before installing the Astrill applet. On router UI we have to enable "Format JFFS partition at next boot" and "Enable JFFS custom scripts and configs" options under Administration / System tab and reboot router.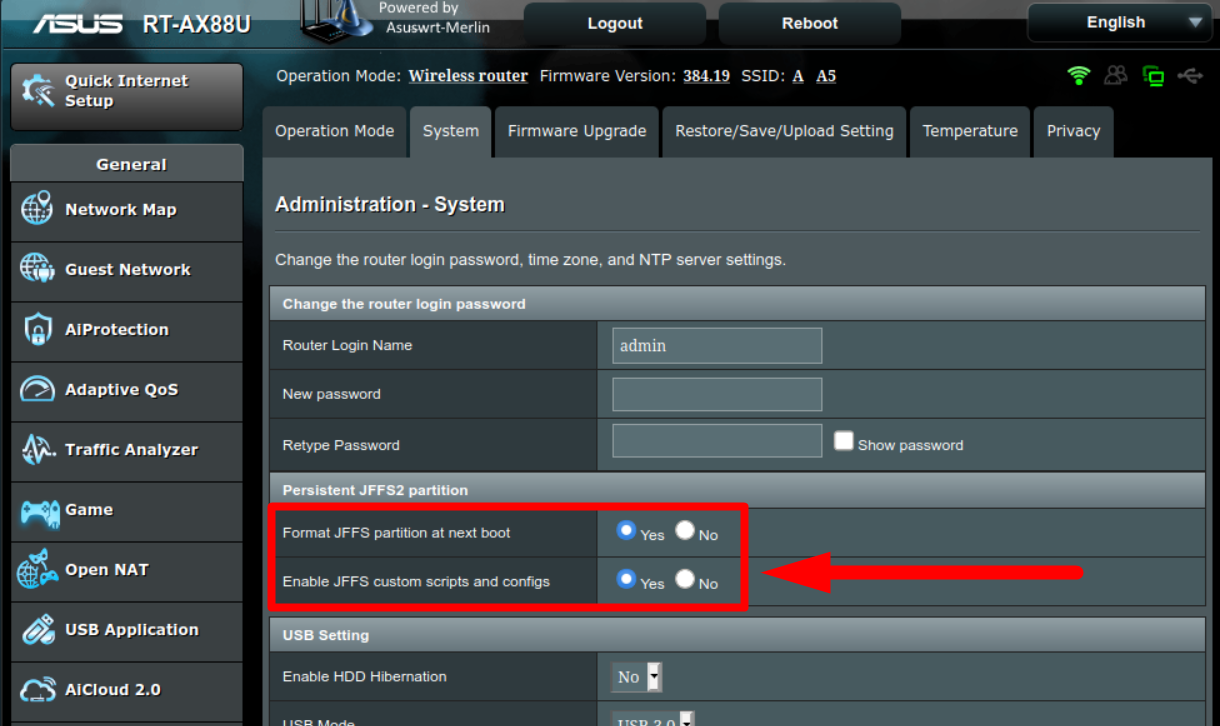 NOTE: If you don't see JFFS on settings tab, please verify if you have installed ASUSWRT-Merlin firmware. Make sure you see (Merlin build) next to firmware version.
Installation of Astrill router applet
Login into your account from Astrill website and go to VPN SERVICE > Router Set-up & copy Installation Command.
https://www.astrill.com/member-zone/tools/router-set-up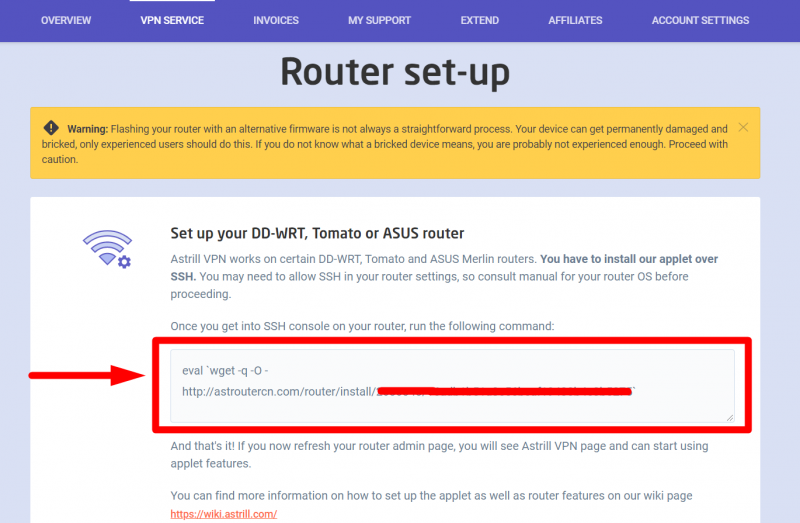 Enable SSH on your router
Once it is enabled SSH into your router using this command in any command line tool: ssh admin@192.168.1.1
Note: You need to replace admin & 192.168.1.1 with your router's username and IP address.
Execute installation command
Once you're logged-in into your router through SSH, execute AstrillVPN Applet installation command. AstrillVPN Applet will be installed with a success message like this:
Astrill router applet [version] installed successfully!
If you need assistance, contact us at: support@astrill.com