Astrill Setup Manual:Getting started with ASUS Merlin firmware for routers: Difference between revisions
Jump to navigation
Jump to search
Line 13:
Line 13:





---------------------------------------------------------------

---------------------------------------------------------------

'''Developer website:''' [http://www.lostrealm.ca/tower/]

'''Developer website:''' http://www.lostrealm.ca/tower/






'''Changelog:'''[https://github.com/RMerl/asuswrt-merlin/blob/master/README-merlin.txt]

'''Changelog:'''https://github.com/RMerl/asuswrt-merlin/blob/master/README-merlin.txt






'''Source code:''' [https://github.com/RMerl/asuswrt-merlin]

'''Source code:''' https://github.com/RMerl/asuswrt-merlin






[[File:Asuswrt-Merlin-download.png]]

[[File:Asuswrt-Merlin-download.png]]










'''Download:''' [http://www.mediafire.com/asuswrt-merlin/]

'''Download:''' http://www.mediafire.com/asuswrt-merlin/

---------------------------------------------------------------

---------------------------------------------------------------





---
Revision as of 05:08, 26 June 2013
Install Astrill Router Applet directly onto ASUS Merlin firmware (RMerlin/ASUSWRT-Merlin firmware) routers.
Install ASUSWRT-Merlin Firmware
First check if you have compatible router, and then install ASUS Merlin Firmware onto your router.

ASUSWRT-Merlin firmware supported routers: Asus RT-N16, Asus RT-N66U and Asus RT-AC66U
ASUSWRT-Merlin Firmware:
---
Developer website: http://www.lostrealm.ca/tower/
Changelog:https://github.com/RMerl/asuswrt-merlin/blob/master/README-merlin.txt
Source code: https://github.com/RMerl/asuswrt-merlin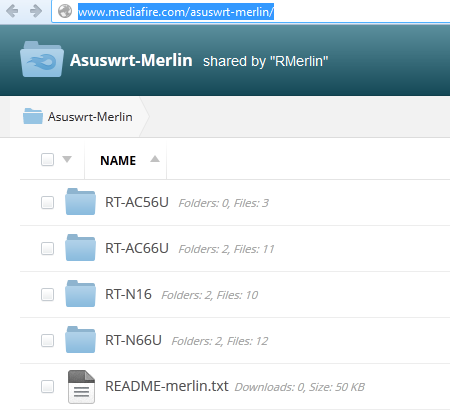 Download: http://www.mediafire.com/asuswrt-merlin/
---
Note: if you have an RT-AC66R or RT-N66R, these routers are exactly the same as the 'U' versions. The only difference is these are sold by large retailers such as Best Buy. You can freely flash Asuswrt-Merlin on these two routers as well.
Enable JFFS on ASUS Router
Enable JFFS before installing the Astrill applet. On router UI we have to enable "jffs partition" and "Format JFFS partition at next boot" under Administration / System tab and reboot router.
File:Asus-merlin-enable-jffs.png

NOTE: If you don't see JFFS on settings tab, please try other versions of ASUSWRT-Merlin firmware.
Install Astrill applet
MEMBERS > VPN Services > Router Set up
https://members.astrill.com/router-setup.php

Select AsusWRT (Merlin) for firmware, verify your router IP address and then click on Install button.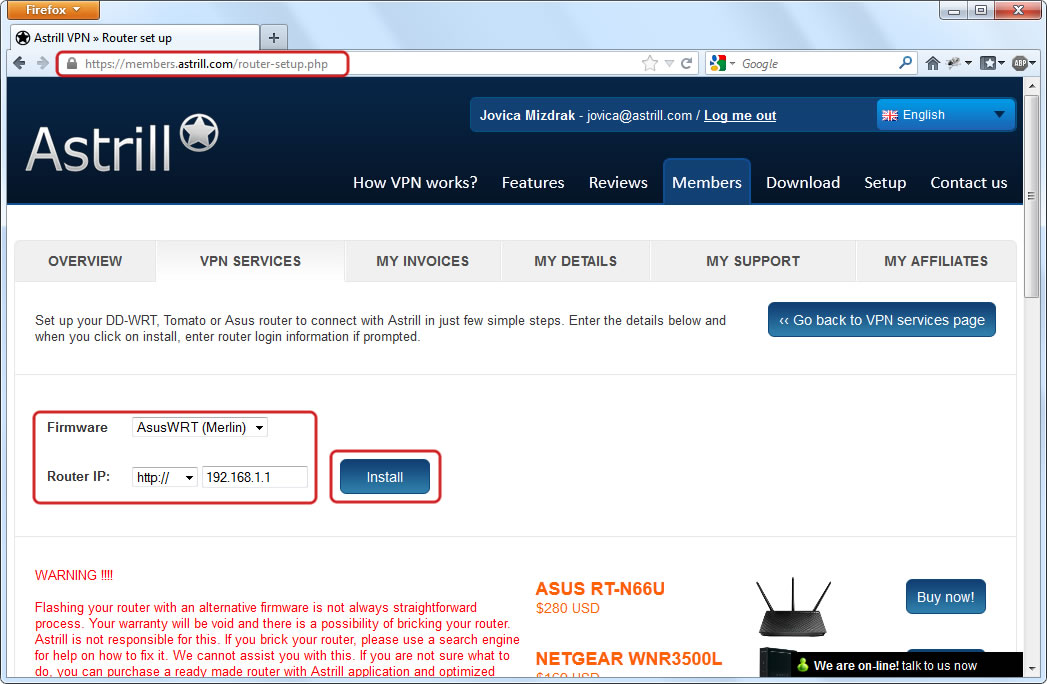 Done !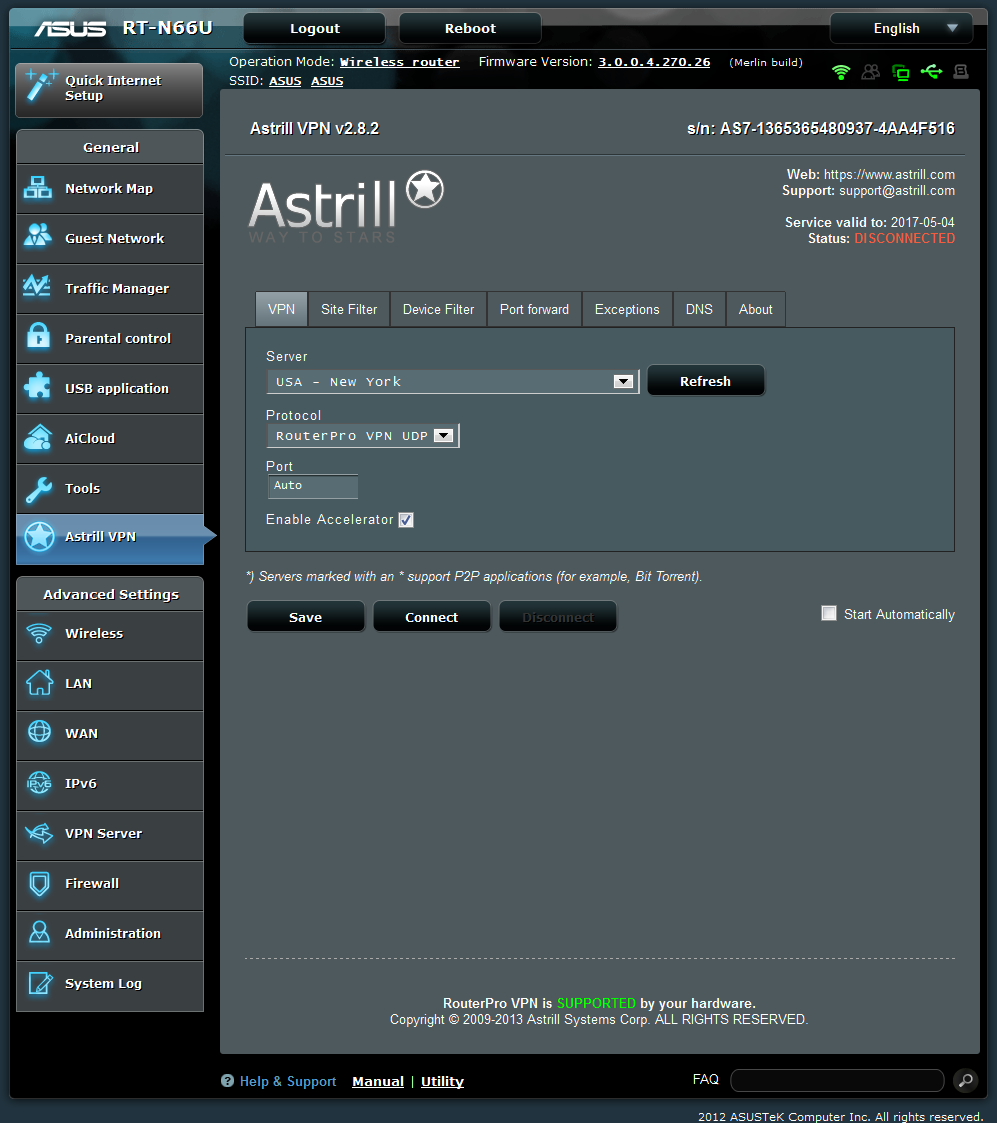 Read more on our blog: http://blog.astrill.com/index.php/2013/05/02/astrill-router-applet-v-2-8-2-released/