What Is The US Restrict Act 2023?
Updated on July 25, 2023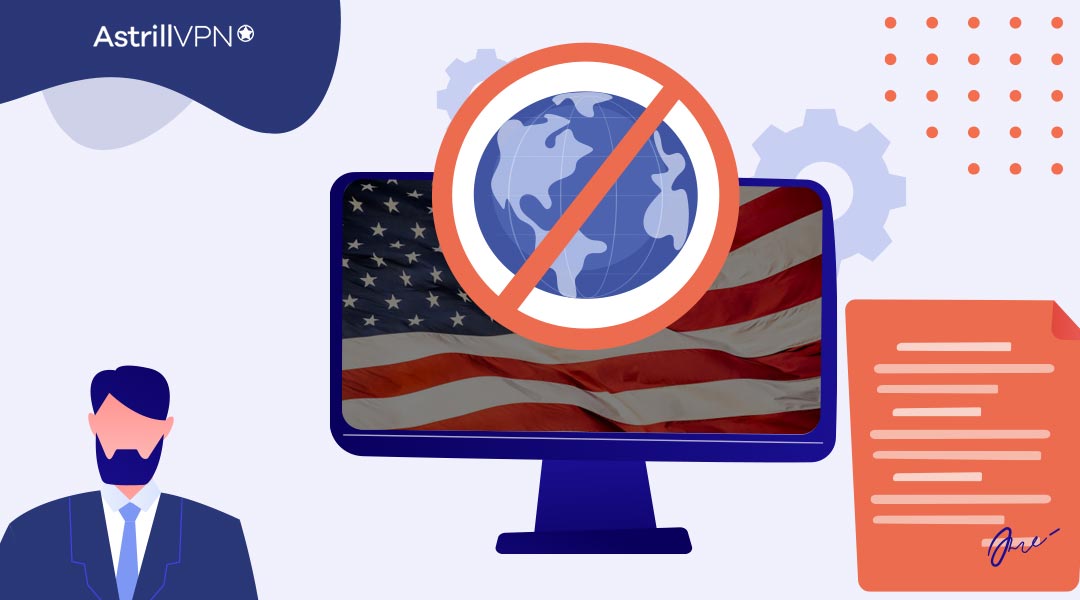 The Restrict Act (S.686) is a proposed bill introduced in the United States Senate on March 7th, 2023. Introduced by Senator Mark Warner, the Act proposes that the Secretary of Commerce be given the authority to review business transactions by foreign entities offering Information & Communications Technologies (ICTS) Products & Services, especially when these are foreign adversaries of the United States.
The primary purpose of this Act is to allow the Secretary of Commerce, after consultation with the relevant executive department and agency heads, to identify, deter, prohibit, investigate, or mitigate any transactions that pose an undue or unacceptable risk to the national security of the United States or the safety of United States persons.
Information or communication technology products and services with more than 1 million users in the United States would be subject to this Act. It includes any technologies or apps that pose an undue or unacceptable risk to the U.S.
Which Countries Would Be Affected By The US Restrict Act?
The Bill mentions technologies associated with the foreign adversaries of the United States. These countries include China, Hong Kong, Macau, Cuba, Iran, North Korea, Russia, and Venezuela.
What Technologies Is The Bill Referring To?
The Bill would enable the Secretary of Commerce to ban technologies linked to foreign adversaries. The kind of technology mentioned in the Bill includes:
The technology includes software, hardware, or any other product or service important for telecommunications, such as mobile networks, satellite payloads, wireless local area networks, wireline access points, and edge computer platforms.
Technologies, Products, and services essential to data hosting or computing service that uses, process, or retains sensitive personal data concerning more than 1 million people in the United States. It includes internet hosting services, cloud-based or distributed computing, data storage, predictive analytics, and data science products and services.
Network-enabled sensors, webcams, monitoring devices, and home networking devices if greater than 1 million units have been sold to persons in the United States.
Information and communications technology products and services that are essential for A.I., machine learning, biotechnology, advanced robotics, quantum computing, etc.
How Is TikTok Relevant To The Restrict Act?
Although TikTok wasn't explicitly mentioned, it has become clear that the Restrict Act will play a significant role in ultimately banning TikTok from the United States. TikTok has gained scrutiny ever since its conception as the country fears that the Chinese government has access to users' data based in the United States.
TikTok also raises national security concerns as the U.S. government alleges that the Chinese government can use the app to influence American users by using TikTok's content algorithm. They can control the recommendation algorithm to promote propaganda or, even worse: control the data collection of millions of users. TikTok continues to raise concerns when it comes to the protection of users' data and their privacy.
Senator Warner, the person behind the Act, said in a statement:
"Today, the threat that everyone is talking about is TikTok and how it could enable surveillance by the Chinese Communist Party, or facilitate the spread of malign influence campaigns in the U.S. Before TikTok, however, it was Huawei and ZTE, which threatened our nation's telecommunications networks. And before that, it was Russia's Kaspersky Lab, which threatened the security of government and corporate devices," said Warner.
"We need a comprehensive, risk-based approach that proactively tackles sources of potentially dangerous technology before they gain a foothold in America, so we aren't playing Whac-A-Mole and scrambling to catch up once they're already ubiquitous."
Senator Fischer, in support of this Bill, stated:
"There are a host of dangerous technology platforms – including TikTok – that can be manipulated by China and other foreign adversaries to threaten U.S. national security and abuse Americans' personal data. I'm proud to join Senator Warner in introducing bipartisan legislation that would put an end to disjointed interagency responses and strengthen the federal government's ability to counter these digital threats."
It is unlawful for a person to violate any order or mitigation measure under the Restrict Act. Any person found to violate the Act can face civil penalties of up to $250,000 and criminal penalties of up to $1 million, including 20 years of imprisonment.
Are People Ready To Accept The Restrict Act?
Although proponents of the Bill see it as a step forward toward protecting the United States against digital threats and surveillance from foreign entities, many are also against the Bill:
The American Civil Liberties Union (ACLU) has shown opposition, stating that blocking entire services violates citizens' First Amendment rights.
Senator JD Vance of Ohio, who supports the TikTok ban, said that implementing The Restrict Act does not offer a solution but would have negative implications.
Others argue that the language used in the Bill is broad and vague (for example, making services like VPNs illegal.) It's because The Act states that "No person may cause or aid, abet, counsel, command, induce, procure, permit, or approve the doing of any act prohibited by, or the omission of any act required by any regulation, order, direction, mitigation measure, prohibition, or other authorization or directive issued under this Act."
Is The Restrict Act The End Of VPNs?
Nothing is set in stone since the Bill is yet to pass. The Bill uses broad language and isn't specific on what will be banned or whether VPNs are a part of the equation. That remains to be seen as we await new information and updates regarding the Restrict Act.
Investing in a VPN is an excellent place to start if you're looking to take your privacy and security to the next level so that no third party can trace your online activities or gather sensitive information about you.
""
Author: Urfa Sarmad