Astrill Setup Manual:How to configure OpenVPN on DD-WRT firmware flashed Routers
Jump to navigation
Jump to search
Step 1
Login to Members area, then go to > TOOLS > OpenVPN certificates (https://members.astrill.com/tools/openvpn-certificates).
1 ) Click on "Create New Certificate".
2 ) Enter DDWRT for certificate description, Select "Standard" under type and click on "Create certificate".
3 ) Click on Download button to download a zip file with all OVPN certificate files.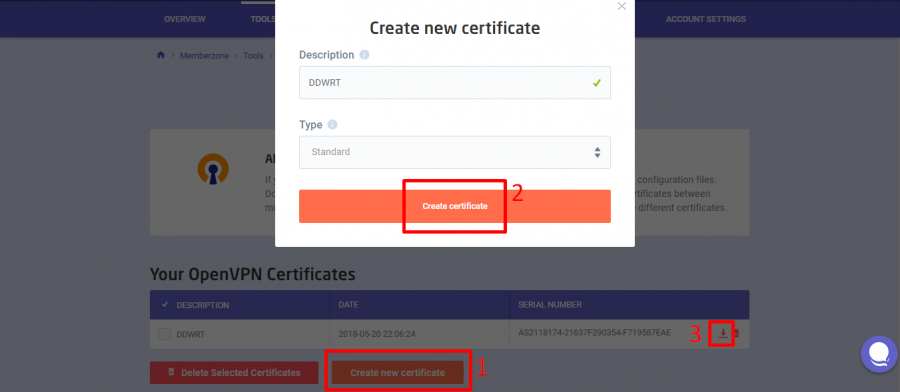 Step 2
Extract the certificate zip file you just downloaded, it should look like in below screen. Select a server you want to connect to, and open with any text editor.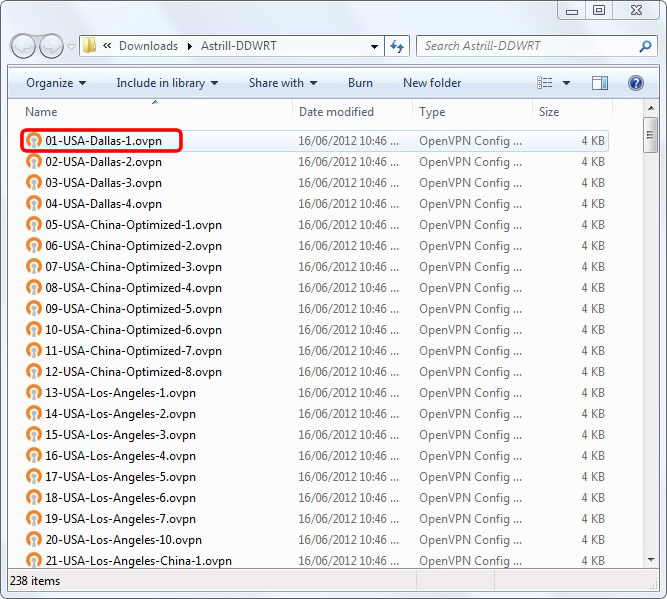 Step 3
In your text editor you should see content like in below screen. This is OVPN file structure, all files are almost identical except VPN server IP address.
Highlighted are important information require in STEP 4:
A ) Server IP/Name
B ) Port
C ) CA Cert
D ) Public Client Cert
E ) Private Client Key
F ) TLS Auth Key

Step 4

Open DDWRT admin page, then navigate to Services > VPN (http://192.168.1.1/PPTP.asp). Under OpenVPN Client, select Enable option, and then set all options marked in red correctly like in screen below. When you are done, click on Save button to save configuration. To start OpenVPN connection on DDWRT, click on Apply Settings button. You can check status on DDWRT on Status > OpenVPN page (http://192.168.1.1/Status_OpenVPN.asp). You can check your IP address on this page (https://www.astrill.com/what-is-my-ip).

NOTE: If you have build 19XXX read this article (http://svn.dd-wrt.com/ticket/2536). You should downgrade your DDWRT firmware to build 18XXX (ftp://dd-wrt.com/others/eko/BrainSlayer-V24-preSP2/2012/).

If you run into any problems, please try the following:
1) Reload router defaults settings
2) Connect ADSL modem to WAN port to router
3) Re-Install Astrill on your router.