GDPR Tools by Astrill: How You Can use Them
Updated on May 31, 2022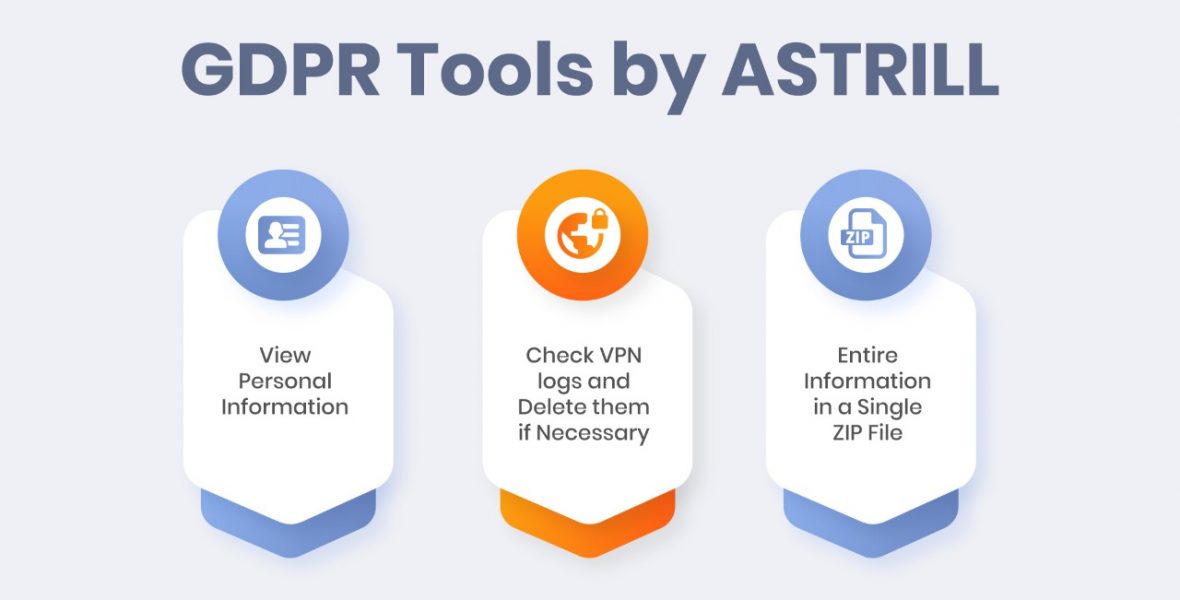 The General Data Protection Regulation (GDPR) is a regulation of the European Union (EU), providing EU residents control of their data. In other words, GDPR exists as a regulatory feature for citizens of all European Union members and safeguards their data handled by third-party websites and organizations.
GDPR applies to all companies, whether they have an office in Europe or if they are an off-shore company conducting business with EU residents. The primary motive of this regulation is to uphold consumer rights and should be given priority over everything else.
While organizations worldwide are still studying the regulation framework, we at Astrill thought we would take this opportunity to simplify things for our users.
Let us present you our GDPR tools, which have been developed to help you be on top of the data that you are sharing with us as part of our privacy policy.
GDPR Tools by Astrill
View Personal Information
All registered Astrill users can visit the tools page here: https://members.astrill.com/tools/gdpr
It provides a brief overview of our stand on GDPR and how we look at it as a privacy-focused company. Our philosophy aligns with the belief that the less we know about you, the less we can reveal, even under pressure.
The phone number and physical address exist only as part of the billing procedure.
Check VPN logs and Delete them if Necessary
We record user connection logs, but we only keep the last 20 logins containing data such as connection date and time, device type, and the number of bytes. The free GDPR tools by Astrill provide the power to users that they can permanently delete this information without any restrictions or questions asked.
Entire Information in a Single ZIP File
If you are skeptical about the type of information that Astrill collects, you can also download a ZIP file of your data. This is a complete representation of everything we have of you on our servers in the form of readable HTML. We believe such transparency is unprecedented, where you can view all the information you are sharing with us and opt to delete them.
If you are not getting the answers to your questions about GDPR, you can reach out to us at support@astrill.com. Our support personnel will guide you and provide you with the best possible solution.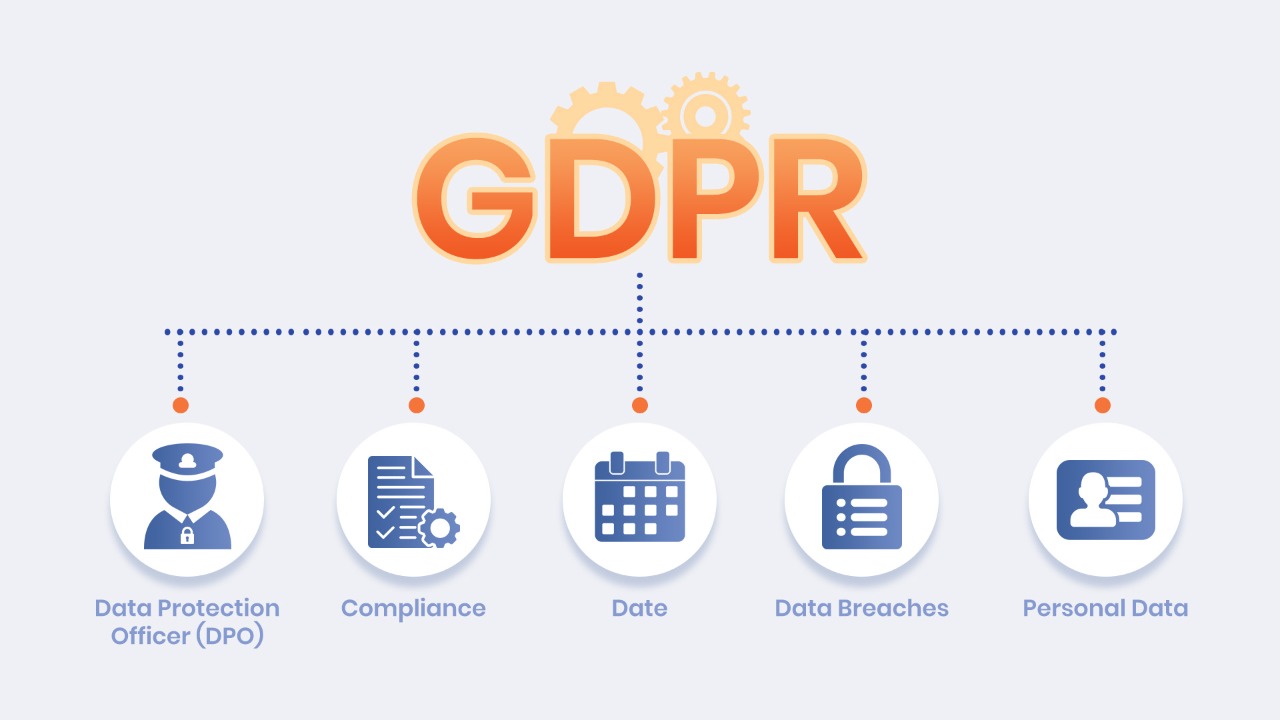 How can a business become GDPR compliant
It is not easy for any business to become GDPR compliant, because of its complex framework. This is why, many companies have established GPPR compliance department to handle this regulation.
For any business to become GDPR compliant, there are 7 things that have to be ensured:
1. User consent
When you are collecting user information like email address, phone number, home address, office address, or debit/ credit card number, it should be with clear user content.. It is imperative that the users should be notified that their data collected will be stored and they should be made aware of their rights over it..
In addition, users should have the authority and access to withdraw their consent of data collection at any point in time.
2. Notification of data breaches
With every passing day, Cyber-threats are growing and no one is safe nowadays. Therefore, GDPR has taken effective steps to make sure that the EU residents are informed about the data breaches if it can impact their personal information.
Companies that are handling/ processing EU residents' data are liable to inform the residents of any cyberattacks within 3 days (72 hours) at maximum. However, there is no specific guideline about how the notification should be issued but a general understanding is that an email in this regard or an official mail to the resident would be enough.
If the companies fail to do so, then they can face strict action from the governing body.
3. Right to view personal data
The GDPR has given the authority to the users to ask for the data collected by companies whenever they want to view it. Companies are bound to provide a free electronic copy of all the data of the individual they have in possession when they receive any such request.
Also, the companies should also provide clarification about how they have used their personal information e.g. for advertisement or data mining.
4. Right to be forgotten
Consumers can request organizations to completely wipe their data from their systems any time they want. When an organization receives any such request, it should immediately remove data (permanently) and make sure that it is removed, not moved to any other system.
5. Data protection officer
All companies that meet GDPR criteria and align with GDPR compliance should hire a data protection officer. The officer must have expert knowledge of GDPR law and practices. However, there are some exemptions to this requirement.
6. Data integrity and security implementation
Even though GDPR has made companies responsible for informing residents of data breaches, it also emphasizes that a data breach should not happen in the first place.
The GDPR framework has stressed that companies adopt "appropriate technical and organizational measures" to safeguard data, including deploying end-to-end encryption and forcing employees to use two-factor authentication when dealing with sensitive accounts and servers.
Extensive staff training related to cybersecurity best practices is also encouraged by GDPR.
7. Establish privacy by design and default
The EU has directed the organizations to take cybersecurity seriously and has stressed ensuring data privacy in the newly developed products and services.
The upcoming apps and services will collect the least amount of data needed to run the product efficiently. If particulars like telephone number and user's name are enough to use the app, then there is no need to ask for any other data from the user.
Conclusion
Privacy is a growing concern, and privacy laws are much needed. The GDPR framework has made organizations responsible for ensuring that users' data is not misused, and the residents themselves should have control over their information.
Astrill VPN allows users to check on their data collection and even remove it whenever they want to, without any questions asked.
In the rare case that you are not getting the answers to your questions about GDPR, you can reach out to us at support@astrill.com. Our support personnel will guide you and provide you with the best possible solution.
""
Author: Arsalan Rathore
Arsalan Rathore is a tech geek who loves to pen down his thoughts and views on cybersecurity, technology innovation, entertainment, and social issues. He likes sharing his thoughts about the emerging tech trends in the market and also loves discussing online privacy issues.