How to Fix Apex Legends Lag Issues to Enjoy Seamless Gaming
Updated on January 26, 2023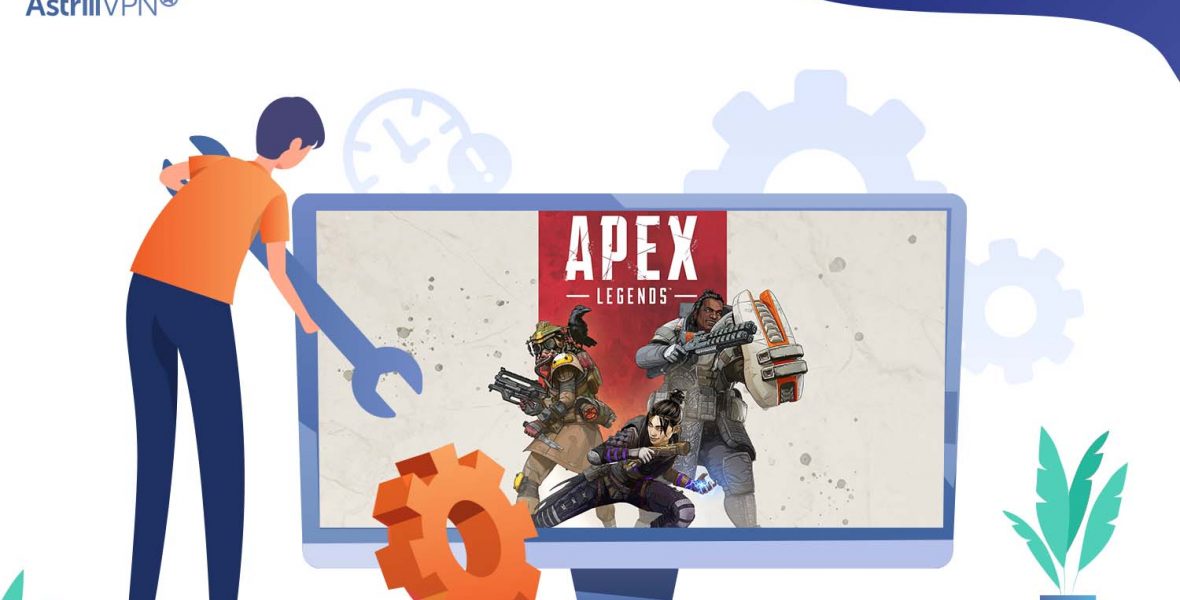 For online gamers, nothing is more annoying than a slow connection. It's no wonder that Apex Legends' servers might get bogged down due to their popularity and the fact that they're free to use.
It's also possible that your internet service provider (ISP) is intentionally slowing your connection, exacerbating whatever latency you already experience. By using a trusted VPN like Astrill, you may avoid these problems and enjoy consistent download rates while playing Apex Legends.
In this article, you'll learn how to fix Apex Legends Lag and what are the causes behind it. So go through the article thoroughly!
What is Apex so Laggy?
As a popular battle royale title, Apex Legends is a household name. Despite the servers' improved performance since launch, players still may need help maintaining a stable connection. Slowdowns, jerkiness, and rubber banding are typical while playing or respawning.
When your PC hardware, especially your graphics card, RAM, and CPU, falls below the minimum requirements, you may experience stuttering in your games. If your PC isn't up to the task of running Apex Legends at its highest settings, or if your game's settings are too demanding for your PC, you'll experience lag.
How to fix Apex Legends lag using a VPN
Follow these 5 simple steps to fix Apex Legends issues by using a VPN:
Subscribe to AstrillVPN.
Download and Install its app for your device.
Open the app and Sign in using your credentials.
Connect to a server from the Servers list closest to the in-game server you have chosen.
Now, start playing Apex Legends without facing any lags.
Why a VPN is Necessary to fix Apex Legends lag
Unsurprisingly, a game with over 100 million players would have tens of thousands of players logged into its servers at any given time. This implies that while there will be no shortage of players to face, the game may have lagged due to the high volume of concurrent users.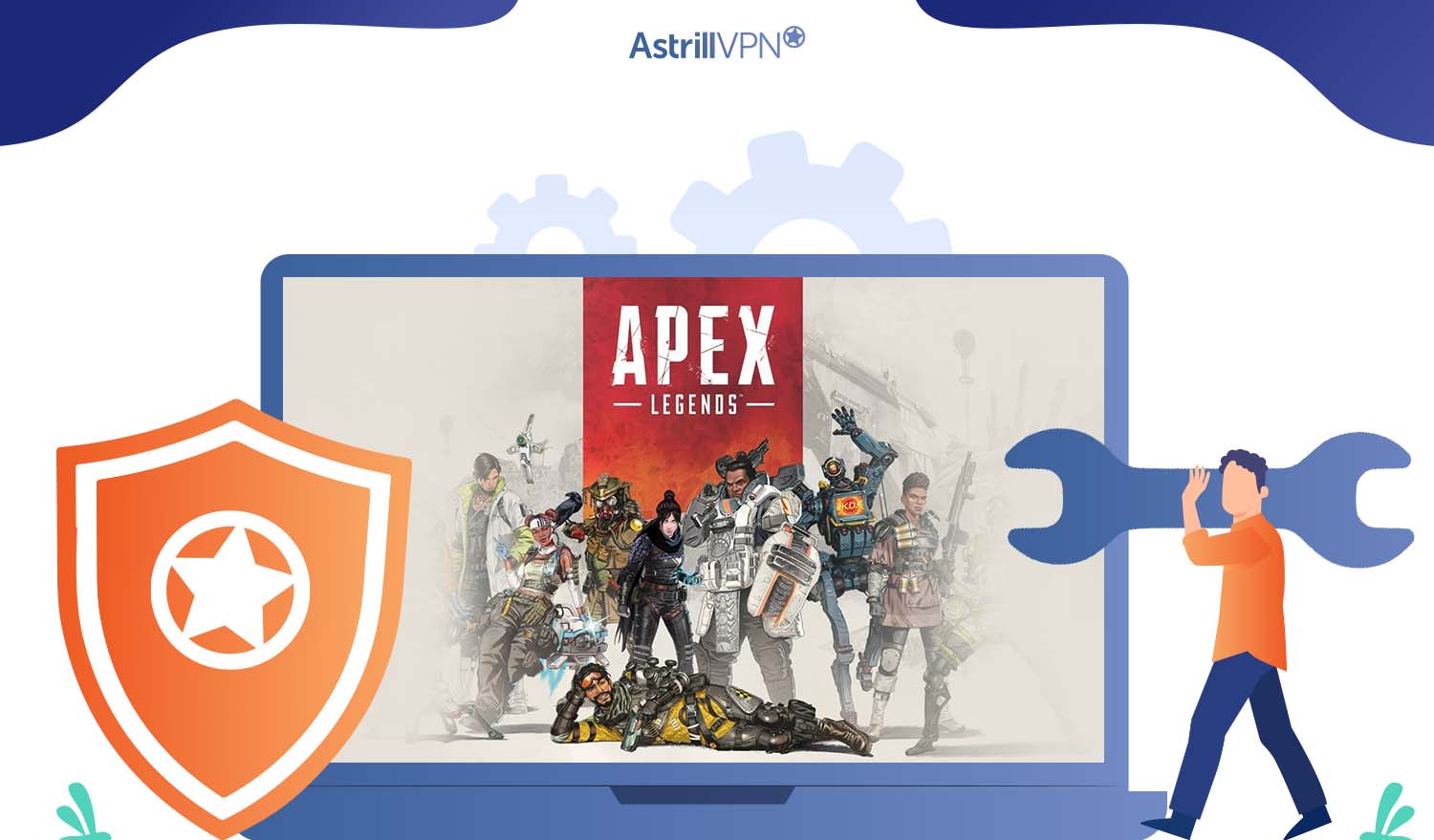 It's also possible that the issue results from your ISP throttling. This occurs when your internet service provider (ISP) consciously reduces your connection speeds to control the volume of data flowing through its network. This harms your bandwidth, and you need to get the best internet speed for gaming.
A reliable VPN like Astrill can solve these problems by providing access to numerous servers that are optimized for online games like Apex Legends, which are quick and safe. Astrill offers 300+ highly optimized servers, allowing you to switch to a less crowded, faster server to reduce your ping and play the game more smoothly.
8 Other Ways to reduce lags in Apex Legends
Other than ISP throttling and server load, around 8 common issues need to be dealt with to fix lag issues in Apex Legends game. Let's take a dive into the issues and see how they can be resolved: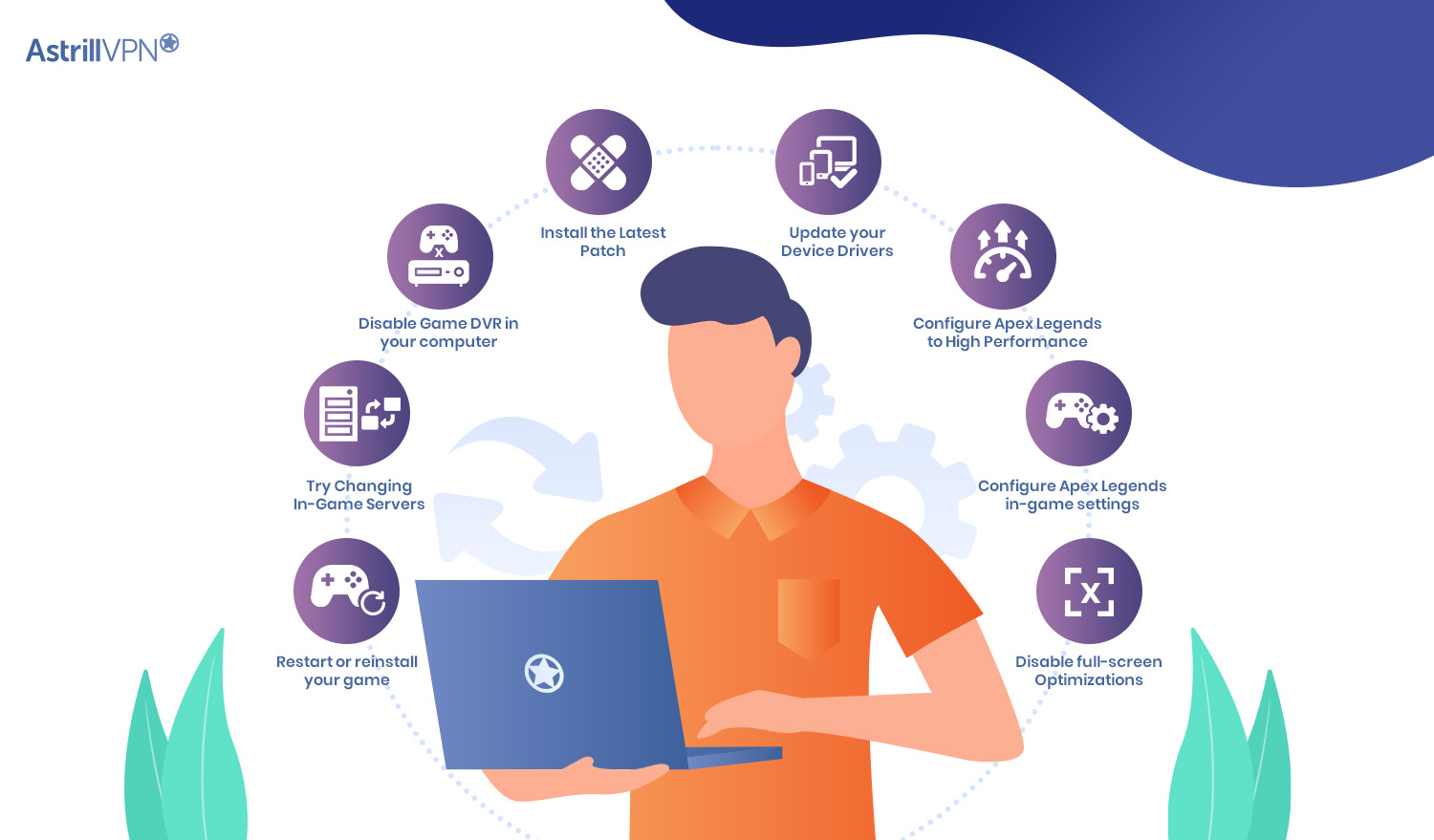 1. Update the Device to the minimum system requirements
Playing Apex Legends on a PC that doesn't fulfill the minimum requirements will result in noticeable lag. Update your device to meet the minimum system requirements of Apex Legends to stay away from lag issues.
System requirements for Apex Legends:
| | |
| --- | --- |
| | Minimum Requirement |
| RAM | 6GB |
| CPU | Intel Core i3-6300 3.8GHz / AMD FX-4350 4.2 GHz Quad-Core Processor |
| OS | 64-bit Windows 7 |
| Hard Drive | 22 GB of free space at minimum |
| GPU RAM | 1 GB |
| GPU | NVIDIA GeForce GT 640 / Radeon HD 7730 |
A smart way of playing such games is to keep your device upgraded to a level that is above the minimum requirements of the game. If you have a better GPU, RAM, and Hard Drive space, then you'll enjoy a seamless gaming experience.
2. Install the Latest Version/ Patch
You should often check for updates to your game via Steam, Origin, or the official website, as dedicated development teams frequently release patches to add new features and fix bugs. Then, make sure you're running the most recent patch. A few problems, including Apex Legends' stuttering, may be resolved in this manner.
Follow these steps to install the latest patch of the game:
Open the app of your choice, Steam, Origin or go to the official Website.
Choose Apex Legends from the games library.
If you are using Steam, then click on "Update." In case you are using Origin, hover over the game, right-click on it and click on "Check for Update."
Once the game is updated, open the game to run it through.
Setting your gaming app to update itself automatically is also an option.
3. Update your device drivers
Your computer's graphics card driver (which can cause frame rate drops) or network card driver (which can cause Internet latency) may be missing or out-of-date, causing game lag issues. Make sure all of your drivers are up to date, and if any aren't, get them fixed immediately so you can eliminate that possibility.
You can either update your drivers manually or automatically, as you wish. Using the software is a wonderful choice if you are unsure which drivers you are missing or don't have the time to check each one manually. Not only does this save time, but it also removes the possibility of making a mistake by manually reviewing each site's driver list.
Some of the finest device driver updating software you can use are
DriverFix
Driver Updater
DriverMax
Driver Genius
Driver Easy
4. Tweak Apex Legends to High Performance
To give certain programs higher priority in Windows, the operating system can increase its share of system resources. Additionally, you may see a marginal improvement in performance in Apex Legends if you do this. If your computer doesn't meet the minimum specifications, don't count on seeing much of an improvement.
Follow these steps to configure Apex Legends graphics settings:
Click on the search bar near the Start menu and type "Graphics settings".
You will see the "Graphics Settings" program in the results; click on it.
Once in the program, click "Browse."
Go to the Apex Legends file folder and select Apex Legends .exe file.
It will appear in the "Graphics settings" after you select it.
Select it and then click on "Options."
Select "High performance" and tap on "Save."
Now, you have to restart your computer. After restarting the computer, launch Apex Legends and check if the performance is optimized.
5. Configure Apex Legends in-game settings.
Apex Legends in-game options are essential if you want to improve your gameplay. That's why you need to adjust your FPS settings so that Apex Legends runs well.
Follow these steps to configure the in-game settings for optimizing speed:
Launch Origin and open "My Game Library."
Scroll down the list, right-click on Apex Legends, and select "Game Properties."
Uncheck the box next to Enable Origin In Game for Apex Legends. Then click Save.
Now, click on "Advanced Launch Options."
No, go to the Command line arguments, type this "+fps_max 60," and click Save.
Now close Origin and open it again.
This tweak should eliminate a lot of latency, as FPS adjustments are usually the best way to fix lag issues.
6. Disable full-screen optimizations.
Windows' Fullscreen Optimizations feature enhances the responsiveness of full-screen games. This feature, while intended to help, could be causing issues.
Follow the steps below to disable full-screen optimizations:
Find the directory containing the Apex Legends game files and open it.
Locate the Apex Legends .exe file, then choose Properties from the open menu.
To turn off full-screen optimizations, go to the Compatibility settings page and click the box before clicking Apply.
When you've made changes, save them before restarting your computer.
Try starting the game again to see if the lag problem has been resolved.
7. Try Changing In-Game Servers
Sometimes Apex Legends will connect you to a server in a different country, even though there is one in the country just next to yours. This will naturally increase the lag in your connection. Lucky for you, there's a secret way to switch servers right from the Apex Legends main screen.
If you are playing the game on Windows, then follow these steps to change in-game servers:
Open Apex Legends and let it load completely.
Go to Accessibility Settings
Click on Data Center
Choose any server that you want and start playing!
8. Restart or reinstall your game.
It's always a good idea to restart your computer and game since this often solves technical issues. The problem will usually be resolved at this point. Reinstalling the game is also a good option. Glitches during installation commonly cause lag, failed boots, and other issues. If the other troubleshooting procedures have failed, trying this one may fix the problem.
FAQs
How to fix Apex Legends FPS drop issue?
It is recommended to begin by updating the drivers for your graphics card and then decreasing the quality settings within the game itself. The next step is to end any running applications that aren't necessary.
Can I reduce ping in Apex Legends by using a VPN?
Yes, a VPN can help you play Apex Legends with lower ping, especially if your ISP is restricting your connection. For this purpose, we suggest using AstrillVPN's Wireguard protocol, as it will guarantee low latency in any region.
What is a good ping for gaming?
While it does vary from game to game, a latency of 20 ms or less is generally considered fantastic—no need to stress if yours is higher. Most players have a ping between 50 and 100 milliseconds when they play. Lastly, more than 150 milliseconds of ping time is considered a high ping.
""
Author: Arsalan Rathore
Arsalan Rathore is a tech geek who loves to pen down his thoughts and views on cybersecurity, technology innovation, entertainment, and social issues. He likes sharing his thoughts about the emerging tech trends in the market and also loves discussing online privacy issues.