How to Watch FIFA World Cup Qatar 2022 Live Online from Anywhere
Updated on September 16, 2022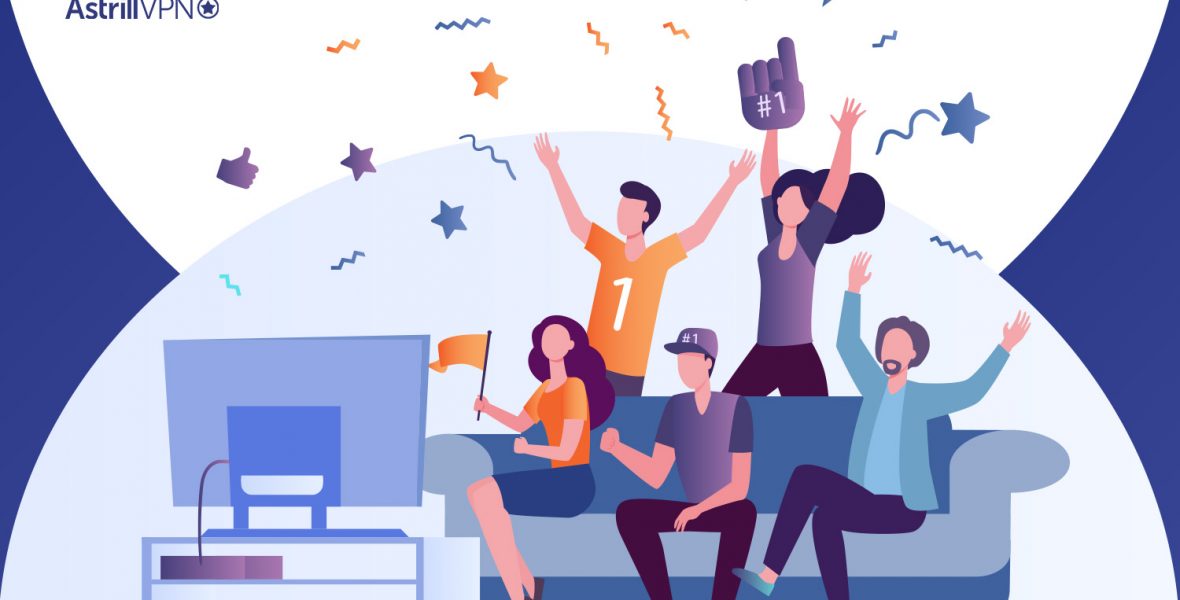 Every four years, the entire world gathers for the world's largest sporting event. Football. Or, if you're in the US, you would call it soccer. This year's 2022 World Cup is also shaping up to be one of the most unique competitions in history.
The good news is it's only a few months away. Due to Qatar's blisteringly hot weather, football's premier competition has been moved from its usual summer slot to be staged this Winter in air-conditioned venues across the Arab peninsula.
When Is the World Cup 2022?
The World Cup schedule this year will be the shortest in history. Sixty-four matches will be squeezed between regular Premier League and other European seasons. The event will kick off on 20th November, and the final will be held on 18 December. That equates to four football matches per day.
FIFA 2022 Schedule
20 November: World Cup starts
3-6 December: Round of 16
9-10 December: Quarter-finals
13-14 December: Semi-finals
18 December: World Cup final
Which Teams Have Qualified for the World Cup?
Only 32 of the 210 FIFA member nations attempted to enter Qatar successfully. There are six Asian nations (AFC), five African nations (CAF), four North and Central American nations (Concacaf), four South American nations (CONMEBOL), none from Oceania (OFC), and 13 European nations (UEFA).
These countries were then assigned to pots based on their FIFA world rankings, with hosts Qatar automatically assigned to Pot 1. Finally, on 1 April 2022, the groups for the tournament's opening matches were drawn, with one team from each pot placed in a group, resulting in some interesting matchups.
World Cup 2022 groups
Group A: Qatar, Senegal, Ecuador, Netherlands
Group B: England, USA, Iran, Wales
Group C: Argentina, Mexico, Saudi Arabia, Poland
Group D: France, Denmark, Australia, Tunisia
Group E: Spain, Germany, Costa Rica, Japan
Group F: Belgium, Morocco, Canada, Croatia
Group G: Brazil, Switzerland, Serbia, Cameroon
Group H: Portugal, Uruguay, Ghana, South Korea
World Cup 2022 fixtures
You would not want to miss a beat of play throughout the group stages, followed by increasingly important fixtures in the knockout rounds. However, seeing your national team play in person can be difficult when it is held in a distant country. The next best possibility is to watch the action unfold on T.V. in real-time. The rise of online streaming has significantly impacted the world of sports, but there may still be challenges. So, here are some ways to watch the 2022 FIFA World Cup live online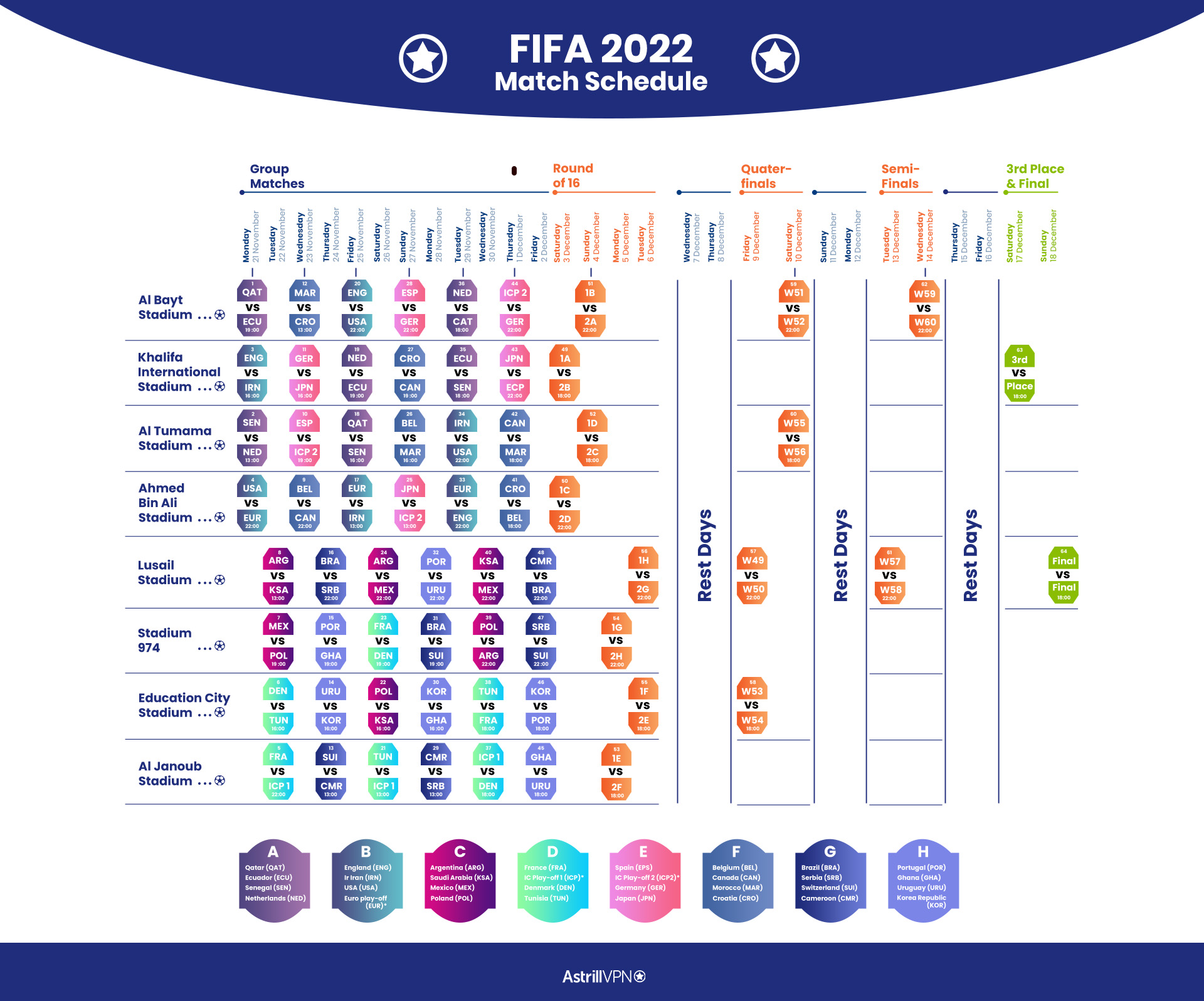 Where to Watch the World Cup Online [Channels and Streams]
Fox Sports (Fox and FS1) will broadcast the World Cup live in the United States. You can watch these matches live using YouTube T.V. or another live T.V. streaming service that has access to those channels.
Several other video-streaming services will allow subscribers to watch the games directly via the Internet's magic.
Why Astrill VPN is the Best Choice for Watching FIFA World Cup 2022
Astrill offers top of the line features and amazing quality of service, enabling you to enjoy seamless FIFA World Cup streaming. Following are the reasons why Astrill is the best choice for watching FIFA World Cup 2022 online:
Servers in 55 countries, allowing you to stream live matches from wherever you are.
Kill Switch feature, ensuring your online safety in case of disconnectivity.
5 Simultaneous connections, allowing you to share your account with friends and family.
Unlimited bandwidth and lightning-fast speed on all servers.
Apps for all major devices, enable you to stream on your favorite devices.
24/7 Support for you, in case you face any issues.
How to Stream the World Cup Overseas
As a particularly global event, most World Cup viewers will be from other countries, and those viewers also deserve convenient online streaming options.
Of course, using Astrill VPN is the best way to circumvent regional restrictions online. Not only does this keep you safe and secure online, but it also enables you to spoof your current location to a server in other countries. So, regardless of your location, a VPN may allow you to watch the World Cup. However, remember that not every video-streaming service is compatible with every VPN.
How to watch World Cup 2022 online in the U.S.
Fans in the United States can watch the World Cup 2022 online via Fox Sports App and Peacock Premium, as well as on Fox, FS1, Telemundo, and Universo.
Because the tournament is being held in the Middle East for the first time, matches will begin at 5 a.m. E.T. (2 a.m. P.T.) for most Americans during the first week of the competition.
Fortunately, all United States' group stage matches will begin at 2 p.m.
How to watch World Cup 2022 online in the UK
Every World Cup match will be available to watch on terrestrial T.V. in the U.K. as one of the sporting events protected by Ofcom (opens in new tab) regulations requiring them to be available on free-to-air television in the U.K.
The BBC and ITV share the rights to the games, and viewers can watch games online via the BBC iPlayer and ITV Hub. Details on which games will be broadcast on which channel will be announced closer to the tournament.
The kick-off times for the first eight days of the tournament should be very convenient for UK-based fans, with games at 10 a.m., 1 p.m., 4 p.m., and 7 p.m. Hopefully, your boss won't mind if you listen in on the morning Zoom call!
How to watch World Cup 2022 online in Australia
People in Australia, like those in the United Kingdom, will be able to watch the FIFA World Cup 2022 online and live via the two services:
Australians will not have to pay anything to watch the FIFA World Cup 2022 on SBS because the channel will broadcast it for free.
It will broadcast approximately 25 FIFA World Cup 2022 matches in total. Readers should also know that all Socceroos World Cup matches will be broadcasted on SBS.
Optus Sports, on the other hand, will do everything in its power to ensure that users can watch every World Cup game online without difficulty. It will broadcast coverage of all 32 competing football teams on its platform. Optus Sports provides all new users with a 14-day official and free trial.
How to watch World Cup 2022 online in Canada
You should be aware that the World Cup 2022 will be broadcast on CTV, TSN, and RDS in Canada.
Furthermore, you should be aware that these channels are subscription-only and do not work outside Canada. So, if you live in Canada, you can easily subscribe to one of these channels and relax while watching the World Cup 2022.
If you have a subscription outside of Canada, you will have to use a VPN to access them.
How to watch World Cup 2022 online in Germany
As far as Germans are concerned, it is not difficult to conclude that they adore football. That is why a total of three channels will broadcast the entire FIFA World Cup 2022:
These channels will cover the entire German territory. All three of these channels will pool their resources in order to broadcast all 64 World Cup games. Furthermore, they will do so through free-to-air channels.
ARD and ZDF will also support their free-to-air transmissions through online streaming. Sky Sports, on the other hand, was able to secure exclusive rights that will allow it to broadcast a total of 25 matches of FIFA World Cup 2022 in UHD or Ultra High Definition.
Users looking for the best way to watch the FIFA World Cup 2022 in 4K should know that Sky is their best option in Germany. However, for most services, you will need a VPN to access them.
How to Use a VPN for watching the FIFA World Cup online?
To watch the FIFA World Cup without cable, you must subscribe to a live T.V. service, which is listed further down. Geo-location blocking (or region restriction) is a common practice for live T.V. platforms when it comes to watching content online without cable. It prevents you from watching channels whether you're not at home or when you're in a different country than where the channel is offered. It's the same for all country's FIFA broadcasters.
Access to the channels with broadcasting rights for Qatar 2022 may be geo-restricted, we recommend you to subscribe to Astrill VPN service while live streaming your favorite FIFA World Cup matches. It will assist you in changing your virtual location and enjoying seamless streaming.
How to watch the World Cup for free
If you live in the US, you can watch all 64 matches on Fox or FS1. These channels are available on every major streaming service in the United States, which is great because it makes watching World Cup 2022 a breeze. And the split is fairly even, with 35 matches on Fox and 29 on FS1.
Here's how the major services are broken down. (Please remember that broadcast availability — that is, Fox proper — may vary depending on where you live.)
Hulu With Live T.V.: Fox on broadcast; FS1 as part of the sole plan.
YouTube T.V.: Fox is broadcasting; FS1 is available as part of a single plan.
Sling T.V.: Fox is on the air; FS1 is available on the Sling Blue plan.
DirecTV Stream: Fox is on the air; FS1 is available on all plans.
FuboTV: Fox is on the air; FS1 is available on both plans.
All of those streaming services offer free trials, so you can watch the World Cup for free as long as those trials are active.
Every game will also be available on the Fox Sports app. This method necessitates a subscription to another service, such as cable, satellite, or a live streaming service. (What it does not necessitate is that you actually own that subscription.)
Can I watch the FIFA World Cup abroad with a free VPN?
Many matches will be live streamed via the websites of major networks such as Fox Sports in the United States and ITV and BBC in the United Kingdom. ITV and the BBC have 'player' apps that allow you to watch the matches on any personal device for free. The only catch is that it requires a U.K. I.P. address to start the live feed on either. If you do not, you will receive an error message and have no idea how your team is performing on the field.
If you don't live in the U.K., this is obviously a significant issue, but one with a workable solution. A virtual private network (VPN) service can be used to simulate the I.P. address of another country. A VPN is frequently used to protect your information when using the Internet. Still, it can also be used to access content blocked in your country.
When used, a VPN establishes a secure 'tunnel' between your computer and a remote server, which is usually located in another country. The tunnel encrypts all your data and sends it to the VPN's remote server. The messages are decrypted, and your requests are sent to the Internet. The data is also sent to the VPN server, which is encrypted before being sent back to your computer via the secure tunnel.
Author: Arsalan Rathore
Arsalan Rathore is a tech geek who loves to pen down his thoughts and views on cybersecurity, technology innovation, entertainment, and social issues. He likes sharing his thoughts about the emerging tech trends in the market and also loves discussing online privacy issues.