How to Use Binance in the US with All Features Unlocked
Updated on December 29, 2022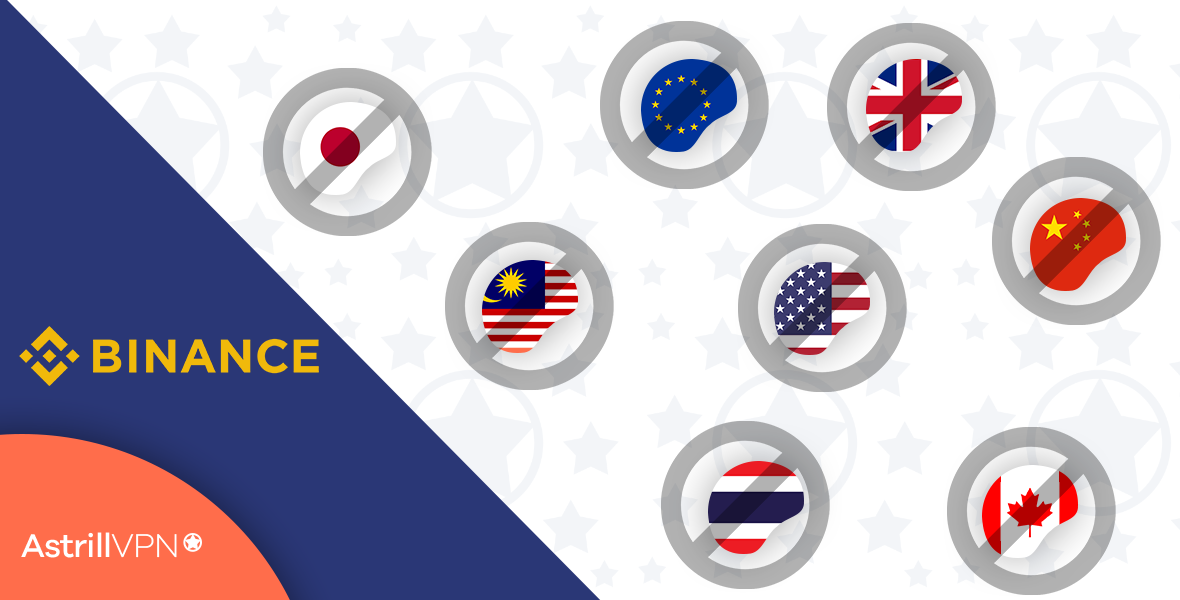 Compared to its competitors, Binance has the highest daily trade volume. Because of this, it is now the largest cryptocurrency trading platform. Unfortunately, in 2019 it was banned in the United States due to some issues with regulations.
In light of this restriction, Binance launched a new exchange that follows US regulations. Yet it provides fewer options and fewer currencies. While outside the United States, you will require a VPN to use Binance. Follow this guide thoroughly to learn how to access Binance from the US.
Why You Need a VPN to Use Binance in the US
Binance is inaccessible in the United States due to governmental regulations. A simple "Binance is unable to provide services to US users" message will appear if you try to access the site from within the US.
Binance has a US version but is a separate entity and regulated by strict laws. Different from the main version, which offers over 600 different cryptocurrency options, this one only supports a fraction of those and is only available in some states in the United States. Being far smaller and less appealing to traders, especially given that its trading costs are sometimes higher than those on Binance.com, the exchange could be a better alternative to the original Binance platform.
You can hide your location behind a false IP with the help of a virtual private network. As a result, you can simply access Binance and other similar sites regardless of your location. In addition, a VPN offers robust protection, shielding you and your cryptocurrency wallet from online threats like hacking and snooping. Also, you will stay anonymous online as the VPN will mask your IP address and DNS. 
How to Use Binance in the US with a VPN
Follow these simple steps to access and use Binance in the US with the help of Astrill VPN:
Subscribe to AstrillVPN.
Before you try accessing Binance.com, you should subscribe to a VPN provider that provides a good variety of servers, security features and has the capability to unblock the service without being detected.
AstrillVPN has highly optimized servers in more than 50 countries. Also, it provides some amazing security features and top-notch security protocols like Wireguard, OpenVPN, StealthVPN and Openweb.
Download the AstrillVPN app for your device.
AstrillVPN has app for almost all the major OS and devices. Download the right app fo ryour device from Astrill's official website.
Install the App and log in to the app using your credentials.
Once you have downloaded the app, Install it on your device and log-in to the app using your credentials. The credentials will be the same with which you have created an account on Astrill.
Now connect to a server outside the US
Select a server outside the US that is closest to your location because that's how you'll get better speed without any lags. Since the Frendh servers are closest to the US region, I'd advise you to opt for them.
Create Your Binance Account and Start Using it.
Now that you're connected to a VPN server, your IP and DNS will be masked and the host server at Binance.com will not be able to detect your actual location and you will be able to access it.
Now just create your account on Binance.com by entering your email address and the VPN server's location as your country of residence. In case you have a foriegn ID, then you can complete the KYC process for unlocking Binance features, but if you do not have any other ID to submit and complete the KYC process, then you will get limited features from Binance.
Also, Binance asks for identity verification for depositing and withdrawing funds. Since you have a US citizen's ID, this can be a problem for you. Nevertheless, there's a workaround that can still get you past this.
As a US citizen, you can not use your debit card, because it'll be detected that you're a US citizen and your access will be blocked. The simplest way to get it done is by creating an account on another crypto exchange or wallet and then depositing or withdrawing funds through them to your Binance account.
Binance Restricted Countries
Traders from the following countries are prohibited from using Binance:
United States
Malaysia
Canada
China
Europe (for derivatives trading)
Japan
UK
Thailand
How to Create a Binance Account From Anywhere
Once you have accessed Binance in the US through a VPN, your next worry will be logging in to Binance from the US or creating an account.
Follow these steps to create a Binance account in the US or from wherever you are:
Subscribe and Download AstrillVPN.
Connect to a Server. [Select a country where Binance is available]
Go to Binance.com and create your account.
Only enter a few details for two-factor authentication.
Is using a VPN to access Binance from the United States legal?
Binance does not prohibit the use of VPNs in its terms of service, but it does suggest that users avoid VPNs and other applications that could disrupt the site's normal functioning. Your account could be terminated if such software is discovered. However, using AstrillVPN will allow you to continue trading on Binance even if you are in the United States. It will also make your cryptocurrency wallet much safer.
However, Binance's terms of service state that US residents cannot sign up for an account. However, while AstrillVPN can hide your IP address and spoof your location, you should still take precautions.
So now if a question like "can I use Binance in New York" pops up in front of you, be sure to tell them that you can do that with a VPN as it is totally legal.
Can I Use Binance Without Verification?
To put it bluntly, you can't. If you want to trade on Binance and use its features, you'll need to pass the first verification level.
Binance offers three tiers of verification: Verified, Verified Plus, and Enterprise Verification. The maximum deposits and withdrawals allowed at each tier change from country to country. If you have a government-issued ID from a non-US country where Binance is authorized and a VPN connection to that nation, you can get the first level in a hurry.
For the second tier, you'll need to verify your address by presenting a recent utility bill or bank statement. With this additional layer of authentication, you'll be able to deposit and withdraw more fiat currency.
Why is Binance different in the US?
The answer to the question, "why can't I use binance in the us?" is "Due to US laws." Binance.com no longer accepts customers from the US as of the year 2019 because it deals in securities that aren't registered with the Commodity Futures Trading Commission, Binance is inaccessible mainly within the United States.
A localized version of the site is available in the United States, but it is operated by a separate company and offers a significantly smaller selection of cryptocurrencies. Using AstrillVPN, US users of Binance.com can access the entire cryptocurrency options available.
Why using a free VPN for Binance can be dangerous?
I advise against using a free VPN when accessing Binance. Free VPNs are often detected; thus, using one will likely prevent you from accessing the cryptocurrency exchange. And even if you do manage to create an account and engage in cryptocurrency trading, using them will eventually lead to your discovery. Once Binance staff members link your account to a VPN, your account will be terminated, and any cryptocurrency earnings will be lost.
Leaving that aside, the experience of using a free VPN is terrible due to its low speeds and restricted bandwidth. They also need to be more privacy-friendly due to their lack of security and intrusive logging, which is another reason to avoid them.
FAQs
What can I use instead of Binance in the USA?
If you are not interested in using Binance with a VPN and want something else to try in the USA, then you can opt for the following alternatives:
Coinbase Exchange
UPHOLD
Poloniex
LocalBitcoins
Can I open a Binance account outside the US?
Yes, if Binance doesn't restrict the country you are residing in, then you can easily open a Binance account from anywhere outside the US.
Should I use Binance US or Coinbase?
Binance US has a minimal number of currency options, which is why it is not popular. Coinbase, on the other hand, is a way better option than Binance US because it has more currency trading options.
""
Author: Arsalan Rathore
Arsalan Rathore is a tech geek who loves to pen down his thoughts and views on cybersecurity, technology innovation, entertainment, and social issues. He likes sharing his thoughts about the emerging tech trends in the market and also loves discussing online privacy issues.