How to Bypass Mega Download Limit
Updated on August 30, 2023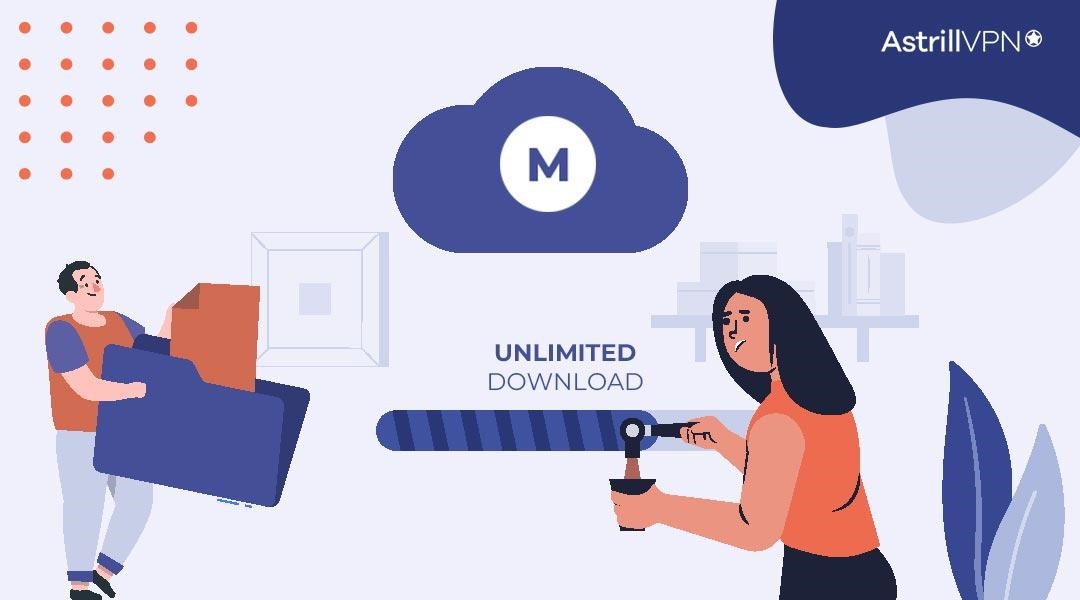 Mega cloud storage limits users from downloading or transferring 5GB of data daily. If you need more than that, you have to wait 24 hours for the limit to be reset. To get around this, Mega offers subscription plans at different prices, letting you transfer more data daily. Additionally, there are tricks available to bypass Mega's download limit.
This guide explains how to bypass the Mega transfer quota easily. So, without further ado, let's dive right into it!
What is the max MEGA download limit?
The maximum download limit for free users on MEGA is approximately 5 GB daily. This means that you can download up to 5 GB of data within 24 hours. If you need to exceed this limit, consider upgrading to one of MEGA's premium subscription plans, which offer higher data transfer limits and other benefits.
Can I bypass the Mega download limit?
Mega's download limit of 5GB per day can sometimes be a hindrance, especially when quickly transferring larger or multiple files. However, there are several methods (explained later in this guide) that you can explore to bypass this restriction and make the most of your Mega cloud storage experience.
Things to Consider Before Bypassing the Mega Download Limit
Before you bypass the Mega app download limit, you must understand the implications of your actions thoroughly. Consider these factors to ensure responsible and informed decision-making:
1. Importance of Legal and Ethical Usage: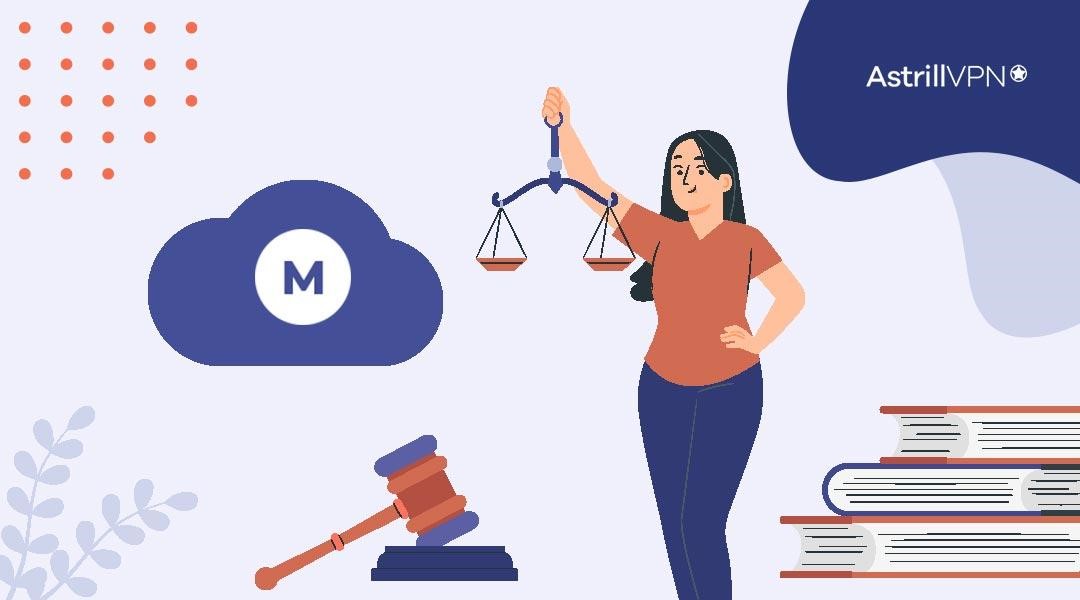 When it comes to bypassing download limits, legality, and ethics should be at the forefront of your considerations:
Legal Compliance: Engaging in activities that violate copyright laws, terms of service, or any relevant regulations could lead to legal consequences. Always ensure that your actions are compliant with applicable laws.
Ethical Responsibility: Responsible and ethical usage involves respecting intellectual property rights, not infringing on others' content, and avoiding actions that could negatively impact the service provider or other users.
2. Potential Consequences of Violating Terms of Service: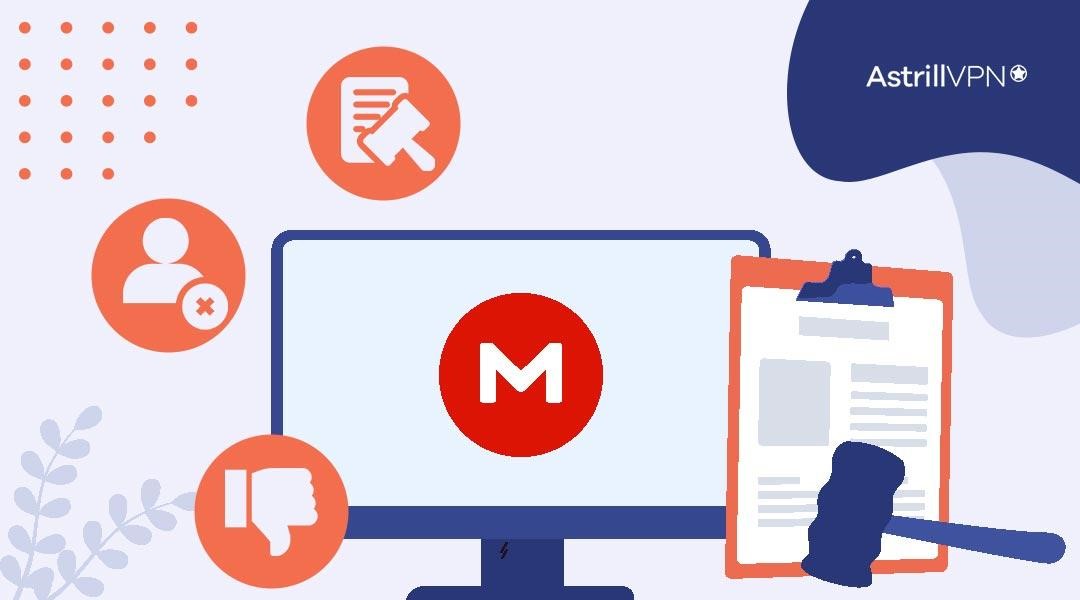 Every service provider, including Mega, has terms of service that users are expected to follow. Disregarding these terms can result in several adverse outcomes:
Account Suspension or Termination: Violating terms of service may lead to temporary or permanent suspension of your Mega account. This could result in loss of access to your stored files and data.
Loss of Trust: Engaging in unethical or non-compliant behavior can damage your reputation within the online community and undermine trust between you and the service provider.
Legal Action: Severe violations could lead to legal action taken by the service provider or copyright holders whose content you might have infringed upon.
3. Risks Associated with Using Third-Party Tools: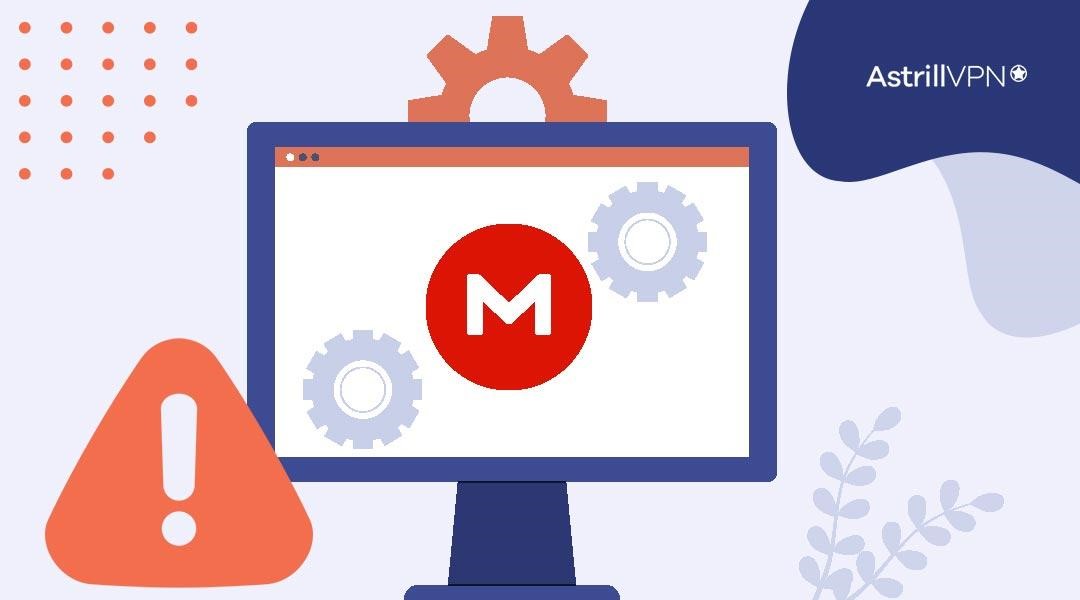 While third-party tools might promise to help you bypass download limits, they also come with inherent risks that must be considered:
Security Concerns: Using unverified or unreliable third-party tools might expose your device to malware, viruses, or other security threats. Always ensure that the tools you use are from reputable sources.
Privacy Issues: Some third-party tools might require you to share personal or sensitive information, which could be misused or put your privacy at risk. Be cautious when sharing information.
Unpredictable Results: Third-party tools might not always deliver the expected results. They could be ineffective, unreliable, or prone to technical glitches that could lead to frustration.
Ways To Bypass Mega Download Limit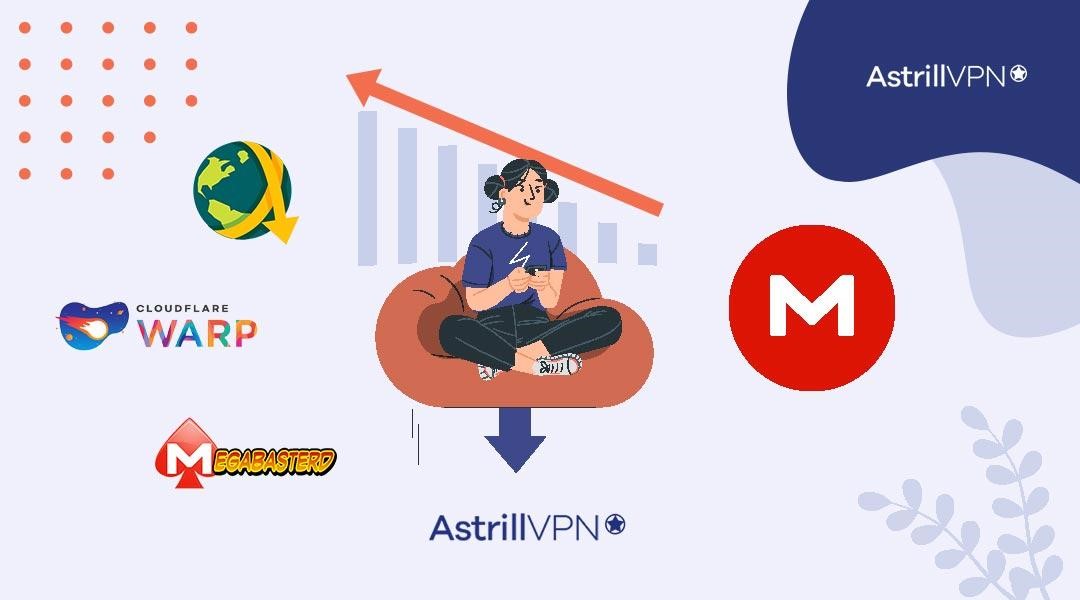 1. Using VPN
A VPN offers an additional layer of security through encryption. This means you can bypass the download limit, and your internet traffic is protected from eavesdropping and cyber threats.
Using a VPN to bypass Mega's download limit is a technique that always works while using a VPN may seem like a straightforward solution, it's important to understand that the effectiveness of this method primarily depends on the quality and reliability of the VPN service you choose.
AstrillVPN is the best option for the Mega download limit bypass and protecting your online privacy simultaneously. With servers in more than 50 countries worldwide and top-notch features, AstrillVPN remains the most trusted and reliable VPN provider for people from all walks of life.
Here's how you can use AstrillVPN to bypass Mega's download limt:
Download Astrill VPN app for your device.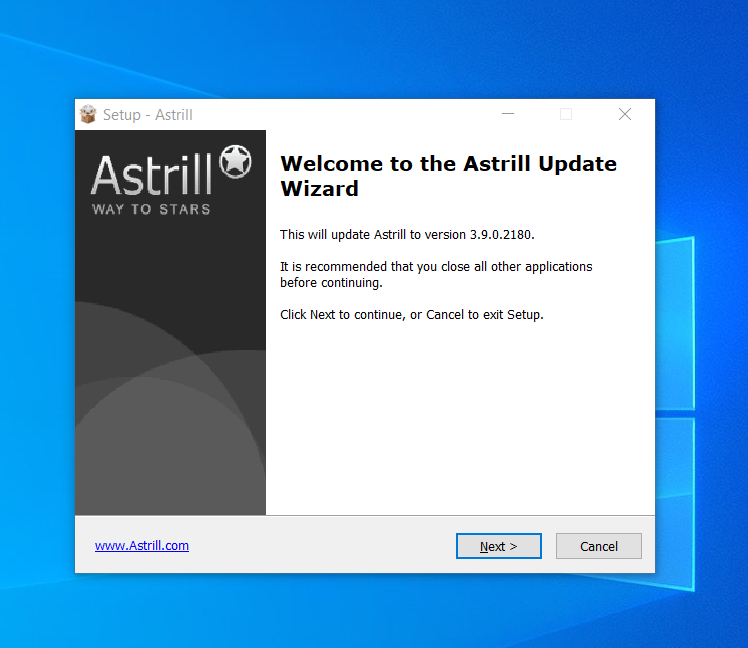 Open the VPN App and sign in using your credentials.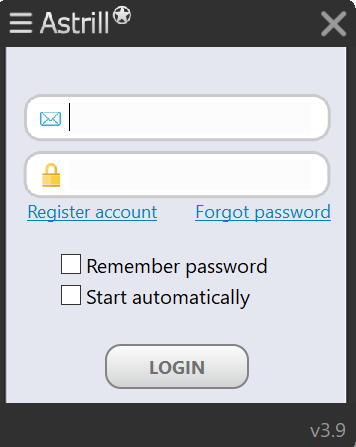 Select any server of your choice.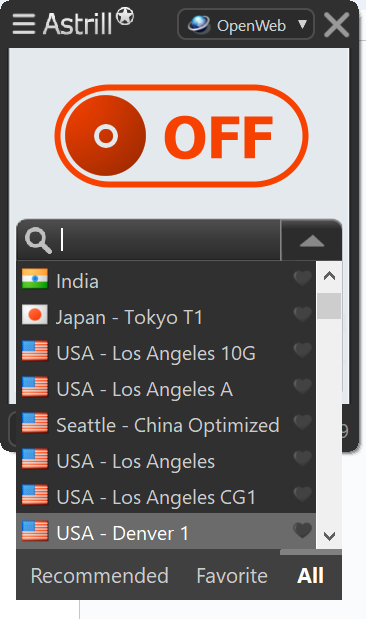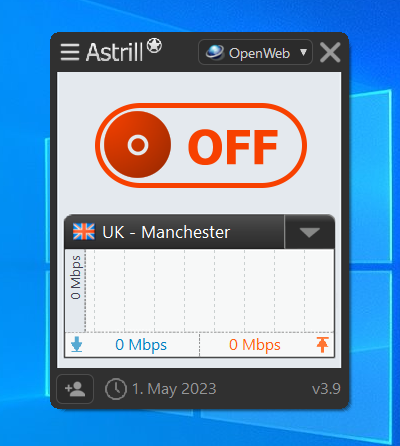 Now, download the files that you want to download. When you reach your limit, close the Mega app and change your VPN server.
Reopen the app and let it sync with your new server. Once it does, you'll have your mega transfer quota exceeded will be refreshed, and you'll be able to download more.
2. MegaBasterd – Mega Downloader
MegaBasterd is a third-party software designed to enhance the downloading experience from Mega. It splits large files into smaller segments and downloads them simultaneously, bypassing Mega's download limit. This method uses multiple connections to download parts of a file concurrently.
Here's how MegaBasterd works:
First, ensure you have the latest version of Java for Windows installed. Next, download the MegaBasterd Zip file.
After the download is finished, extract the contents of the Zip files.
Inside the extracted files, locate the MegaBasterdWINDOWS folder. Run the MegaBasterd batch file as an administrator.
Before the Mega downloader launches, a screen will prompt you to create an API key.
Choose the "No" option and access the "Edit" feature in the File menu.
Go to the "Settings" tab and select the "Change it" option.
Under the Downloads section, mark the "Use Proxy Setting" checkbox.
Enter working proxy addresses into the provided field and save your changes.
Close the settings window and copy the URL of the desired MEGA file you want to download.
Paste the MEGA file URL into the Link Grabber field and click the "Let's Dance, baby" button.
Choose the file you wish to download, then click the "Let's Dance, baby" button again.
The file download will now initiate, leveraging the SmartProxy settings in place.
One of the best features of this tool is that it can pause, resume, and manage these connections, optimizing your download speed.
3. Cloudflare WARP
Cloudflare WARP is a service designed to enhance security and performance by routing your Internet traffic through Cloudflare's global network. While primarily a security tool, Cloudflare WARP can help bypass Mega transfer quota by changing your IP address and routing your traffic through Cloudflare's servers.
Follow these steps to use Cloudflare WARP:
Start by downloading the Cloudflare WARP app to your device.
Open the app and access its settings by clicking the gear icon.
Select the "1.1.1.1 with WARP" option from the settings menu.
Now open the Mega app and start the download of the files you want.
As you approach the mega transfer quota limit, exit the Mega application.
Navigate back to the Cloudflare WARP app and open it.
Turn on the WARP connection.
Now go back to the Mega app and restart it.
You will observe that your daily download quota has been increased by an extra 5 GB.
4. JDownloader 2
Follow these steps to use JDownloader 2 for limitless downloading through the MEGA app:
Download JDownloader by following this link.
Install JDownloader and go to settings.
Go to "connection manager" to add the proxy addresses.
Click the "general" tab. Set "max simultaneous downloads" to 5 and "max chunks per download" to 20.
Now, go to MEGA file menu and open the file you want to download. Pick the file you wish to share by right-clicking on it, then choose the "get link" option. Utilize the "copy link" choice to generate a MEGA file link and copy it to your clipboard. JDownloader might capture this link automatically.
If the "link grabber" in JDownload didn't get the link, paste it into this tab. Verify the correct download location, then click "Start all downloads."
If JDownloader's "link grabber" doesn't retrieve the link, simply paste it into the tab. Confirm the accurate download destination and click the "start all downloads" button.
The "status" tab will display a green check mark and the word "finished." when the download completes.
Conclusion
Bypassing the Mega app download limit requires a balanced approach prioritizing responsible behavior, ethical considerations, and legal compliance. Throughout this guide, we've explained various methods and techniques that users can employ to overcome the constraints of download limits.
FAQs
How can I increase my MEGA storage for free?
You can increase your free MEGA storage by referring friends to join MEGA, which grants you additional storage space.
Is it worth paying for MEGA?
Paying for MEGA's premium subscription can be worth it if you need more storage space, faster download speeds, and enhanced features.
Is MEGA download speed capped?
Yes, MEGA has a bandwidth limit for free users, which can result in slower download speeds during peak times. Subscribing to a premium plan can provide faster download speeds.
Does MEGA have a file limit?
Yes, MEGA has a file size limit for free and paid users. The maximum file size that can be uploaded varies based on your account type.
Is Mega NZ safe to download from?
MEGA employs encryption and end-to-end security measures to protect user data. However, like any online service, there are potential risks. Use strong passwords, enable two-factor authentication, and avoid downloading content from untrusted sources.
Does MEGA storage expire?
Your MEGA storage does not typically expire as long as your account remains active. However, MEGA reserves the right to modify storage policies, so it's advisable to review their terms regularly.
Do MEGA files expire?
MEGA files do not automatically expire. Your files will remain on the platform until you delete them or your account becomes inactive due to inactivity or policy violations.
""
Author: Arsalan Rathore
Arsalan Rathore is a tech geek who loves to pen down his thoughts and views on cybersecurity, technology innovation, entertainment, and social issues. He likes sharing his thoughts about the emerging tech trends in the market and also loves discussing online privacy issues.