Best VPN for Amazon Firestick – How to Install it and Use It
Updated on August 14, 2023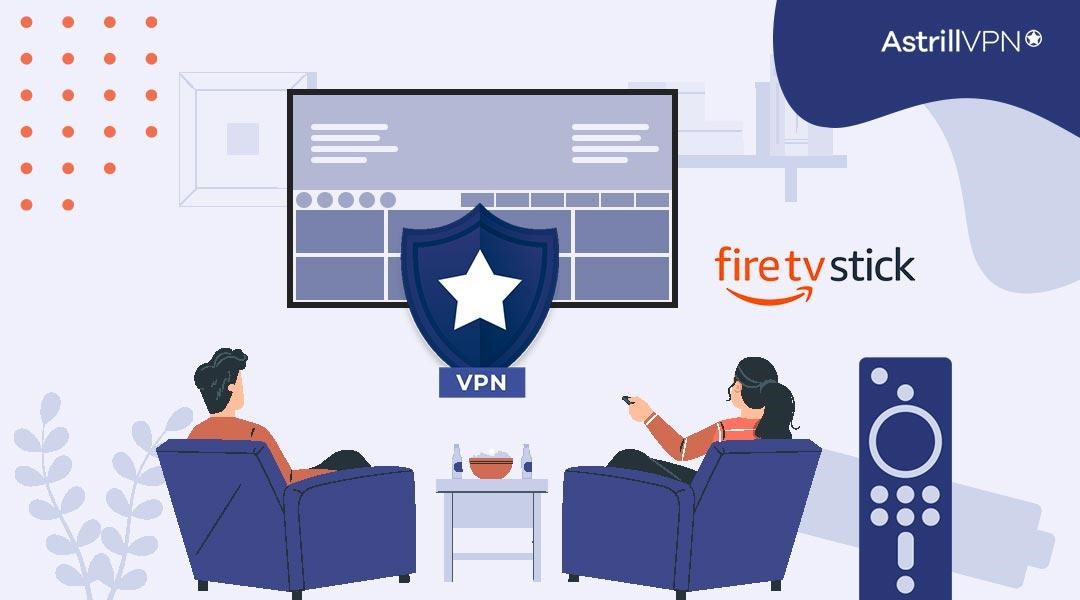 Amazon's Firestick has emerged as a revolutionary device, granting users access to various streaming content at their fingertips. As the boundaries of entertainment expand, so do concerns about online security and content accessibility. This is where the VPN becomes an integral tool for Firestick users.
In this article, we'll guide you about the best VPN for Fire TV Stick, its benefits, and how to install it on your Firestick device. So without wasting any time, let's get right to it!
Benefits of Using a VPN on Firestick
Connecting your Firestick to the internet exposes your online activities to potential surveillance and data collection. A VPN acts as a shield, hiding your online identity and activities with a highly secure layer of encryption. Here are a few of the benefits discussed for a better understanding of the benefits of using a VPN on Firestick:
Privacy and Anonymity
With a VPN on your Firestick, your internet traffic is encrypted, making your IP address untraceable and your online privacy intact. Your online presence remains hidden from ISPs, hackers, and data collectors. A VPN ensures you leave no digital footprint online and allows you to enjoy the internet freely without worrying about prying eyes.
Bypassing Geo-Restrictions
The desire to access international content can be irresistible, but geographical restrictions often hinder it. A VPN allows you to relocate your connection to a different country virtually. This feature is a game-changer for accessing geo-restricted content. Imagine watching your favorite shows or sports events only available in certain regions, regardless of where you are.
Bypassing ISP Throttling with a VPN on Firestick
ISP throttling can ruin your Firestick streaming experience, causing frustrating buffering and reduced video quality. However, by utilizing a VPN, you can take control of your data usage and ensure smooth, uninterrupted streaming.
A VPN encrypts your internet traffic, making it difficult for your ISP to detect and target data-heavy activities like streaming.
Security
Coffee shops, airports, and hotels offer convenience and connectivity but expose your data to potential risks. Public Wi-Fi networks are notorious breeding grounds for cyberattacks. A VPN, however, protects your connection with layers of encryption.
Your personal information remains concealed, and cyber criminals are left empty-handed. Your Firestick experience becomes seamless and secure, even when navigating the treacherous waters of public networks.
Things to Look for in the Best VPN for Firestick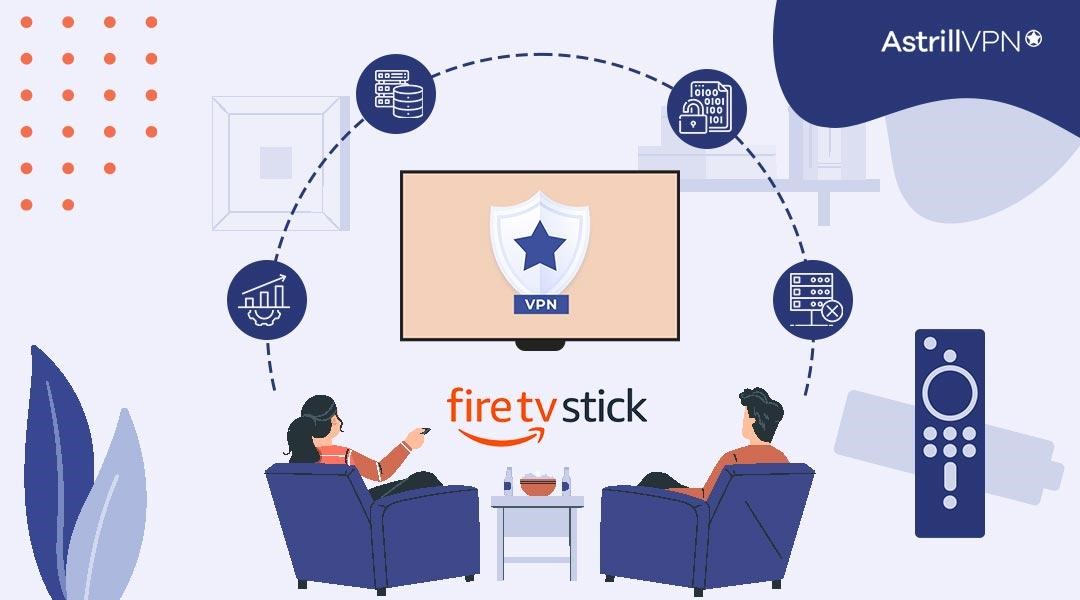 Consider the following crucial factors when choosing the Fire TV VPN:
1. Speed and Performance
Streaming content on your Firestick demands a reliable and robust internet connection. While a VPN adds a layer of encryption, it shouldn't compromise your streaming experience. Opt for a VPN renowned for its optimized servers prioritizing speed and minimal latency. This ensures your movie nights remain buffer-free and your binge-watching sessions flow uninterrupted.
2. Server Network
A diverse server network is key to accessing geo-restricted content and expanding your entertainment horizons. Look for a VPN provider like AstrillVPN that has servers in 57 countries. The more choices you have, the greater your access to content from different countries and the more dynamic your Firestick experience becomes.
3. Strong Encryption and Security Protocols
Always opt for a VPN with strong encryption protocols like OpenVPN and Wireguard. AstrillVPN has 4 highly secure VPN protocols; Wireguard, StealthVPN, OpenWeb, and OpenVPN. These security protocols ensure your data remains private and secure, even if you're streaming on public networks.
4. No logs policy
A crucial aspect to consider is the provider's "no logs policy." This policy guarantees that your online activities are not tracked, recorded, or stored by the VPN. This level of privacy ensures that your streaming habits, website visits, and online interactions remain solely your concern.
How to Install VPN on Firestick
Since AstrillVPN isn't available on the Amazon Firestick App Store, you can use any of the following workarounds for installing the AstrillVPN app on your Amazon Fire TV Stick:
Method #1: Use the Downloader App
Boot your Firestick.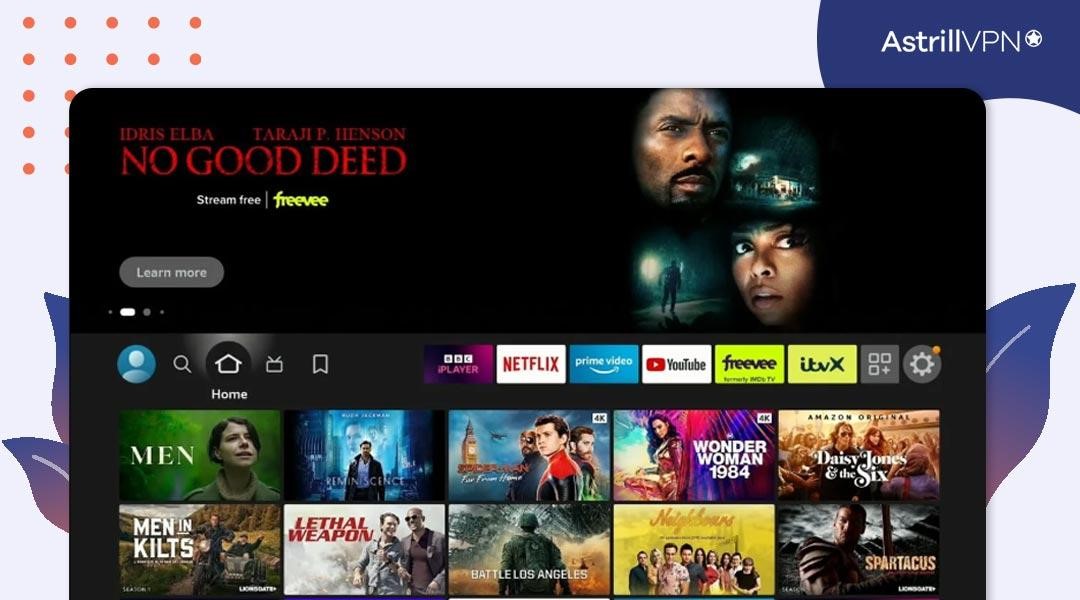 Click on the search bar and type "Downloader."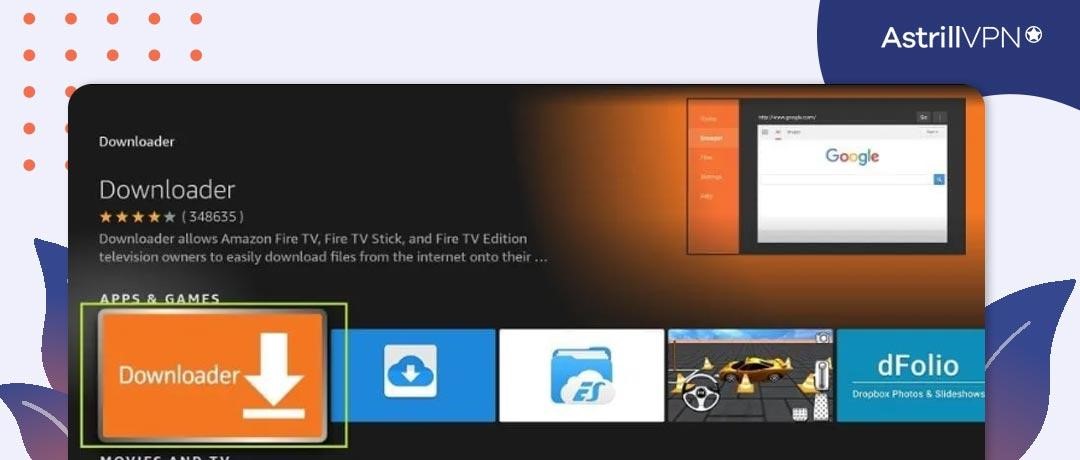 Download the "Downloader" app and install it.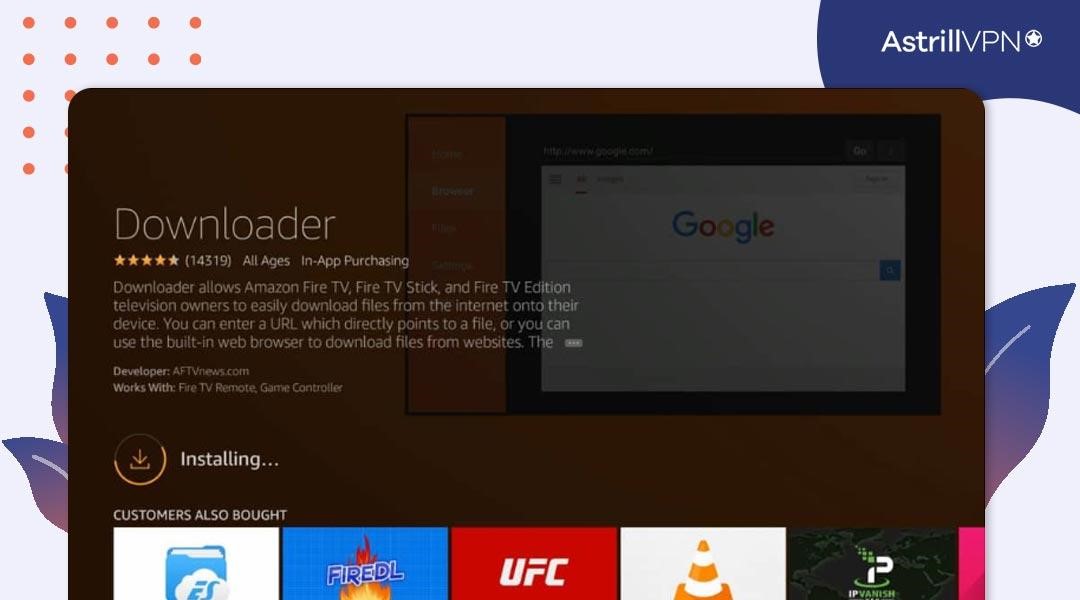 Now, open the downloader app and click on "Browser."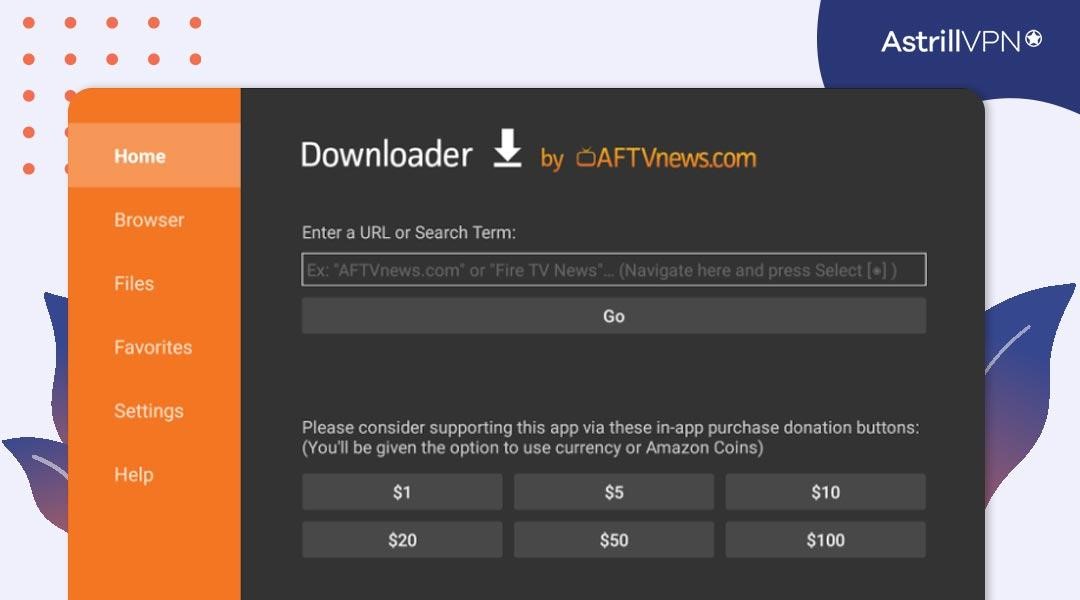 Enter this link in the app: https://www.getastr.com/downloads/AstrillVPN-3.12.6.apk
The VPN app will be downloaded, and you'll get an installation prompt.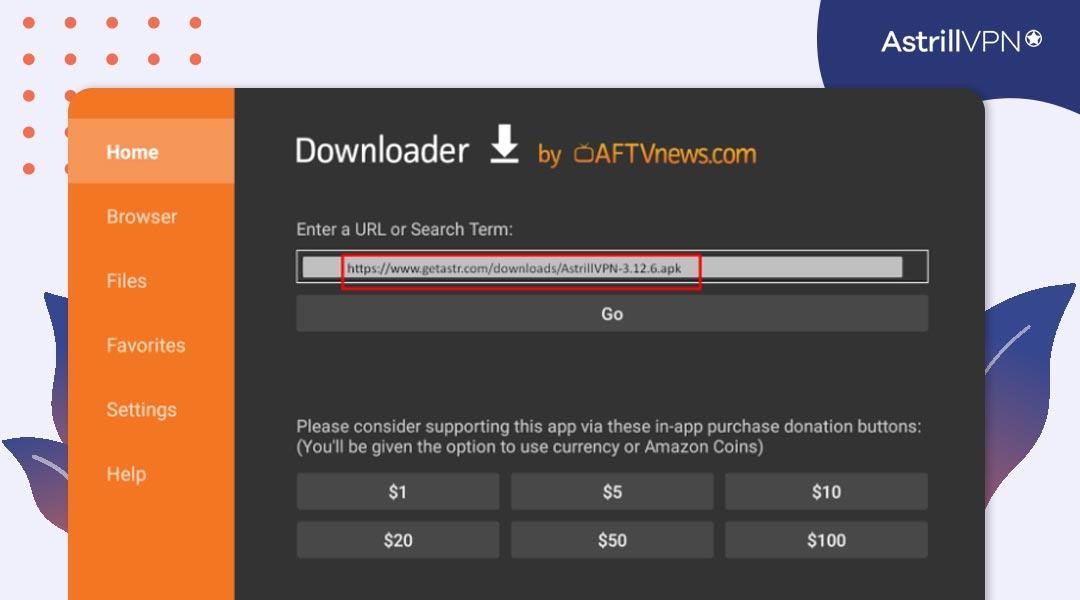 Browse your downloads and select the downloaded AstrillVPN .apk file.
Now the AstrillVPN app will be installed and ready for use.
Method #2: Set Up VPN on a Router
If the first method seems complex, you can install the AstrillVPN app on your router and secure your network. Then, when you boot your Fire TV Stick and connect it to your network, it will use a secure network.
Here's how you can install AstrillVPN on a router and use secure internet on your Firestick:
Follow these simple steps to set up a VPN router:
Ensure that the router you purchase is compatible with the service.
Go to Astrill's configuration guide, where we have explained the instructions for configuring your Astrill VPN account on your router in detail.
Once you have AstrillVPN installed on your router, log in using the credentials provided to you by Astrill.
Open your Firestick and connect it to the network.
Tips for Using AstrillVPN on Firestick Effectively
Here are some tips to ensure you're harnessing the power of your VPN effectively:
1. Choosing the Right Server for Streaming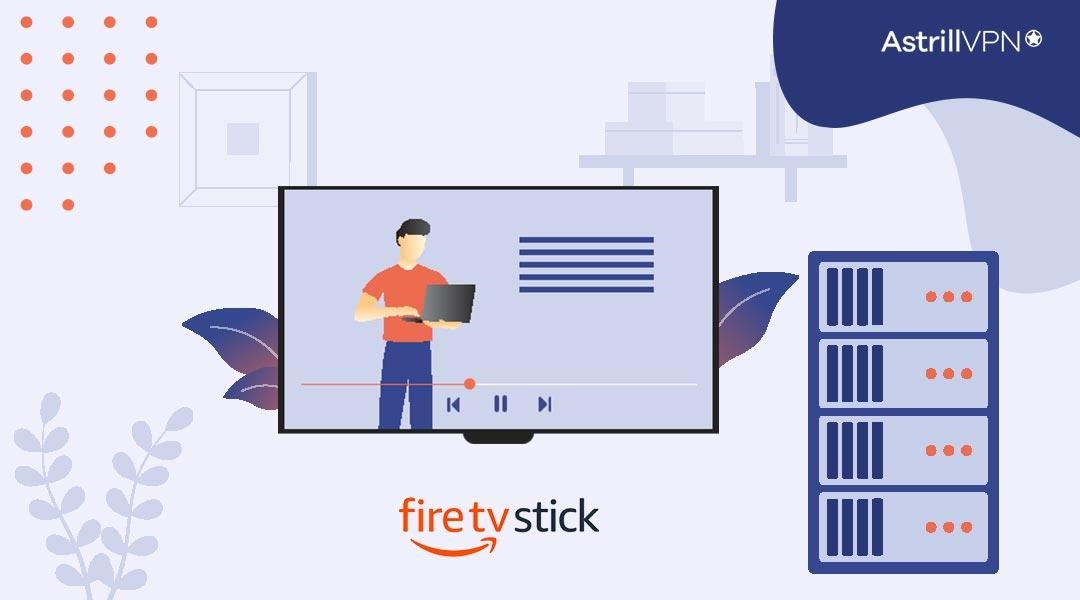 When using a VPN on your Firestick, opt for the VPN that offers servers optimized for streaming. The meaning of optimized servers is that they are designed to handle the bandwidth demands of high-quality video content, ensuring smooth playback and minimal buffering. That's because they provide users with unlimited bandwidth, ensuring no lags.
The best thing about AstrillVPN is that its servers are highly optimized for online streaming, gaming, and general usage. AstrillVPN offers unlimited bandwidth to ensure there are no buffering issues.
Another great thing is that with AstrillVPN, you can get a dedicated IP address. A dedicated IP address means that it's a unique IP just for you, which will not be shared with anyone else, so that no load on the server may cause any lags.
2. Handling Potential Compatibility Issues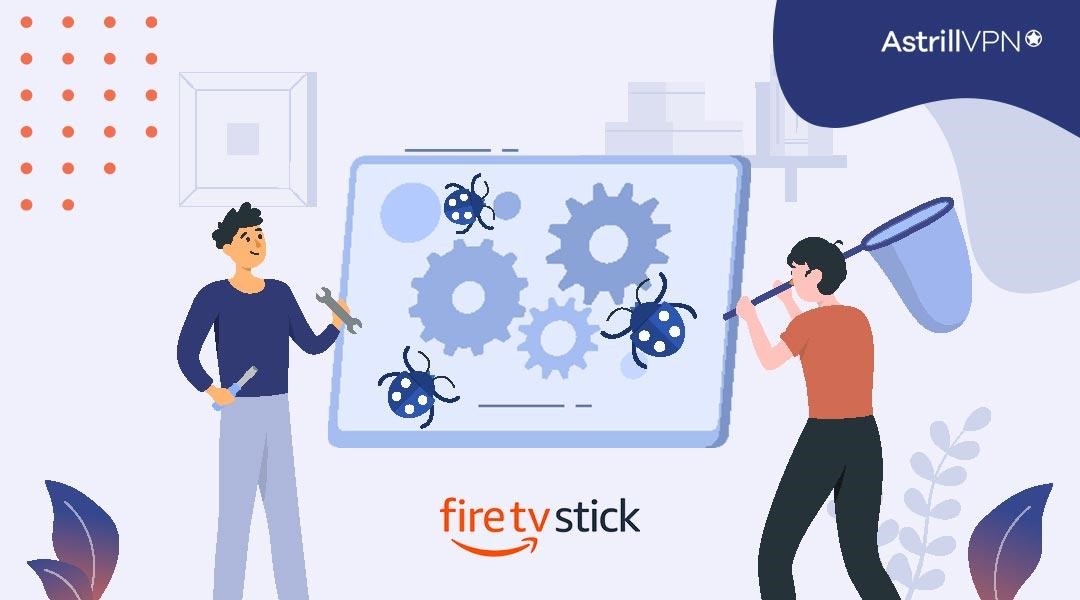 If you encounter any glitches or connection hiccups, don't panic. Start by ensuring you're using the latest version of the AstrillVPN app. If the issue persists, contact AstrillVPN customer support, who will guide you through troubleshooting. They're equipped to provide guidance and troubleshoot any compatibility challenges.
3. Regularly Updating and Maintaining Your VPN App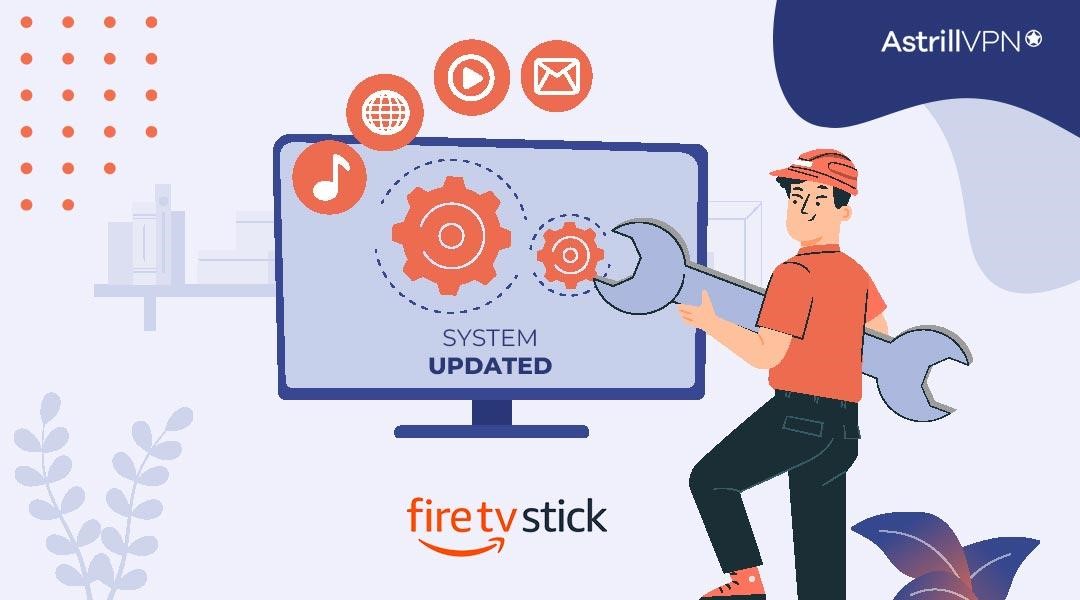 Regularly update your AstrillVPN app to ensure you have the latest security patches, bug fixes, and feature enhancements. Set a reminder to check for updates periodically and install them promptly. By keeping your AstrillVPN app up to date, you're actively fortifying your Firestick experience and staying ahead of potential vulnerabilities.
Is Using a VPN on Firestick Legal?
Using a VPN on your Firestick is legal in most jurisdictions. VPNs are legitimate tools to enhance online security, protect privacy, and access geo-restricted content. Engaging in illegal activities, such as copyright infringement or hacking, remains illegal even when using a VPN. Always use your VPN responsibly and within the bounds of the law.
Can I Use a Free VPN for Firestick?
While free VPNs may seem tempting, they often have trade-offs that can impact your Firestick experience. Free VPNs might have limitations on server locations, slower speeds, and even data caps.
Some free VPNs may compromise privacy by logging data or displaying ads. To ensure a secure and optimal Firestick experience, opting for a reputable paid VPN service is advisable. Investing in a premium VPN guarantees better performance and provides robust security features and a reliable customer support system.
Conclusion
For cord-cutters, a Fire TV VPN is the key to a secure and boundless FireStick experience. With privacy protection, global access, and enhanced security, a VPN is more than just a tool – it's your partner in digital exploration. Remember that a VPN on FireStick opens doors to a new level of entertainment and protection. Embrace this power and embark on an unmatched streaming adventure.
FAQs
Has anyone gotten in trouble for using jailbroken Firestick?
No, there has been no case of anyone getting into trouble for using a jailbroken Firestick because it is not illegal. In a technical sense, it fits within the scope of "Fair Use," as outlined in the updated 2018 edition of the Digital Millennium Copyright Act (DMCA).
Do I need a VPN for streaming?
While not always necessary, a VPN for streaming offers benefits like enhanced privacy, access to geo-restricted content, and protection against ISP throttling.
What happens if you don't use a VPN on Firestick?
Without a VPN on Firestick, your internet activities can be monitored by ISPs and potentially exposed to hackers. You might also face restrictions in accessing geo-blocked content and encounter buffering issues due to ISP throttling.
How do I stop my Firestick from buffering?
To reduce buffering on Firestick, ensure a strong and stable Wi-Fi connection, close background apps, optimize Firestick settings, use an Ethernet connection if possible, and consider using a VPN to mitigate throttling.
Will a VPN stop buffer on Firestick?
While a VPN can help alleviate buffering caused by ISP throttling, it might not eliminate buffering issues. Optimizing your internet connection, using quality streaming services, and maintaining good network conditions are important factors in reducing buffering.
""
Author: Arsalan Rathore
Arsalan Rathore is a tech geek who loves to pen down his thoughts and views on cybersecurity, technology innovation, entertainment, and social issues. He likes sharing his thoughts about the emerging tech trends in the market and also loves discussing online privacy issues.