What is a VPN Router? Do I Need One?
Updated on January 17, 2023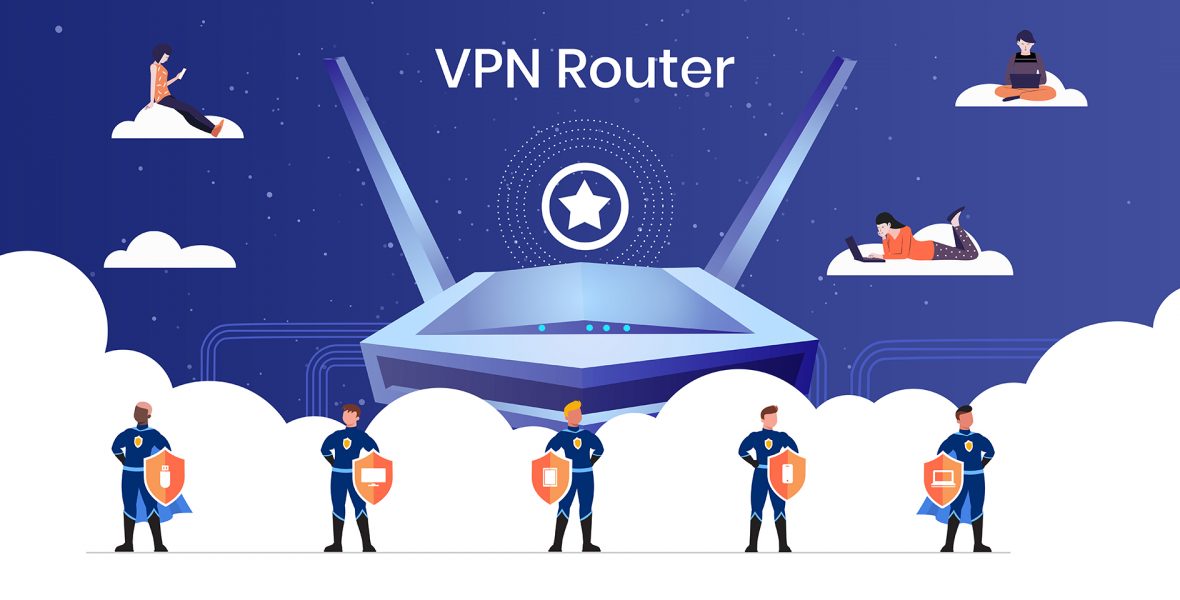 The Internet is a hostile place – something we have known for a long time now – but staying safe on it does not have to be complicated. Today, anyone who uses a VPN understands the dangers of unprotected web surfing and data transfer.
Using Astrill VPN on your devices, like a smartphone, laptop, tablet, or FireStick, is a great experience, but your security is limited to your device only. However, when using a VPN router, your whole network is secured, and every device connected to it is secure.
What is a VPN Router?
A VPN router is a regular Wi-Fi modem with a VPN configured. You have the ease and comfort of using a masked connection, which avoids possible surveillance on any device.
As we look at going above the line to stay connected and add to the 'always on-line' culture, it is critical to keep our information secure 24/7. AstrillVPN router brings together the reliability and security of a virtual private network and the convenience of an Internet router.
It is an extension of your VPN connection so that all the devices (that use the Internet) can share the network to stay hidden from any prying eyes.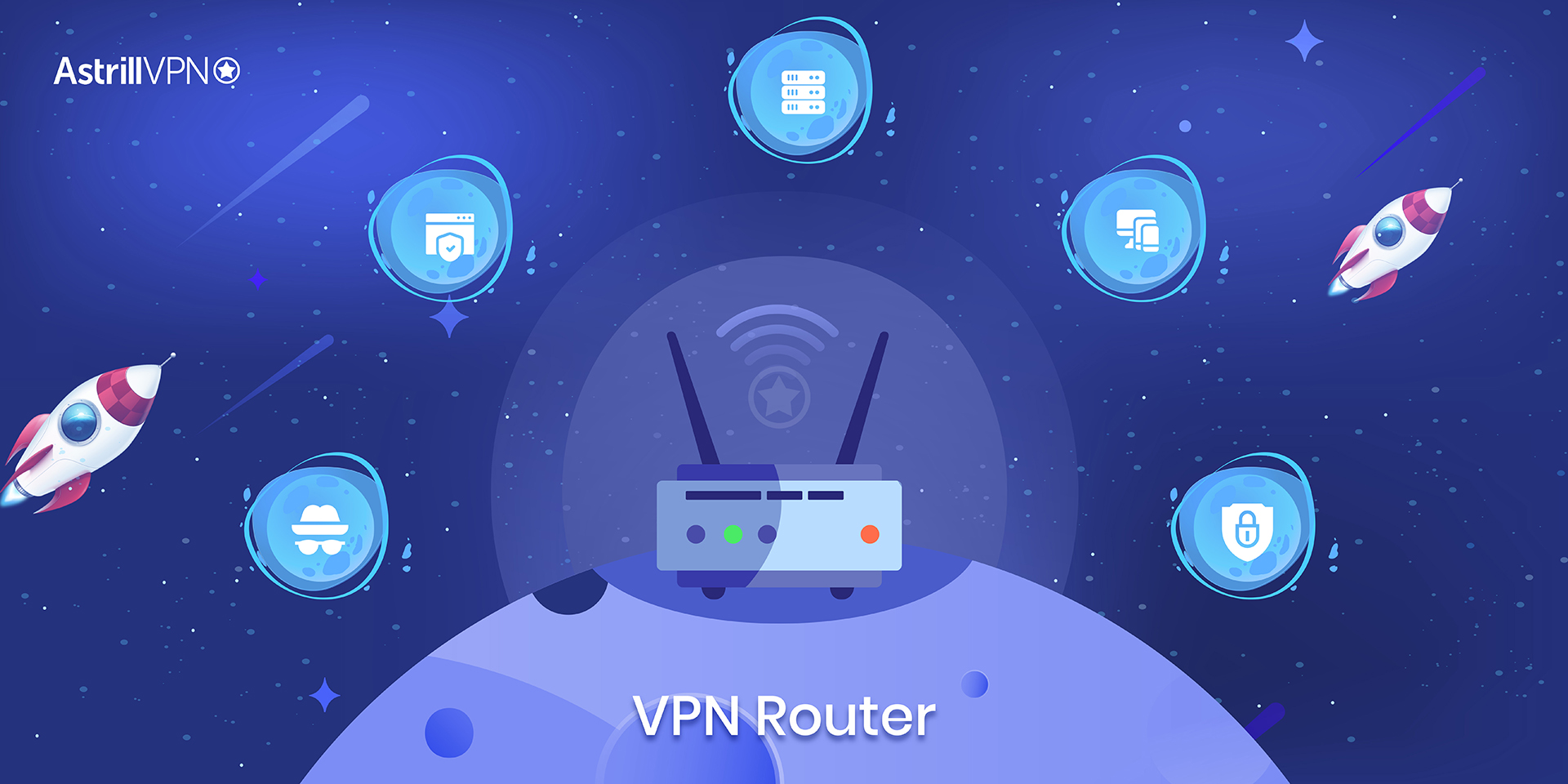 Why Do You Need a VPN Router?
Protect multiple devices at once
A VPN router can provide that extra layer of security because it is not just limited to one or two devices. It takes a blanket approach to secure the principal Internet connection of your home or office. In simpler terms, you can protect multiple devices at once through a VPN router.
Enjoy convenient connections
With the help of a VPN router, you do not have to install any client or application over your device. Simply connect to the Network propagated through the VPN router and enjoy the perks of a secure network without needing to install anything on your devices.
Secure non-native devices
Today, having a VPN for desktops and phone is not enough. Securing your PS4 or Apple TV is important. They do not support a direct VPN installation, so having a VPN router is the best way to protect them.
Unblock applications and content
You can access geo-blocked apps and content without hassle on all of your devices by using a VPN router. Because of a VPN router, you will not have to install the applications and clients on every device repeatedly. This way, streaming geo-restricted content and using geo-blocked apps becomes convenient.
With just one pre-configured device, you can ensure safe browsing from all your devices. We at Astrill recommend getting a VPN router for your home and office.
Benefits of using a VPN Router?
Multiple Devices connectivity
Astrill VPN offers 5 simultaneous connections. However, if you install Astrill VPN over your router, this limit of simultaneous connections is ruled out. Every device connected to your network will be secured and get the VPN service perks.
Uninterrupted VPN protection
You have to turn on your VPN connection whenever you start a new browser session. However, when you've set up a VPN router, you'll never have to worry about turning on your VPN connection again.
Also, you will not have to install any client/ app on your device, so it becomes more convenient.
Unrestricted Access to All Your Devices
You can connect various devices to a single VPN router, irrespective of operating systems. Many routers work with macOS, Windows, Linux, iOS, and other operating systems.
You don't need to worry about whether your next device will be compatible with your VPN router or not.
VPN Services Layering
A VPN router enables you to enjoy additional VPN layering. If you have Astrill VPN configured over your router, you can use another account or the same account of Astrill VPN on your device simultaneously.
Disadvantages of using a VPN Router?
Installation Complexity
Setting up a VPN router can be tricky at times, and if you're not tech-savvy at all, you will need help with it. Astrill VPN providers offer tutorials to assist users with the installation process.
You should get a pre-configured router if you do not want to jump into the configuration mess. However, this would be a bit more costly than having a non-configured router, but the convenience would be there.
Compromise on Network Speed
You may have to compromise on the network speed because each device's speed decreases as more devices are connected. You may have to decide which devices can connect at the same time.
Security Loopholes
One thing that needs to be understood is that when you use a VPN over a router, the traffic between your device and the router isn't encrypted. It is the router connected to the VPN server, and the traffic propagating through the router is encrypted.

This means that your device uses a secure network, but its traffic is not encrypted. This is not a serious threat since no unknown person is connected to your router. However, if a third person manages to gain access to your network, it can be a severe threat to your safety.
Lack of Customizability
One of the disadvantages of using a VPN router is that once you've set it up, customization becomes difficult, and you are bound to use standard settings. . Customizations like changing servers, protocols, or even turning the service on and off aren't as easy as they are on the app.
Also, you cannot switch it on or off for using a particular app or website that blocks traffic coming through a VPN server. You may not be able to use banking or streaming services because of the encryption of your traffic.
So, to stream content or to use a banking app, you'll have to either connect to a different network or turn off the VPN on your router. In comparison, using a VPN app for such things is handy because you can easily change your servers and turn them on and off whenever you want.
Types of VPN Routers
Pre-Flashed Routers
The easiest way to use a VPN router is to buy a pre-flashed router, also called a pre-configured router. d
This does not require any configuration, as you can directly plugin and connect your devices. Intended for beginners, this is the most common and popular way.
Such a router already has an established VPN connection, which routes all the data shared by the devices through the private network.
Manually Flashed Routers
The second type of router is a Manually Flashed Router, which is for advanced users who must configure the router through their system. For instance, the complete process – which utilizes the VPN software installed on your computer – has been outlined on the Astrill VPN wiki.
How To Set Up VPN on a Router
Follow these simple steps to set up a VPN router:
Sign up for the Astrill VPN service.
Ensure that the router you purchase is compatible with the service.
This configuration guide will give detailed instructions for configuring your Astrill VPN account on your router.
Now login using the credentials provided to you by Astrill.
Choosing the right VPN Router
There are hundreds of router models available, but not every router is suitable for a speedy VPN. Popular brands like ASUS, Linksys, and Netgear produce VPN-enabled routers. So if you are looking for a pre-configured option, you can check out their catalogs.
However, if you are looking for an option to configure manually, in other words, a manually flashed router, then opt for one that has the capability of being flashed with new firmware.
Other than this, there are certain things to consider before choosing a router:
WiFi Standard: The "WiFi Standard" router should not be old and should be able to update from time to time. The WiFi standard is mentioned on every router. To check this, you will have to see the letter after 802.11. Do not buy if the letter is "b" or "g."
There are newer models available in the market with having to mark "n: after 802.11, which means that they provide speed up to 300mbps. The best router options are the ones that have "ac" after 802.11 (802.11ac).
Frequency Bands: Frequency bands are the speed at which the data interchange occurs between the router and the devices. If you are looking for a seamless experience, opt for routers with frequency bands above 2.4GHz.
Routers with 5GHz frequency bands are the best options available in the market but are advised that some devices may not be able to connect to them.
Number of Ports: Having routers with multiple ports is always a blessing. Get a VPN router with multiple ports, including USB ports, to connect other peripherals like a printer or external storage to maintain secure, shared printing and drive sharing. 
VPN Router vs. VPN on Device
Many people question the importance and advantages of configuring a VPN on a Router rather than using it on a device. To put it all into place and clear the ambiguity regarding it, let us compare a VPN router with VPN on the device so that the users may be able to choose the option that seems best for them:
| | |
| --- | --- |
| VPN on Router | VPN on Device |
| The best thing about having a VPN on a router is that it protects the entire network rather than just a device. | VPN on a device would protect that particular device only on which it is installed and active. |
| Configuring a VPN on the router is a bit complex and takes more time. | Downloading, installing, and configuring a VPN on a device is very easy and can be done within 2 minutes. |
| You have to log in to the router and modify your settings whenever you change the server. | The server can be changed without any hassle in one click without any extra effort. |
| It'll be limited to the router network that it's configured on, and if you connect to any other network, then you will be at risk. | With a VPN on the device you can stay safe and secure on any network you connect to and anywhere you go without anty limitations. |
VPN Router Specifications
If you decide to buy a new router (pre-flashed, VPN-enabled, or otherwise), you must understand exactly what each model offers. Like laptops and smartphones, every router model has different capabilities that affect its performance.
We outline below the specifications you need to consider when purchasing a VPN router:
WiFi Standard: The optimal Wi-Fi standard for a VPN router is 802.11ac because it allows 1.3Gbps transfer speed.
Frequency Bands: If you can get your hands on a router that offers a 5GHz wireless frequency band, then that will be great for you because of its fast speed over short distances.
Number of Ports: The more ports, the more customization options you get. If you get two USB-ports with your router, you can easily use one to turn a wired printer into a shared printer over the network and connect an external hard drive to turn it into a shared network drive.
Additional Tips for using a VPN router
Do Not Use Extra VPN Layers Unnecessarily
Often, you may forget that you have installed a VPN over your router and it's switched on, and you may turn on a VPN on your device simultaneously. This isn't a bad practice, and rather it adds additional security to your device.
However, it will hinder your device and network speed, and you will start facing lags. Therefore, do not use an additional VPN layer unless it's needed.
Bookmark Your Router Settings page
Router configurations are not easy, and it's tough to remember the whole procedure. Sometimes, you may encounter some issues, and the need to reset or modify the settings may arise at some point in time.
To be prepared for such instances, make sure that you either make a copy of your router setting, or you bookmark your router's settings page. This way, you will quickly get to the configurations without searching for solutions over the web.
Conclusion
Privacy and online security are much needed in today's world. You need to be aware of the threats, and you should always be protected. Compare your existing regular Wi-Fi router with a VPN router.
Understand what the primary difference is and then make a wise choice. Because getting a VPN connection in an unfriendly digital world is a normal move. But getting a VPN router is a smart one.
FAQs
How Much Does a VPN Router Cost?
VPN routers cost more than standard WiFi routers. However, this thing depends on the specifications of the routers as well. Usually, a VPN router costs somewhat around $130 and can go up to $500.
Is a VPN router necessary?
No, a VPN router is not necessary, but if you want to use a VPN on a device that does not support direct VPN installation, it is recommended.
Do routers come with a built-in VPN?
Yes, pre-configured or VPN-enabled routers are available in the market, and you can get them very quickly.
What makes a router a VPN router?
A VPN router is a WiFi router with virtual private network (VPN) software installed.
""
Author: Arsalan Rathore
Arsalan Rathore is a tech geek who loves to pen down his thoughts and views on cybersecurity, technology innovation, entertainment, and social issues. He likes sharing his thoughts about the emerging tech trends in the market and also loves discussing online privacy issues.