VPN on iPhone: How to Use it and Why You Need it?
Updated on July 5, 2022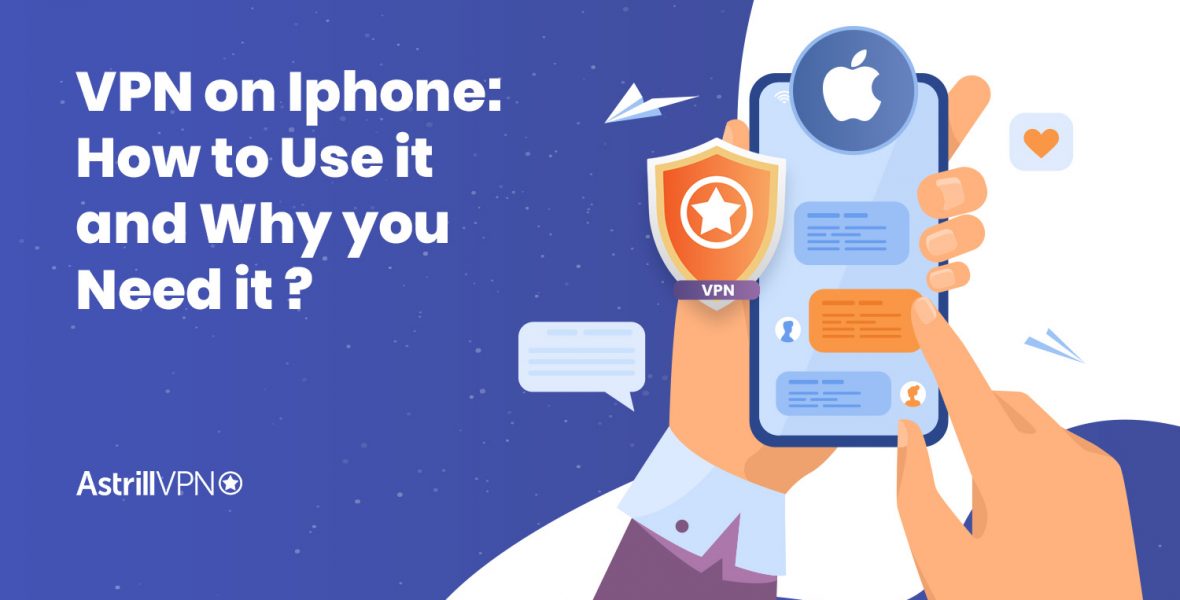 A Virtual Private Network is a software application that encrypts your data to protect your privacy. When using a VPN on your iPhone, all your connection traffic is hidden from unwanted third parties and cybercriminals. VPNs mask your IP address from websites you visit, adding an extra layer of safety through anonymity.
Simply put, using a VPN on your iPhone keeps you protected while you go about your daily online activities.
Why Do I Need a VPN on my iPhone?
With technological advancements happening daily, there is an increasing concern about user privacy and data safety. Many security-conscious internet users are using VPNs on their desktops and personal computers. However, having a VPN on your iPhone is necessary to be fully secure.
Many iPhone users are in the Apple ecosystem. While iOS offers the best security protocols to its users, some vulnerabilities still exist. You must also consider using a VPN on your iPhone for complete protection.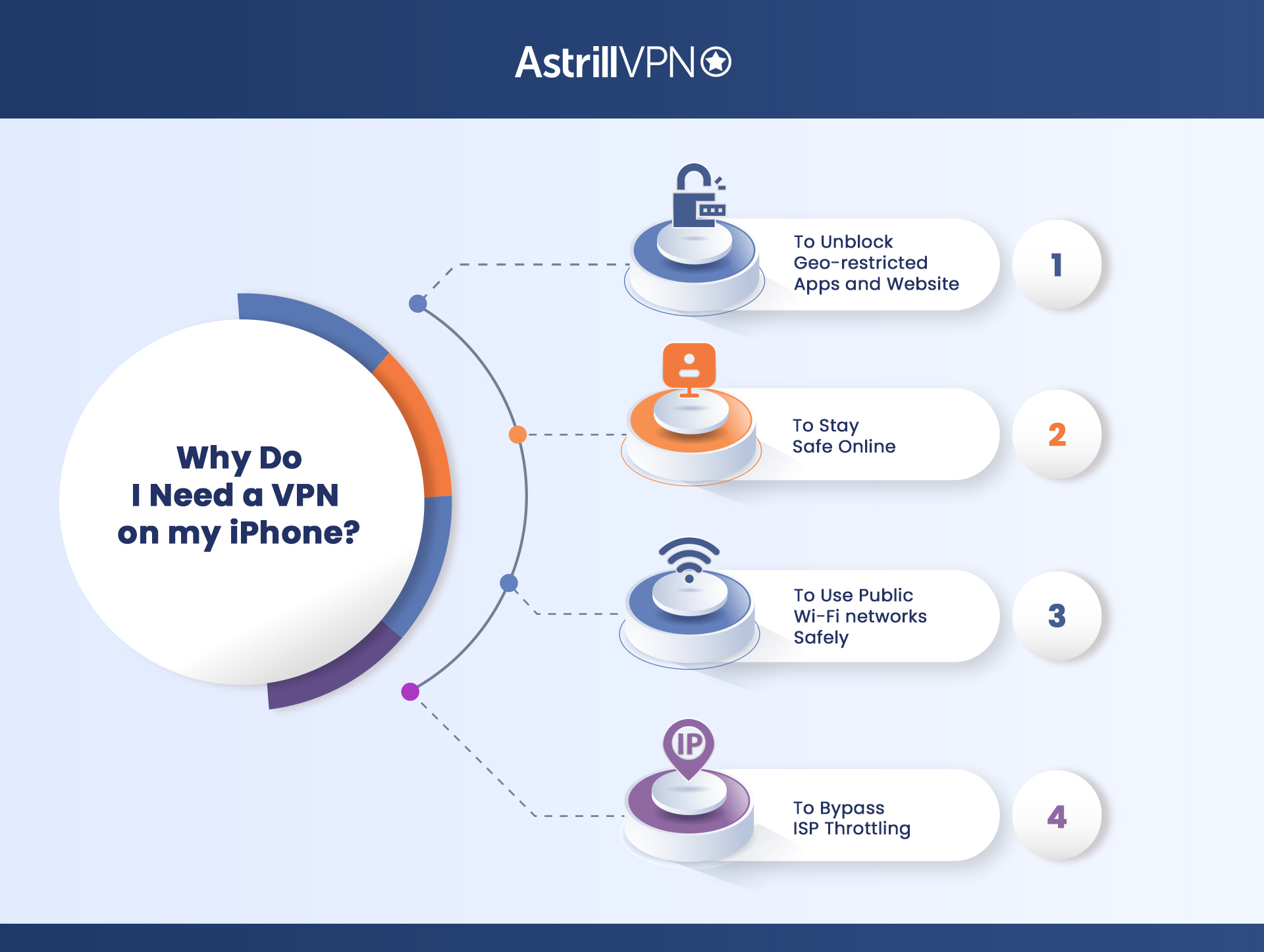 To Unblock Geo-restricted Apps and Website
A VPN is one of the simplest and quickest ways to get around geographical restrictions that are a means of censorship. Some websites and services are geo-restricted, which means they are only available to IP addresses of specific locations.
With a VPN, you're not only getting greater security and overall protection but also access the content you previously couldn't.
To Stay Safe Online
By connecting to a VPN server, you are encrypting your data from any onlookers or hackers and your Internet Service Providers. The only information visible to those who can see your traffic would be the IP address of the VPN server you've connected to and not your real location.
To Use Public Wi-Fi networks Safely.
In this day and age, we take our phones with us everywhere. Just as our phones are necessary, so are our privacy and safety. Anytime we're on a Public Wi-Fi network, we're prone to a plethora of attacks- hijacking, man-in-the-middle, spying, the list is endless.
A VPN is your best bet for staying protected when you're connected to the internet. Astrill VPN uses 256-bit SSL encryption which protects you from the highest level of attacks, so you're safe from falling victim to cybercrime even when using a Public Wi-Fi network.
To Bypass ISP Throttling
Often, users face slow connectivity speeds due to ISP throttling which kicks in anytime the network administrator wills it. Your VPN not only masks your online traffic from any onlookers or unwanted third parties but also shields your data from your Internet Service Provider.
Your ISP won't know any of your online activities when you use a VPN. Therefore, they can not place any limitations or get in the way of your browsing. This means you get to enjoy full-speed connectivity with no hurdles.
When Should I Use a VPN on my iPhone?
VPNs are the best security option to protect your privacy and safeguard your data from falling into the hands of hackers. Ideally, you should always use a VPN, especially if you're constantly exposed to unsecured networks or handling sensitive data.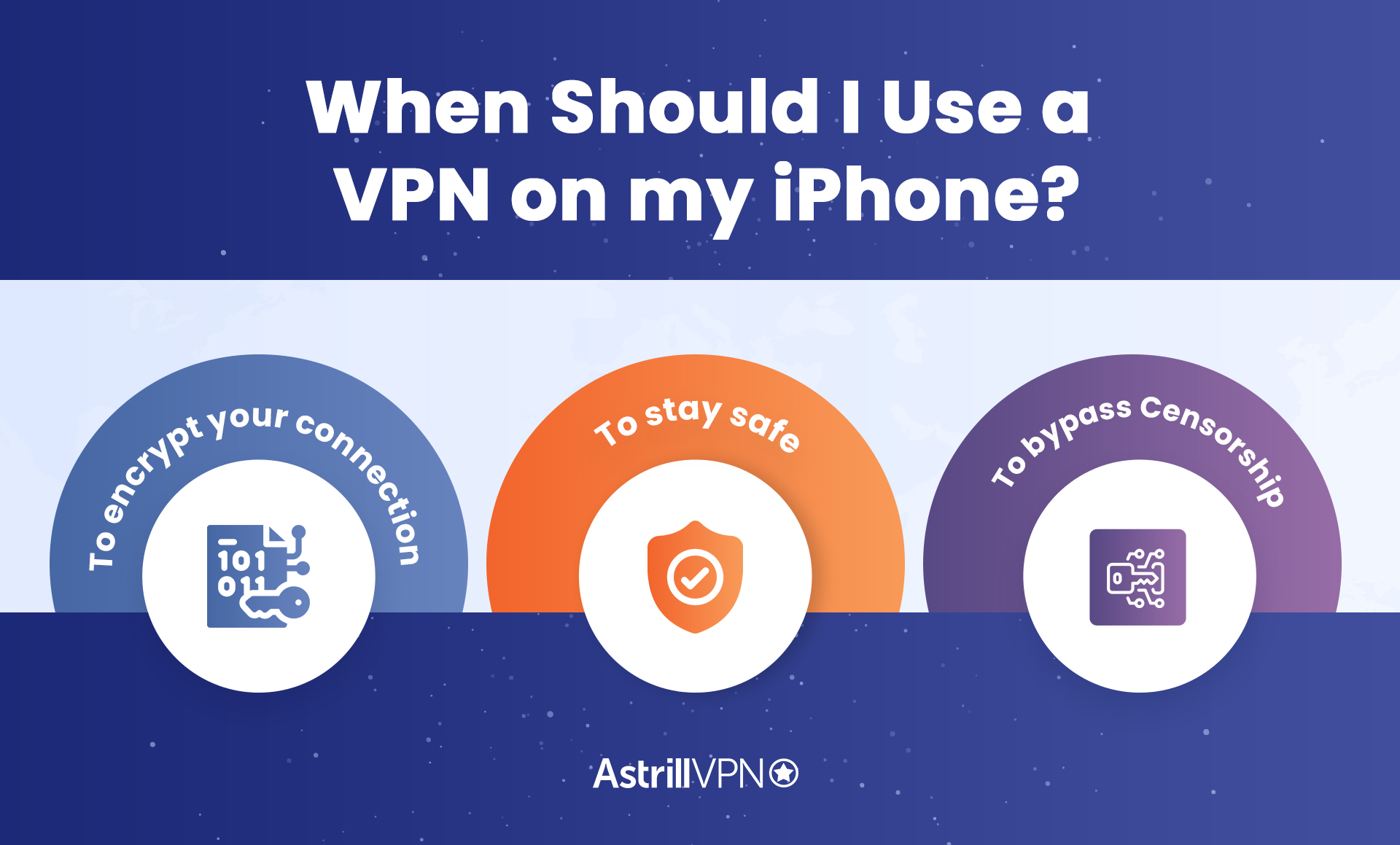 Suppose you're always on your private, secure network, and you don't feel any reason to implement extra security measures. In that case, you can use it circumstantially. Here are some scenarios where you may benefit from using a VPN:
To encrypt your connection for your anonymity and privacy. Many website trackers track not only the incoming traffic but also the habits of each user.
Anytime you connect to an unsecured network, your data is at risk of being collected, sold, or even held at ransom through viruses transmitted to your device. This can be done at the hands of cybercriminals that can hijack your connection and transfer illicit content through incoming data.
If you often tend to go abroad for holidays or for work, you could use a VPN. Using a VPN, in this case, will allow you to access an IP address from your home region, which is especially useful if you're in an area with heavy restrictions or censorship.
How to Setup Astrill VPN on your iPhone or iPad
With an iPhone, you can set up a VPN in one of two ways- automatically, through the help of a VPN service provider application, or manually, by going into your device's network settings. However, you first need a VPN service provider to configure a VPN automatically.
AstrillVPN is one of the best VPNs on the market. It has hundreds of servers in over fifty countries, making it one of the fastest, most secure VPN applications available.
AstrillVPN offers special features that set it apart from other VPNs, which can help to enhance your online experience. One of these features is crucial for iPhone users- the Reconnect Features integrated into the application will ensure that you have a seamless browsing experience even if your application is shut down as per iOS's protocols. AstrillVPN will immediately reconnect to protect your privacy.
VPN servers are expensive to build and maintain, and some 'free' solutions may have unforeseen costs. Some service providers may collect or sell your data to fund their high running costs.
Method#1: Setup Astrill VPN Through iPhone App
Follow these simple steps to download and install Astrill VPN on your iPhone:
Subscribe to Astrill VPN by choosing a plan that suits you.
Download the Astrill VPN app from the App Store and Install it.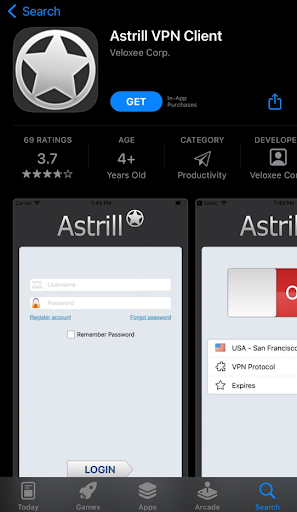 Now Open the Astrill VPN app and sign in using your credentials.
Select the server you want to connect from the list.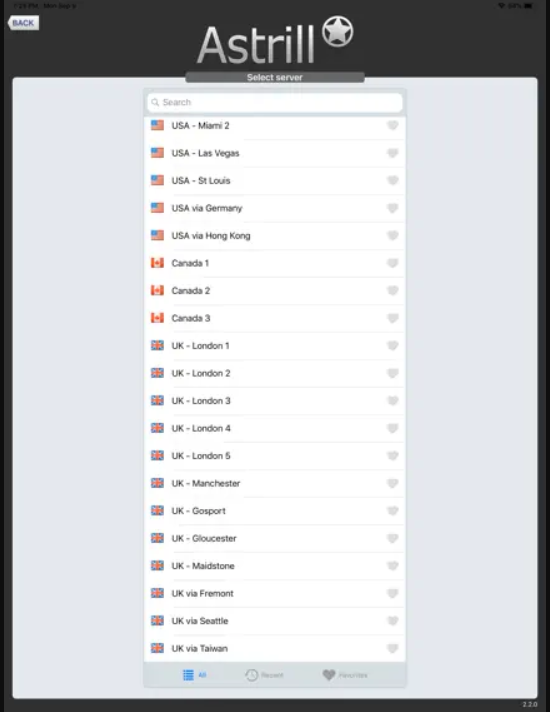 Now tap the toggle button, and your connection to the VPN server will be established.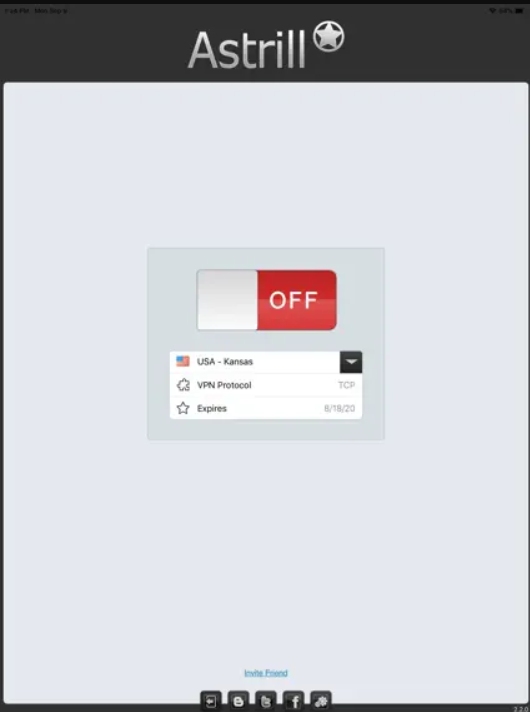 Method#2: Setup Astrill VPN Manually on Your iPhone
To configure a VPN manually, you will still need a VPN service provider, as your iPhone won't have an inbuilt VPN. This method allows you to take control over the integration of your VPN provider into your device.
Head over to the General tab of your iPhone Settings
Select the 'VPN' option, and then ensure the switch is OFF
Tap on 'Add VPN Configuration' at the bottom
Select your desired type of network from IKEv2, IPSec, L2TP, or PPTP
Fill out the required information:
For Description: type Astrill L2TP
For Server: See Servers List
For Account: type your Astrill account email address
For Password: type your Astrill account password
For Secret: type way2stars
After this, click on the 'Done' text in the upper right-hand corner
Tap on 'Astrill VPN' and toggle the VPN switch ON to connect
Another step is to confirm your IP address by going to Astrill's IP address checker.
Now, you have manually configured your VPN. You can simply connect and disconnect from the server by sliding the toggle ON or OFF.
How to turn off a VPN on an iPhone or iPad
Head over to the General tab in your iPhone's settings
Select the VPN tab
The toggle status should be green if you are actively using your VPN. You may also have a small 'VPN' in your notification or status bar if you are connected.
To disconnect from your VPN server, simply switch it off.
Conclusion
Using a VPN on your iPhone will conceal your IP address, making you anonymous to all websites you visit. They will be unaware of your location because they can not access it due to the VPN's encryption. This adds a layer of privacy and security around your activities and shields you from any cyberattacks or malware that you may otherwise be left exposed to.
A VPN can protect you even on an insecure public network. You never have to worry about data breaches or privacy infringements when you're connected.
""
Author: Arsalan Rathore
Arsalan Rathore is a tech geek who loves to pen down his thoughts and views on cybersecurity, technology innovation, entertainment, and social issues. He likes sharing his thoughts about the emerging tech trends in the market and also loves discussing online privacy issues.