How to Setup AstrillVPN on Windows
Updated on February 1, 2023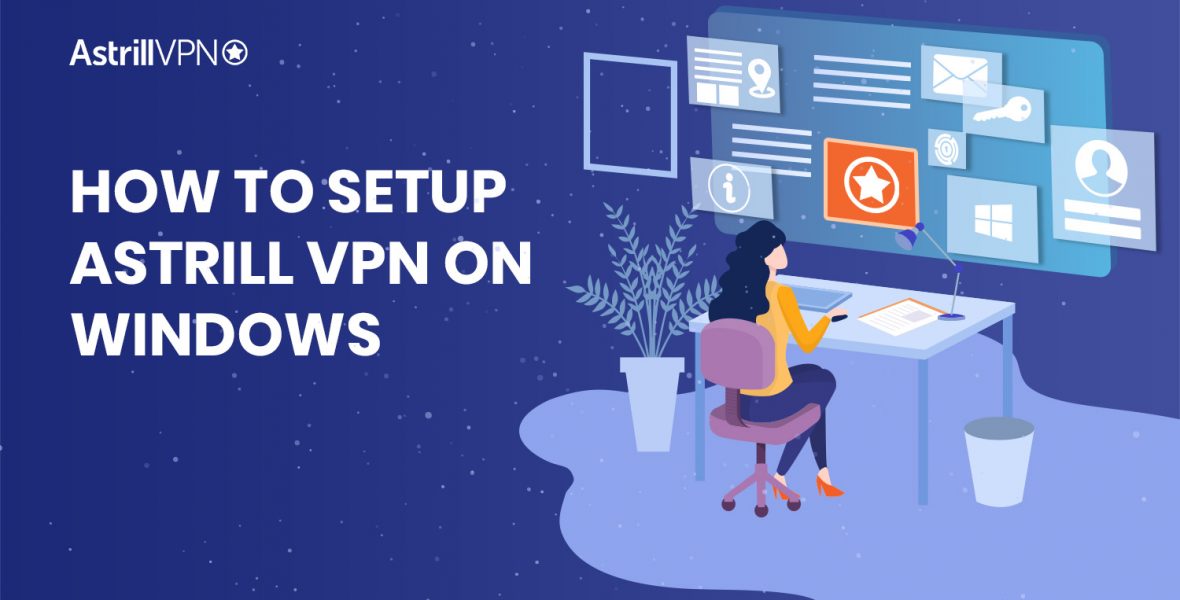 Astrill VPN is an excellent, foolproof, and hackproof protection tool for your online privacy and anonymity on your personal computer. It keeps all your sensitive data encrypted and permits you to access content from anywhere.
Follow this guide thoroughly to learn how to setup AstrillVPN on Windows and get started:
Why Use a VPN on Windows 10?
There are several reasons why you should use a VPN on Windows, like:
To Stay Safe From Prying Eyes
Privacy is a fundamental right for all people. It is easy to use someone's IP address to spy on them. But when we use a VPN, the IP address is hidden, and advertisers, ISPs, website owners, governments, hackers, stalkers, and anyone interested in knowing your data will be oblivious to your identity and location.
They will not be capable of tracing any information coming from your computer. In this day and age, where algorithms are altered based on your data and where user data is sold for malicious deeds, a VPN is crucial.
To Make Remote Working More Secure
Despite the convenience of working remotely, there are still dangers to consider, such as potential invasions of privacy or security when accessing sensitive information online. A Virtual Private Network (VPN) is, without a doubt, the most useful tool available to you (VPN). All data sent and received from your device will be encrypted in this way, making it inaccessible to other parties.
Also, if your organization has an intranet, you can easily and safely connect to the remote server through a VPN. It will encrypt your traffic so that no one can see or intrude when you share your important documents online over the network.
To Bypass ISP Throttling
If someone deliberately slows down your internet connection speed, they are "throttling" your bandwidth. Bandwidth throttling occurs when someone with network admin rights decreases users' access to the full bandwidth of the network. It's a common practice of ISPs worldwide, and a VPN is the best tool for bypassing ISP throttling.
All data sent and received is encrypted by the VPN server and never reaches the user's ISP. Your Internet service provider (ISP) can't legally restrict your connection speeds to any specific website and can't restrict any of your traffic if it doesn't know where it's going.
To Bypass Geo-restrictions
When it comes to online streaming, there are two things that you would notice:
Streaming platforms are themselves geo-restricted: Meaning that they are not available in any other region than their base region.
Being a Windows user, you can easily use a VPN to unblock geo-restricted streaming platforms and content libraries. For example, if you are residing outside of the USA, you will not be able to access HBO Max. However, with the help of a VPN, you can connect to one of its USA servers and access HBO Max from wherever you are.
Many streaming platforms have geo-restricted libraries: There are streaming platforms that do not offer the same content in every region.
The best example of this is Netflix, which has a different library in every region. If you are residing in the UK, you will not be able to stream the content titles available in the American Netflix library. To access those specific content titles, you can connect to an Astrill VPN server in the USA and access the Netflix USA library.
Safety Over Public Wi-Fi
Public wifis are also not secure for many reasons. Windows users are often victims of cyber-criminals who hijack and spy on their connection by accessing their data through public wifi.
Some hackers do this to spread a virus or collect users' data. However, you can protect yourself by having AES 256-bit encrypted windows 10 VPN connection that even expert hackers can't crack. We take our laptops everywhere with us today, so using a VPN on Windows is imperative.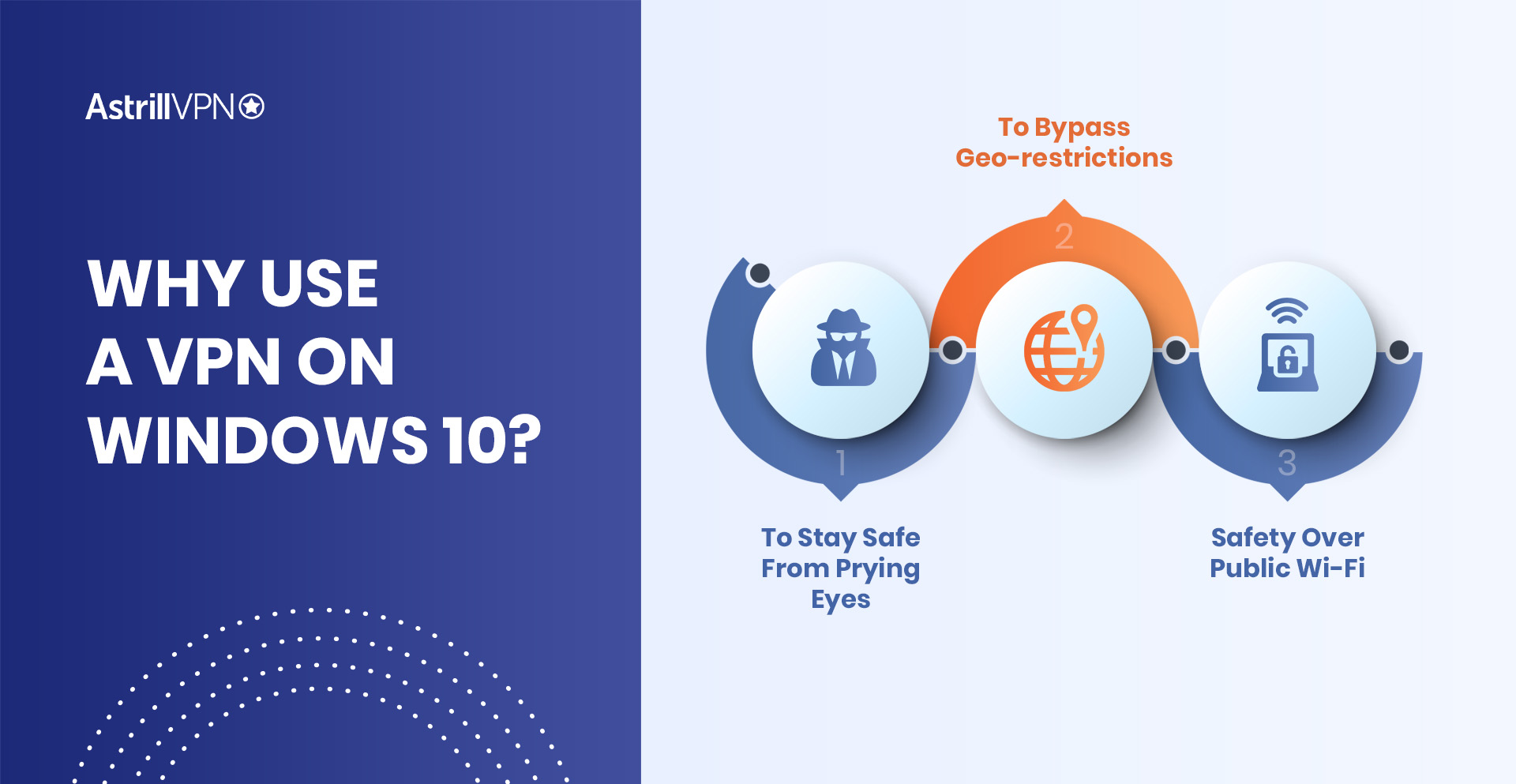 How to Setup AstrillVPN – Desktop Client Method
Step 1 – Choose a Plan
Go to AstrillVPN and select a package that suits your needs.
Step 2 – Register
Now Register for the service by entering a username, your email, and a strong password.
Step 3 – Download Astrill VPN Windows Client
Once you are registered, you will be redirected to the website's downloads page. Download the Windows application from here.
Step 4 – Install Astrill VPN
Now, Install the AstrillVPN windows client.
This process will take less than a minute. You may also need to reboot your computer afterward, which may only take a few extra minutes.
Step 5 – Open the VPN Client
Open the Astrill VPN client after installation.
Step 6 – Using Protocols
For advanced users who wish to curate and personalize their VPN experience, there is an option to choose the best network protocol according to their specific needs. AstrillVPN has multiple protocols, including OpenWeb, OpenVPN, and StealthVPN.
Select the protocol that you want. By default, you will be using the OpenWeb protocol.
Step 7 – and Turn on VPN Connection
Now click the drop-down icon below the connection toggle.
Select any server and then click the toggle button, which will switch from 'Off' to 'On' when the connection is established.
After connecting to your desired server, check your IP and DNS; they should be changed now.
What are the Advantages of Using a VPN on Windows?
Following are some of the advantages of using a VPN on Windows.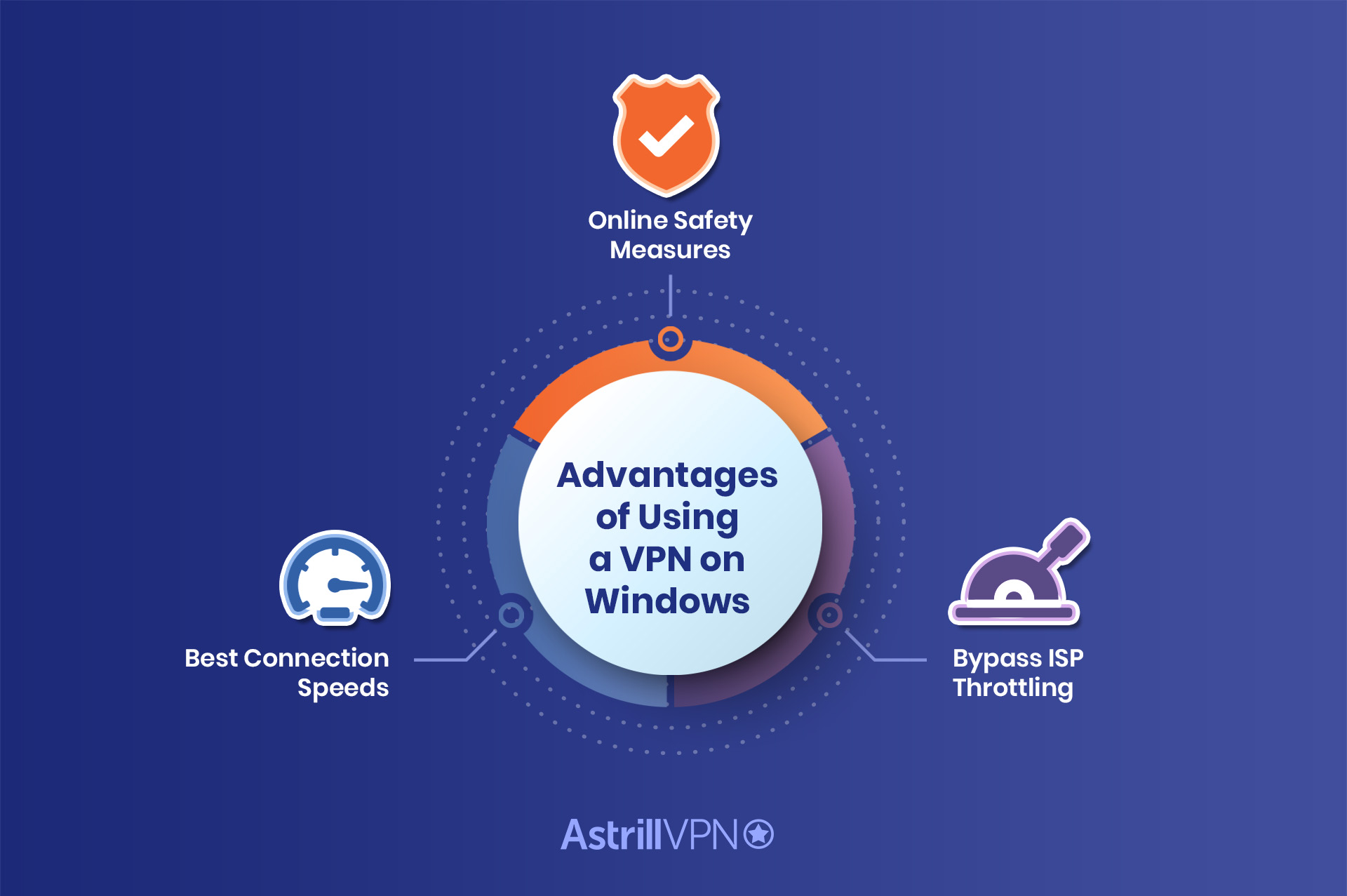 Best Connection Speeds
Astrill VPN can improve connection speeds and performance. If your online activities are bandwidth-heavy, such as torrenting, your internet service provider may be preventing you from using unlimited bandwidth.
Bypass ISP Throttling
Bandwidth throttling is something that almost all ISPs around the world have done. Using Astrill VPN speeds up internet speed and connection because your ISP can't tell what you're doing and, thus, can't throttle your connection.
Online Safety Measures
Many users often wonder if it is necessary to have their VPN available around the clock. If security is your concern, you should have it on whenever you're online.
Without a VPN, your data isn't encrypted, and the sites you visit will track your actual IP address. However, if you are only using a VPN for accessing geo-blocked content, it is okay to disconnect when needed.
How to Setup Astrill VPN – OpenVPN Method
Open the Astrill VPN desktop client.
Click on the drop-down button in the top right corner.
Select OpenVPN from the list.
Select the server you want to connect.
Switch 'On' the connection.
Perform VPN Speed Test
Open the Astrill VPN client and connect to a VPN server.
Visit 'https://www.speedtest.net/' (Speed Test by Ookla) and click GO.
Read the speed test results. You should note down the Download speed, Upload speed, and Ping.
Disconnect from your VPN server and repeat steps 2 and 3.
Compare both results, and you will notice a big difference in numbers. Connecting to a VPN is a better choice.
VPN Protocol Options for Windows
OpenVPN
OpenVPN is an open-source protocol that allows users to access the underlying code. It is a popular protocol that has:
AES-256 bit key encryption
2048-bit RSA authentication
160-bit SHA1 hash algorithm
This is why it is one of the strongest encryptions available. OpenVPN has military-grade encryption, making it a tough job for even expert hackers.
WireGuard
WireGuard is a simple tunneling protocol used to implement VPN techniques across various configurations. It is relatively faster, more efficient, and more secure than existing protocols adopted by standard VPN providers.
Its smaller size and simple architecture enjoy support from developers owing to the ease of peer review and auditing. The small codebase (1% of that of OpenVPN) further ensures better prevention of security attacks.
OpenWeb
OpenWeb looks like HTTP and HTTPS traffic, which is why DPI systems and automated firewalls cannot block it. Unlike protocols like OpenVPN and IPSec, OpenWeb does not require lengthy handshakes. This is why OpenWeb connects instantly to any server without any latency.
Stealth VPN
StealthVPN is a unique and powerful protocol developed by Astrill. It uses RSA-2048 certificates for authentication and AES-256 for encryption. It routes all traffic on your device through a secure VPN tunnel. StealthVPN will automatically reconnect when the connection drops.
You can select which applications or websites you want to protect through a secure tunnel and which ones you want to leave unprotected. It is an excellent option if you are fond of torrenting because it does not leak IP and DNS.
Conclusion
Protecting your online privacy has become a challenge, and in such times, Astrill is providing hassle-free and highly secure service to its users. Windows users can choose from a variety of protocols offered by Astrill to protect their privacy and enjoy unrestricted access to content from wherever they are.
We hope that you have managed to successfully install Astrill on your computer. If you need professional help, please get in touch with our customer support.
""
Author: Arsalan Rathore
Arsalan Rathore is a tech geek who loves to pen down his thoughts and views on cybersecurity, technology innovation, entertainment, and social issues. He likes sharing his thoughts about the emerging tech trends in the market and also loves discussing online privacy issues.