How to Choose a VPN in 2023: Key Factors to Consider
Updated on January 11, 2023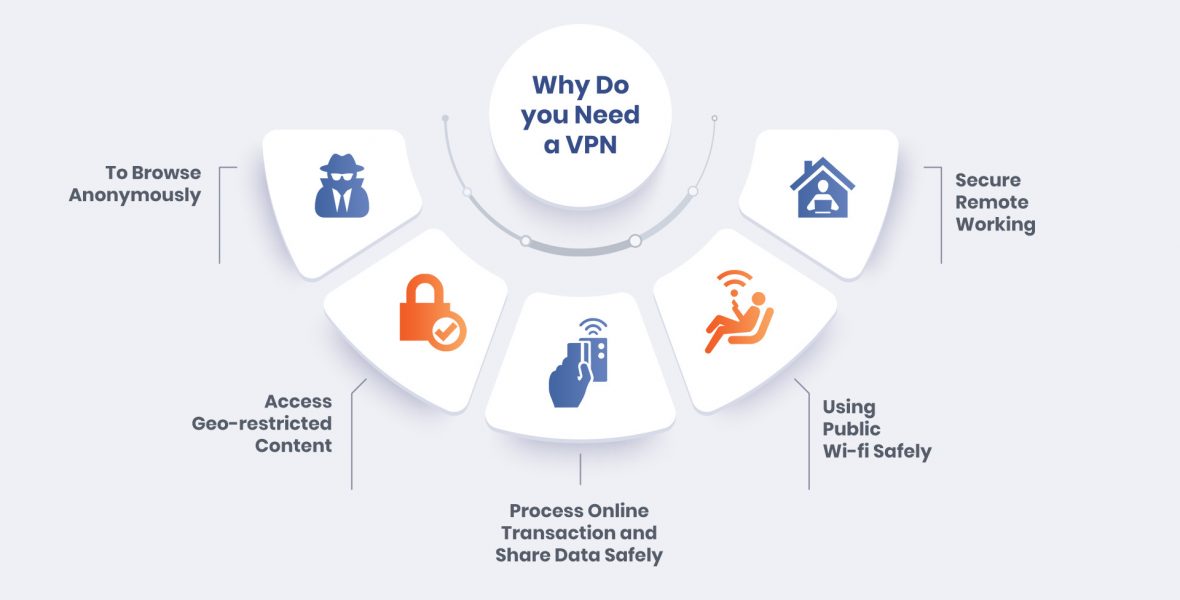 Choosing a VPN is a critical decision that needs to be made carefully! It's not possible to go online without doing research. We value your online privacy and money. We don't want you to be blinded.
When you opt for a VPN, you're taking your privacy seriously. So, you do not want to choose something that looks shiny but is crap in reality. Let's be honest: almost all VPN providers claim to be the best and most secure, but only a few are true to their claims.
Why Do You Need a VPN
The usage of a VPN varies according to the need of the user. Here are a few reasons why you need a VPN:
To Browse Anonymously
Your ISP can track your activity and keep logs of usage. To prevent your ISP from spying on you, use a VPN. A VPN will encrypt your traffic and hide your activity from everyone. Even the best VPNs in the industry will not track your online activity or keep logs.
Access Geo-restricted Content
If you are a cord-cutter or a binge watcher and want to access geo-restricted streaming platforms and content titles, use a VPN. When you use the fastest VPN, it connects you to its secure vpn server from the location you want to access. Thus it enables you to access any geo-restricted website or app.
For example, if you want to access Disney Plus but the service is unavailable in your country, you can use a VPN.
Process Online Transaction and Share Data Safely
A VPN protects your identity and the data you transfer through your connection. It encrypts your traffic and provides you with a secure network for data sharing.
With this secure connection, you can process secure online transactions, as your traffic is not vulnerable. No hackers or spying eyes will be able to access your information.
Using Public Wi-fi Safely
In these modern times, when cyber-threats are increasing daily, using public Wi-Fi has become quite risky. Therefore, use a VPN to protect yourself from any hack attempts because there are hackers who take advantage of unsecured connections over public Wi-Fi.
A VPN will encrypt your traffic and protect you from security breaches or data leaks. Therefore, you will stay safe over public Wi-Fi.
Secure Remote Working
After the Pandemic, the world has switched to remote working, but the challenge of security and access has risen. A VPN is the best solution for remote workers to connect to their official IP address and safely access the official shared network.
For Torrenting
Your internet service provider can easily monitor practically all of your online activity. This means that your personal data could be shared with unrelated parties. One or more of these might be the government or a marketing firm.
If you download and share a torrent file, you risk having your personal information taken without your knowledge and consent. Thus, it is of utmost importance to take measures to guarantee that no one else may access your private information without your knowledge and permission, and using a VPN for torrenting is the only thing that can protect you.
10 Highly Important Factors to Consider before Choosing a VPN
You may be looking for a VPN for online privacy, unblocking geo-restricted content, or using your apps safely over public Wi-Fi. Whatever the reason, if you keep these 10 factors in consideration before choosing a VPN, you will be able to make decisions very quickly.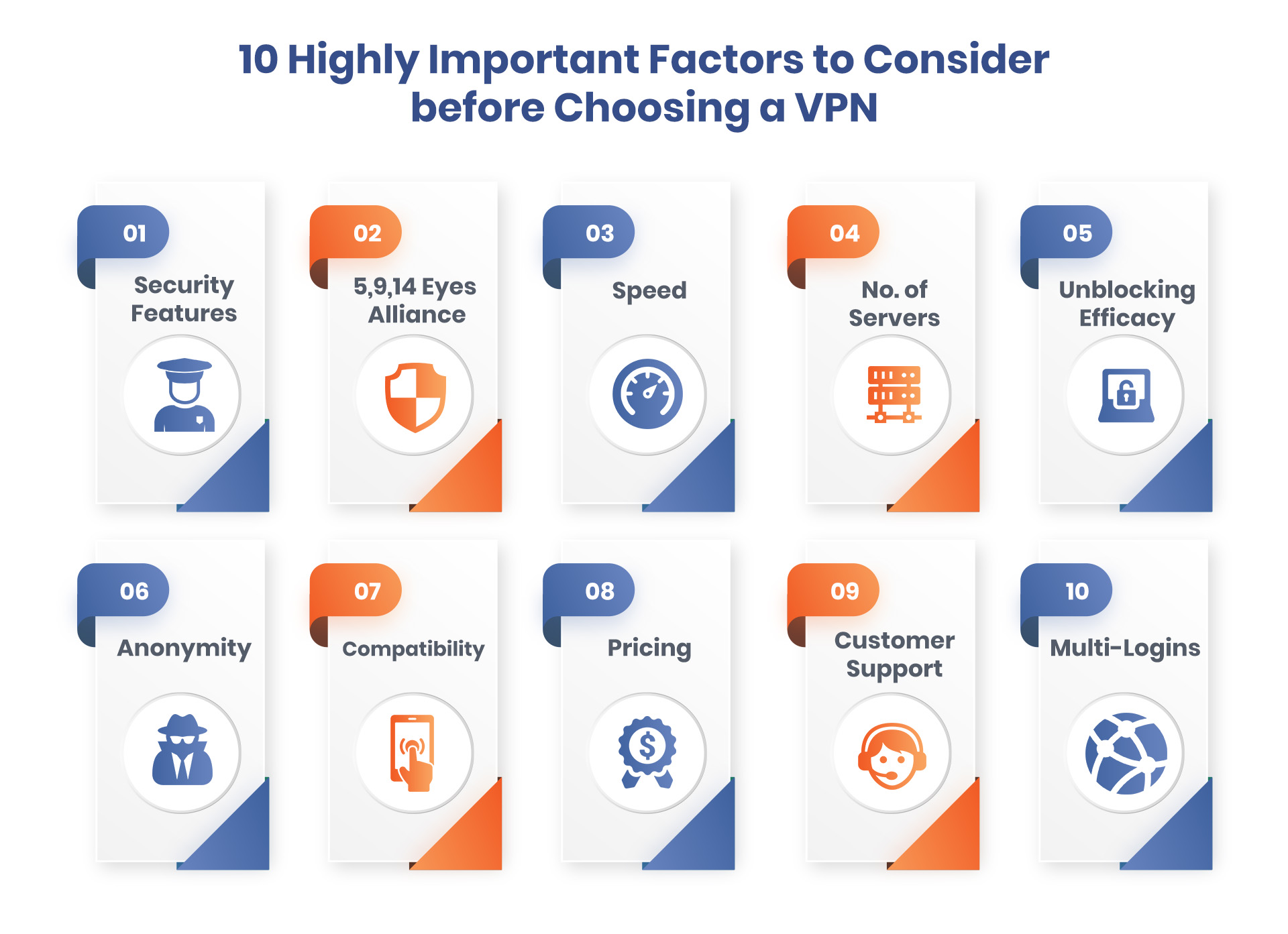 So without further ado, let's dive right into them:
1. Security Features
The primary objective of using a VPN is to be safe and secure over the web. That is why it is essential to look at the security features that a VPN offers. In this matter, the concept of 'the more, the merrier' implies. Here are some of the critical security features that a best VPN provider should have:
Military-grade AES 256-bit encryption
Dedicated IPs
Variety of security protocols e.g. OpenVPN, PPTP, Wireguard, L2TP/ IPSec, IKEv2, SSTP, P2P etc.
Onion over VPN
Kill Switch
Split Tunneling
If a VPN has all of these features, it should be at the top of your list. All of these features are highly important to consider.
2. VPN Jurisdictions (5,9,14 Eyes Alliance)
It is very important to know about the jurisdiction of the VPN before buying it. 5,9,14 alliance means the state intelligence alliance that monitors users' online activity to ensure national security.
We recommend you choose a VPN that does not fall under these alliances. Because the VPN you choose is under the surveillance of any of these alliances, then the chances are that your VPN provider might be providing them the logs of your activity, which means you're not really 'anonymous' over the web.
Here is a quick breakdown of countries in each of the Eyes alliances that are an enemy of the internet:
Five eyes: United States, Canada, United Kingdom, Australia, New Zealand.
Nine Eyes: United States, Canada, United Kingdom, Australia, New Zealand, Denmark, France, Netherlands, Norway.
Fourteen eyes: United States, Canada, United Kingdom, Australia, New Zealand, Denmark, France, Netherlands, Norway, Belgium, Germany, Spain, Italy, and Sweden.
These countries have been going after tech companies and asking them to provide "lawful access" to encrypted user data. Therefore, it's imperative to choose a VPN not located in any of the regions mentioned above.
3. Security Protocols
A VPN security protocol is a set of rules or instructions that determines how your computer (or other devices) will send and receive data while connected to a VPN server. Different VPN protocols serve various objectives and have different ways of working.
You should always opt for the provider with the most secure VPN protocols while searching for a VPN that can secure your online privacy and protect you from hackers and malware.
The following are the most reliable VPN protocols:
WireGuard
IKEv2/IPSec
SSTP
OpenVPN
However, with AstrillVPN, you get almost all these VPN protocols, including two more:
The VPN protocols offered by Astrill are tailored to provide users with the best-in-class protection and security for every purpose.
OpenWeb: Astrill introduced the OpenWeb proprietary protocol in 2009. It uses TCP and has several layers of authentication and encryption for safety. Due to the connectionless nature of the protocol, changing servers takes only a few seconds, even while the VPN is active. It's lightweight and effective even in countries with strict censorship laws.
StealthVPN: It is one of Astrill's most unique protocols. It takes its cue from OpenVPN but adds an extra layer of obfuscation to your data so that it easily slips past firewalls. StealthVPN is reliable and supports both UDP and TCP connections. You can only enjoy the StealthVPN protocol with Astrill.
Wireguard: WireGuard is a VPN protocol that uses modern, powerful cryptography but is incredibly easy to use. The goal is to make IPSec obsolete by being quicker, easier, leaner, and more useful than it currently is. Its goal is to improve OpenVPN's performance.
OpenVPN: OpenVPN is a highly versatile protocol that enjoys widespread platform support. It operates on either the more reliable and stable TCP protocol or the faster UDP protocol. Connecting to OpenVPN and setting up a VPN connection doesn't require proprietary software, as third-party clients can be used instead.
4. Speed
Speed Matters! When you are using a VPN, you're connected to a VPN server, which means you're getting the bandwidth provided by that server. You might face lags if the traffic on that particular server is high, or the server latency might also increase.
Good speed means that:
You connect to the server instantly,
You do not face any lags during content streaming or gaming.
You get unlimited bandwidth.
Therefore, ensure that the VPN you are using provides highly optimized vpn servers.
One of the most important reasons for using a VPN is to bypass throttling. But, if the VPN you are using does not provide you with unlimited bandwidth and great download and upload speed, it's useless.
5. No. of Servers
A VPN having a large number of servers is always great to have.
You can connect to many servers from different locations in a single country and servers from other countries.
This helps you in unblocking geo-restricted content, apps, and services. For example, If you want to unblock an app or a streaming service available in any other region or 'some other regions,' you can use a variety of servers to access it.
Having many servers also helps you if you are traveling abroad. This way, you can use the apps that are not accessible in the region you are traveling to.
6. Unblocking Efficacy
You cannot rely on a VPN that cannot or fails from time to time in unblocking geo-restricted content or geo-blocked apps. Many streaming services have started taking smart measures to block VPN access.
Many VPNs cannot unblock Netflix because of the streaming giant's VPN blocker on its servers. Only a handful of VPNs can bypass its robust security protocol.
Apart from Netflix, streaming platforms like HBO Max, Hulu, and Disney Plus have also got VPN blockers. If you are looking for a VPN that can bypass these streaming platforms, then opt for the ones that are trustable enough.
It is essential to check the efficacy of VPNs in unlocking a service! You will find some VPNs which do unblock these platforms, but partially. Once you access the service through these VPNs and try streaming any content title, the service will instantly block your access.
That is why opt for the best VPN providers only, which can unblock any service or app without a hassle.
7. Anonymity
Your online privacy matters more than anything, so choosing a reliable VPN is important. VPNs ensure anonymity through their strong security protocols and features. Make sure that the VPN you are choosing provides these two things:
A reliable VPN ensures the anonymity of its users by preventing any IP or DNS leaks. When opting for a VPN, check if the VPN has strong encryption and whether there have been any IP and DNS leaks issues with that VPN provider or not.
Choose a VPN that has a strict no-logs policy. Almost all VPNs claim to have a zero-logs policy, but many VPN providers keep users' activity logs. These logs are later sold to data mining companies and authorities, a clear infringement of your privacy.
Therefore, choose a VPN with a proper No-logs audit by an independent firm. At Astrill, we value users' privacy and anonymity, and we have a strict no-logging policy.
8. Compatibility
Another vital thing to look for in a VPN is its compatibility on various devices. Choose a VPN with apps for all the major devices and operating systems like Windows, Linux, macOS, Android, iOS, Firestick and FireTV, Roku, and Routers.
The variety of VPN apps will allow you to stay safe on your other devices. Also, you will be able to stream content on various devices without looking for any workarounds.
9. Pricing
Price is an important aspect when choosing a VPN. There are hundreds of VPNs, and choosing the right VPN isn't easy. Pricing plays an essential part because you have to see what you can afford and what you are getting at the cost you're paying.
Some VPNs charge a hefty price and make big claims, but their service isn't up to the mark. The service should be worth the cost when you're paying for something.
The best VPNs in the industry may seem a little pricy, but they provide excellent service and features. The security protocols, encryption, and parts of a premium VPN guarantee excellent service and top-notch security.
Say No to Free VPNs
Many free VPNs are also available in the industry, but you should not want to use them. There is no such thing as "Free"!
These Free VPNs keep users' logs and sell them to others, which means that your activity information is what they're charging you in reality. That is why we say that there is no such thing as "Free."
Also, Free VPNs have many downsides, like:
Slow speed
Weak security
Limited features
Limited Bandwidth
A Free VPN is useless because it does not provide reliable service and security. These free VPNs also leak IP and DNS, putting your privacy at risk.
Get a Premium VPN like Astrill that ensures you get the proper security, features, and service, justifying your paid amount.
10. Customer Support
You may encounter issues while using a VPN service. These issues may be related to:
Connectivity
Speed
App Installations/ Startup
If you encounter any issues, you should have access to 24/7 chat support. The best VPNs in the industry always make sure that their users do not face any hassle in troubleshooting.
Therefore select a VPN that provides 24/7 customer support so that if you do face any issues, you may be able to have them resolved in time.
11. Multi-Logins
When you are paying for a service, you should be able to share it with your family and friends. Just like Astrill, VPN allows you to connect up to 5 devices simultaneously.
The phrase "sharing is caring"is taken seriously among binge-watchers as they share their streaming accounts. So, if you are also looking for a VPN for online streaming or protecting your family, opt for a VPN that offers a good number of simultaneous connections.
Conclusion
Remember these points when you're looking to buy a VPN service or switch from your current provider. Studying different providers and comparing them can take up some of your time. We hope this guide has given you new ideas in your search for the best VPN.
If you are open to suggestions, why don't we suggest Astrill to you? A superior VPN service! Learn more about us here, or if you are new to VPN, check out our blog for more such helpful tips and articles.
""
Author: Arsalan Rathore
Arsalan Rathore is a tech geek who loves to pen down his thoughts and views on cybersecurity, technology innovation, entertainment, and social issues. He likes sharing his thoughts about the emerging tech trends in the market and also loves discussing online privacy issues.