The Best Search Engines for Maintaining Online Privacy
Updated on November 11, 2022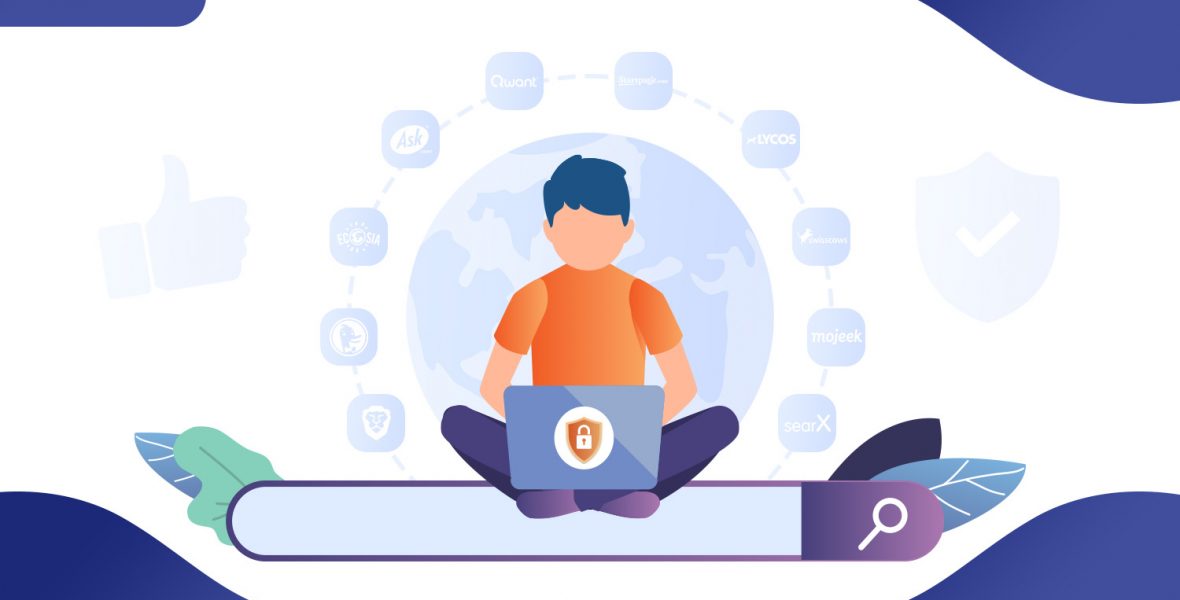 The last time you needed to find something online, you probably used Google, like 80% of other people. With its extensive suite of useful products, Google has become nearly indispensable. However, as more and more of your digital actions are recorded, you surrender an increasing amount of personal agency.
There are many options available to anyone looking to switch away from Google's monopoly on the market share of search engines. But why use them?
Why should you use a private search engine?
The likes of Google, Yahoo, and Bing collect a wide variety of information on their users, including their IP addresses, browser types, unique identifiers (stored in cookies), and search queries. These businesses can learn more about your "user behavior," provide you with more relevant advertisements and even keep tabs on you thanks to this information.
According to the General Data Protection Regulation enacted in various countries, both metadata and your IP address are considered personally identifying information. Therefore, companies must provide you the option to withhold this information or be clear about the data they gather in order to comply with GDPR.
Search engines may still track your online activities and modify your user profile even if you're using a virtual private network (VPN). This occurs when you use Google Search while also being signed into your Google account. For this reason, it's recommended to utilize a virtual private network (VPN) in conjunction with a private search engine.
How to Select the best private search engine
If you want to select the best search engine for privacy and security online activities, dig deeper to find the answers to the following question.
Where to find the best alternatives?
What makes the alternative search engine trustworthy?
What makes the alternative search engine sufficiently discreet?
However, AstrillVPN has made the task easier for you, recommending the following alternative search engines for your online privacy and security. With your privacy in mind, AstrillVPN has compared the privacy policies of the 10 most popular search engines. The privacy policies, ad presence, and other privacy-centric features of each search engine are taken into account in the ranking.
The 10 Best Private Search engines
We rarely consider alternatives to popular search engines because they are embedded in our systems. However, these alternate methods can protect your privacy without sacrificing your access to relevant search results. We have compiled a list of the 10 best and most reliable private search engines:
1. DuckDuckGo
If you're concerned about your online anonymity and don't want your every search query recorded, you might want to try DuckDuckGo, a popular search engine. On a daily basis, it processes around 10 million queries. To compile its results, it crawls 400+ sites, including Wikipedia, Bing, Yandex, and Yahoo. The features include:
Interface: Its uncluttered design, few advertisements, and endless scrolling make up a user-friendly interface.
Data Collection: It collects minimal and only non-personal data.
Noteworthy services: It offers TOR and Onion services.
Bang feature: It allows you to bypass the homepage entirely and go straight to the content on other sites by prefixing your search with an exclamation mark. For example, typing "!eBay magic gathering" would directly take you to eBay's search results for the query "magic gathering."
1: If you use Chrome, you can add the DuckDuckGo plugin to your browser to learn how "private" the sites you visit actually are. The extension also keeps your activity private whenever you are using Chrome.
2. Qwant
Qwant is a French Search engine that doesn't track users without their knowledge or consent. Therefore, it can't be used in targeted advertising. Qwant also guarantees that its customers won't get trapped in a "filter bubble," where they only ever see material that agrees with their preconceived notions because their search results are tailored to their individual habits and preferences.
Interface: The engine is straightforward, with results split up into Web, News, and Social Media tabs. The front page features breaking news, popular profiles, upcoming events, and other noteworthy content.
Quick Search Function: If you type a "&" in front of the name of a website (or a special shortcode), you'll be taken directly to search results on the target website. For an instant, for results from Wikipedia, you can use the shortcut "&w" or "&wikipedia" in Qwant.
Dedicated music section: You may use the built-in AI to look up song lyrics or find new artists in a special music section.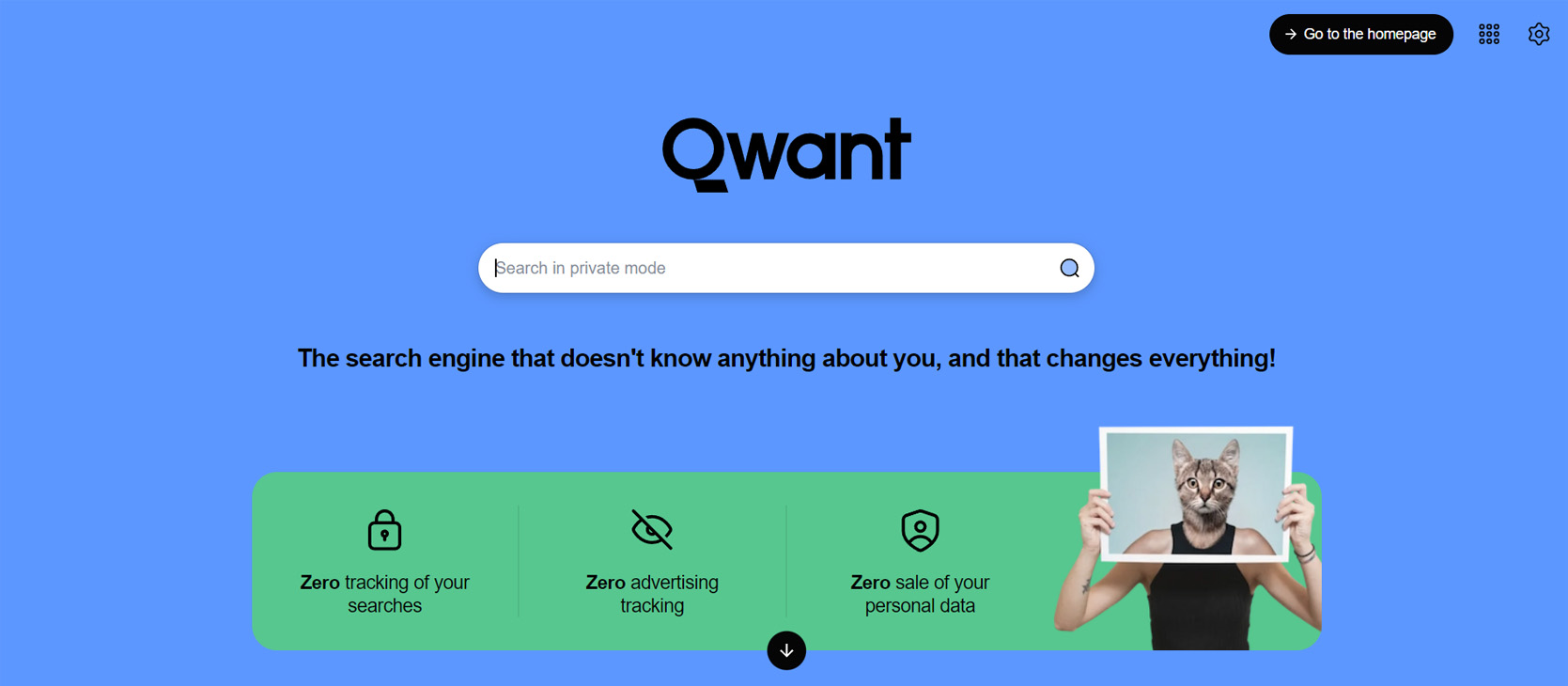 3. Startpage
Search engines like this one are a good substitute for VPNs. The following three features make StartPage stands out from the crowd:
This search engine from the Netherlands is a strong contender to Google. Neither user activity nor search terms are recorded or shared with Google or any other third party. You can search for movies and images with StartPage's extensive filtering options. It can also be downloaded as an extension for Chrome and Firefox.
Interface: Everything is displayed in a sleek, minimalist interface that can be customized with several themes, such as Night Mode, for an exceptionally practical user experience.
HTTPS support: With this support, only secure websites will be returned in your search results.
URL generator: It eliminates the cookies requirement.
Proxy server: Protect your online anonymity by using a proxy server that conceals both your IP address and geographic location.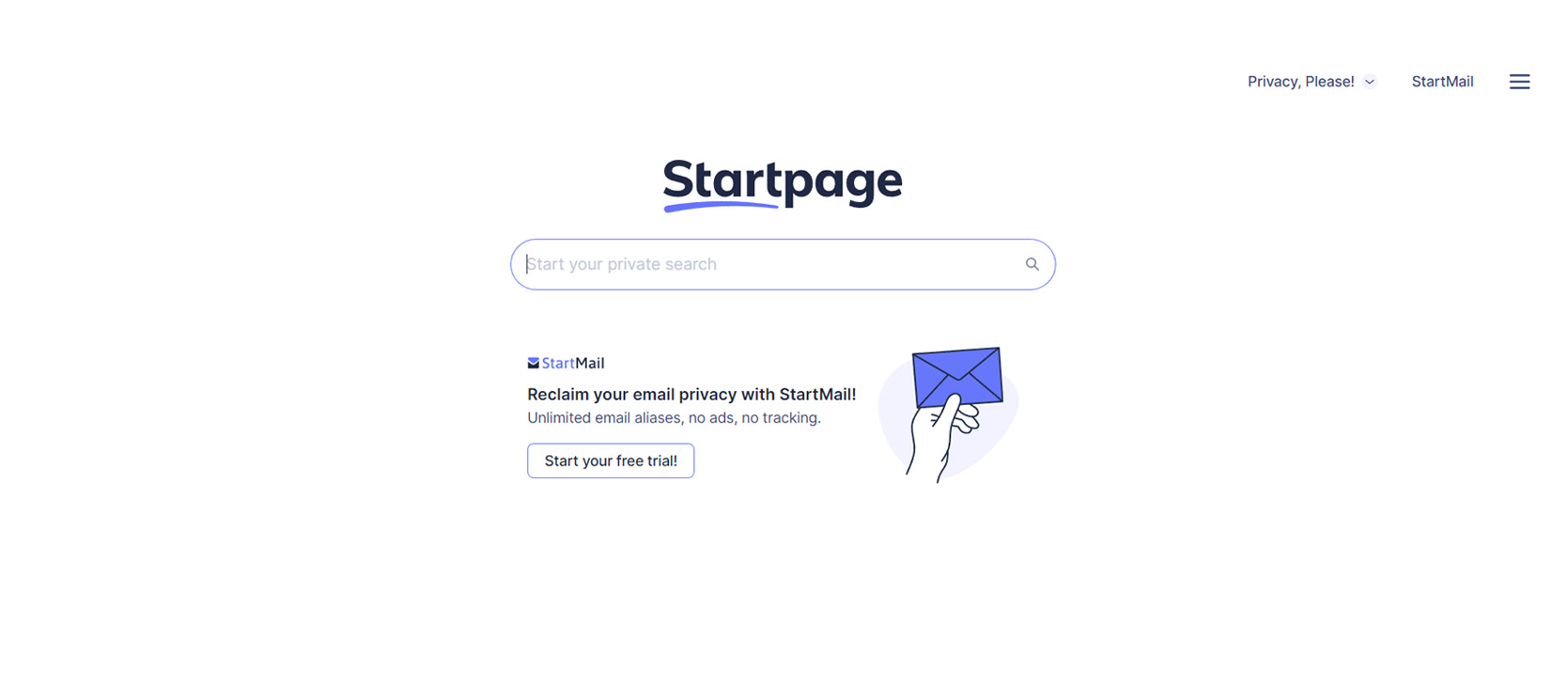 4. Ecosia
Ecosia safeguards the personal information of its users while simultaneously preserving forests around the world. It's a green web browser that gives 80 percent of its proceeds to tree-planting charities. On a rough estimate, about 45 searches construct a single tree on average. In addition, the business is carbon-neutral and promotes itself as a social enterprise.
Eco-friendly: It is sustainability-focused and environmentally friendly. More than 134 million trees have been planted thanks due to Ecosia's efforts.
Encrypted search: Thanks to this addition, the search engine may function without storing or selling users' personal information. However, neither does it employ external tracking techniques to analyze consumers' search habits internally.
Non-intrusive: Ecosia is supported by the non-intrusive advertisements displayed alongside the search results.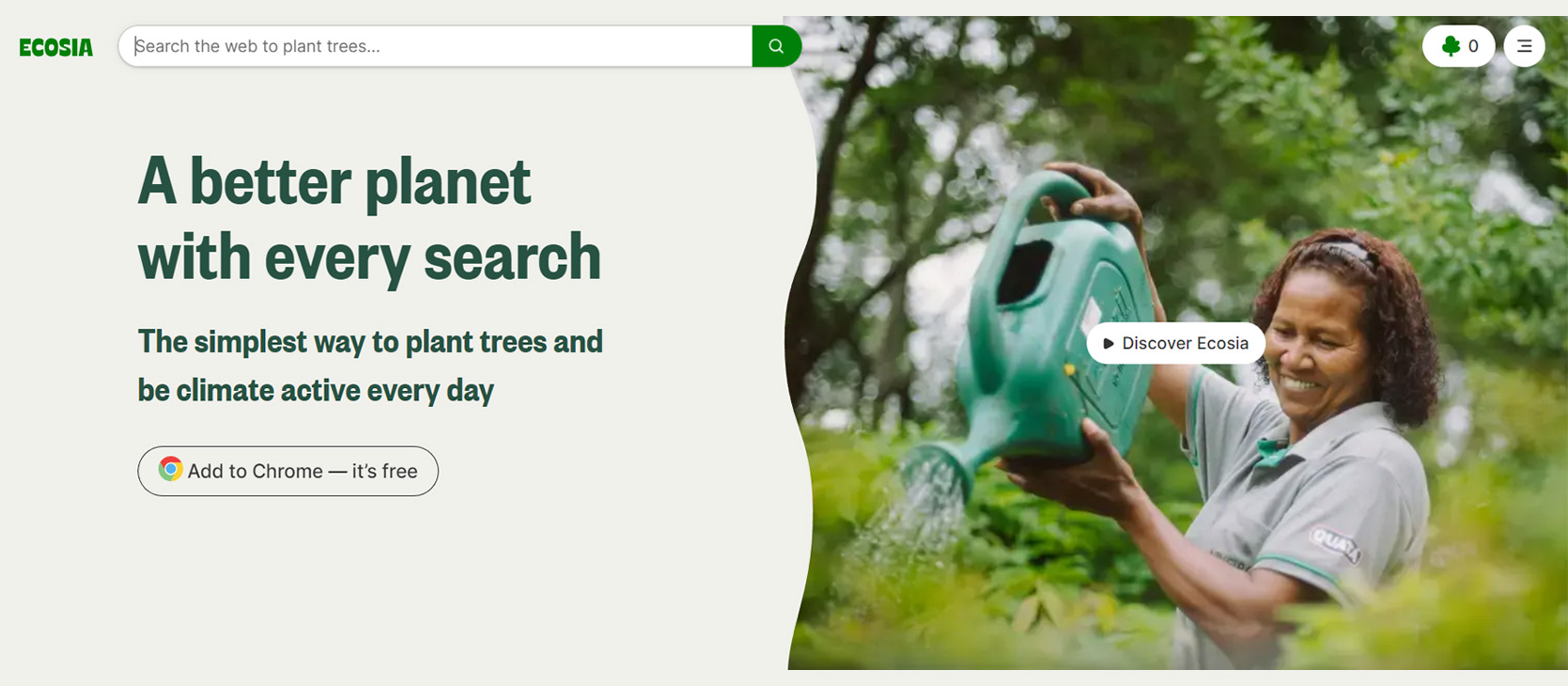 5. Mojeek
Mojeek is an independent crawler-based search engine. It generates its own index of webpages through a process known as "crawling the web," which it then uses to return search results. This means you can discard any external algorithms and rely solely on your findings.
Even while Mojeek's index is much smaller than Google's, it nevertheless offers a unique chance to view the web without any restrictions.
Eco-friendly: It places its servers in one of the UK's greenest data centers, operated by Custodian.
Emotion-based search: Mojeek also lets you conduct a search depending on the emotion you're feeling, selecting from a drop-down menu of options.
No cookies required: According to its policy on user privacy, Mojeek does not: automatically accept cookies (but will ask for permission if necessary).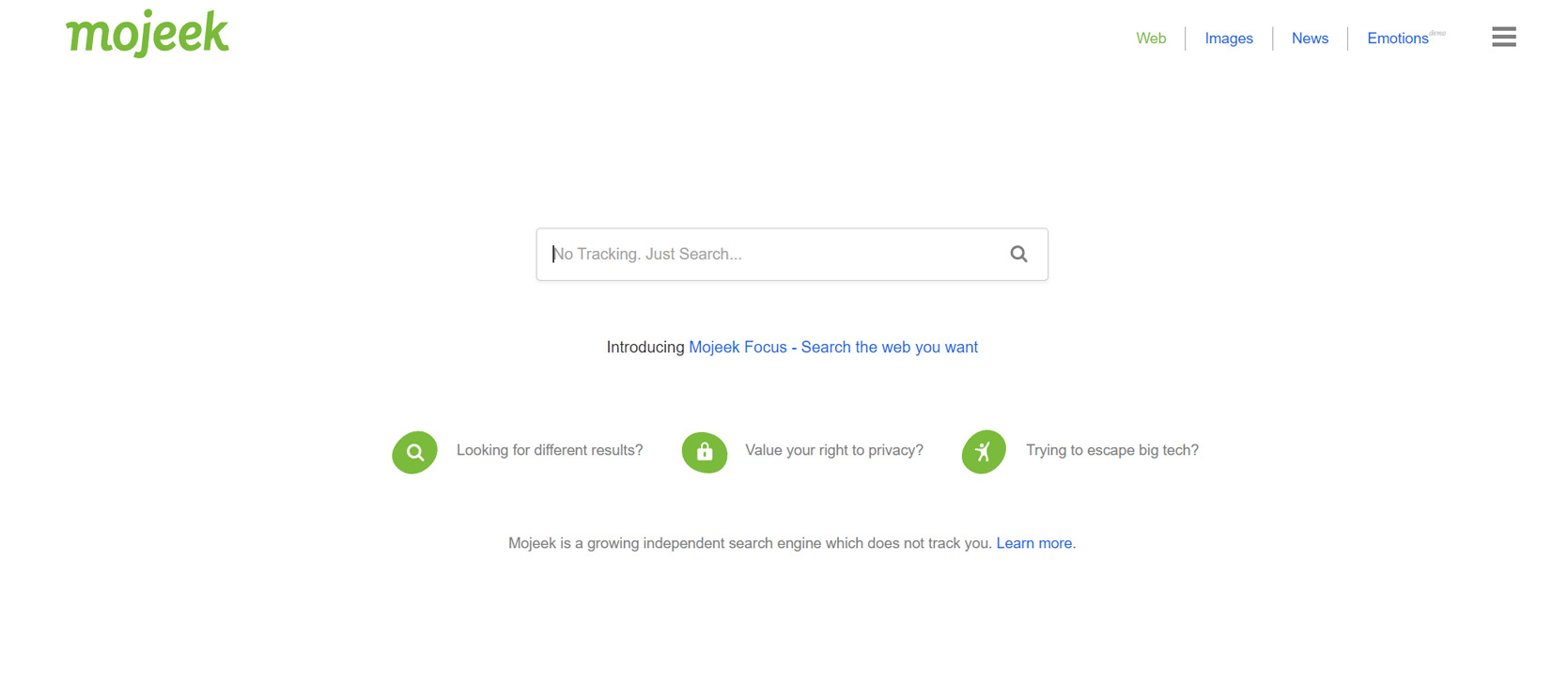 6. Lycos
Like many other search engines, Lycos collects a lot of information about you, including your IP address, browser type, and operating system. It specifically states that "aggregate search phrases" are collected, which may indicate that your IP address is not associated with your specific search queries.
Data collection: The scope of data collection is large.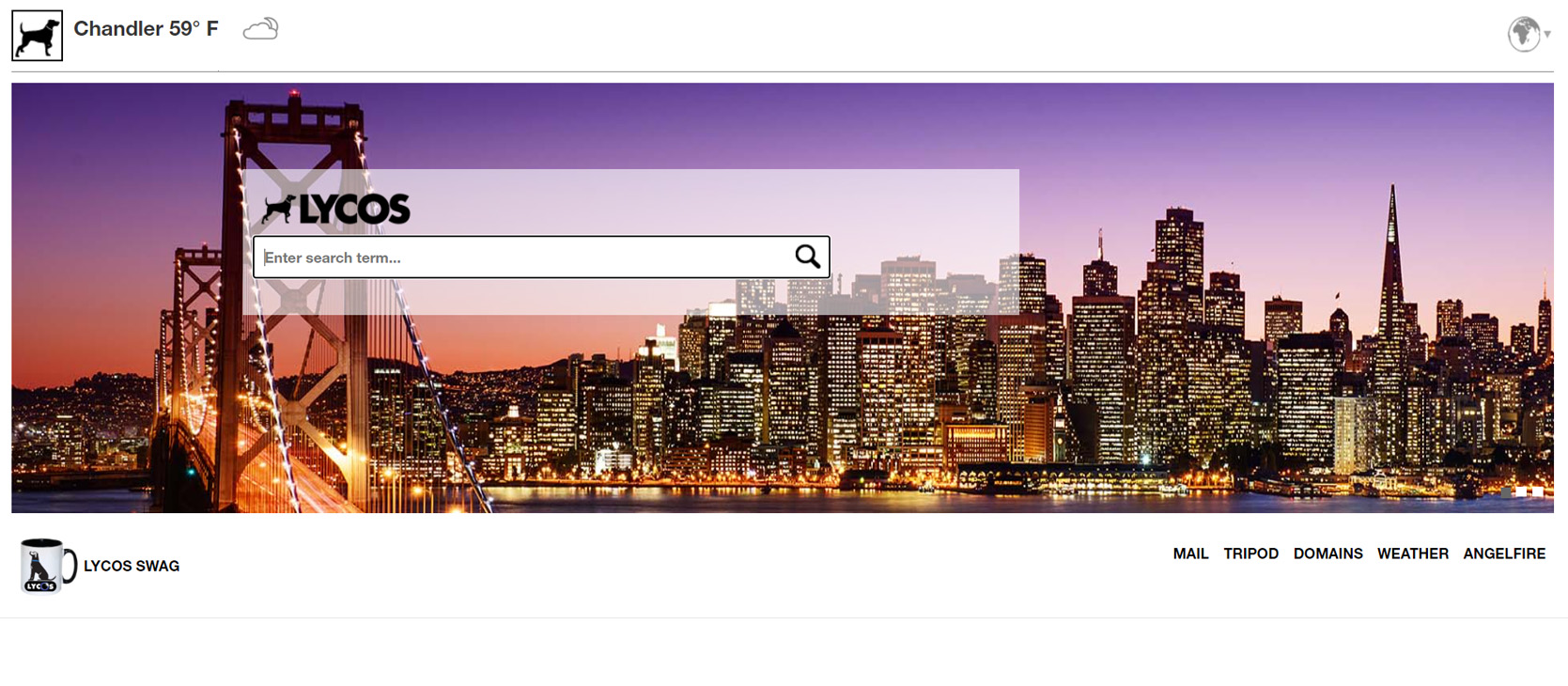 7. Swisscows
Swisscows search engine is a wonderful choice if you're looking for a secure and kid-friendly web browser. It doesn't keep any of your information and filters out adult content, making it suitable for use by the whole family.
Children-appropriate: Its built-in filter for pornography and violence cannot be disabled, making it a favorite among parents who want to ensure their children have a safe search experience.
Semantic map: It employs data pools to swiftly and efficiently create responses to search queries and semantic information recognition to deliver intuitive results. The revolutionary semantic map displays more popular or relevant inquiries, providing you with more data.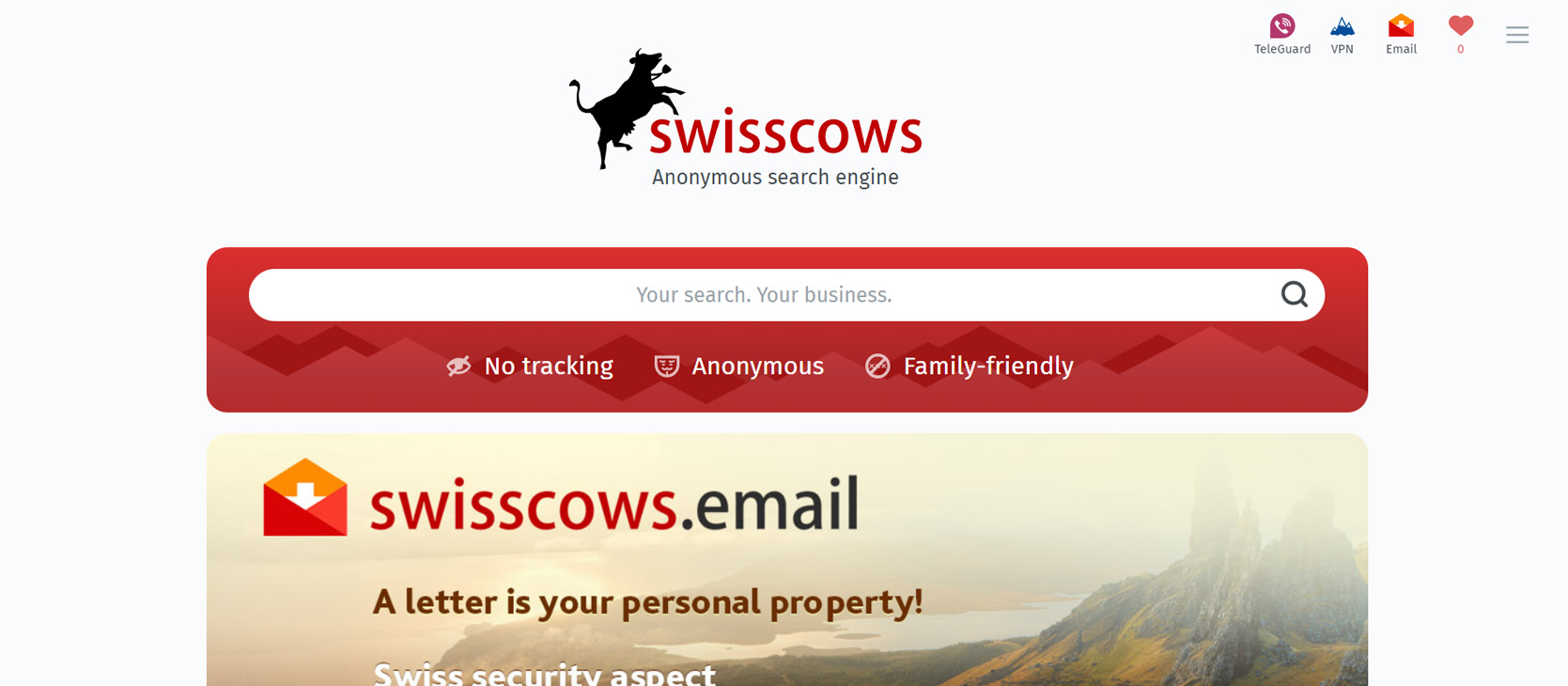 8. SearX
In terms of privacy, Searx is a free, user-friendly metasearch engine. User's IP addresses and search histories are not transmitted to the underlying search engines. Additionally, Searx protects from malicious scripts, graphics, and HTTPS headers that may be used for tracking purposes. It also stops search results from being tailored to your previous queries. It is helpful if you'd rather not have your online activity monitored.
Open-source: It's an open-source search engine that is available to everyone for a source code review and contributions on GitHub. There's even the option to customize and host it on your server as your own search engine.
Cached and Proxied links: Unlike Google, Searx does not make use of the monitored redirect URLs. It also allows you to view websites without actually visiting them by making use of cached and proxied links. With this method, you won't have to worry about inadvertently accessing harmful websites.
Settings and preferences: SearX is a powerful search engine with a plethora of customization options that make it easy to narrow your search and return just the most relevant results.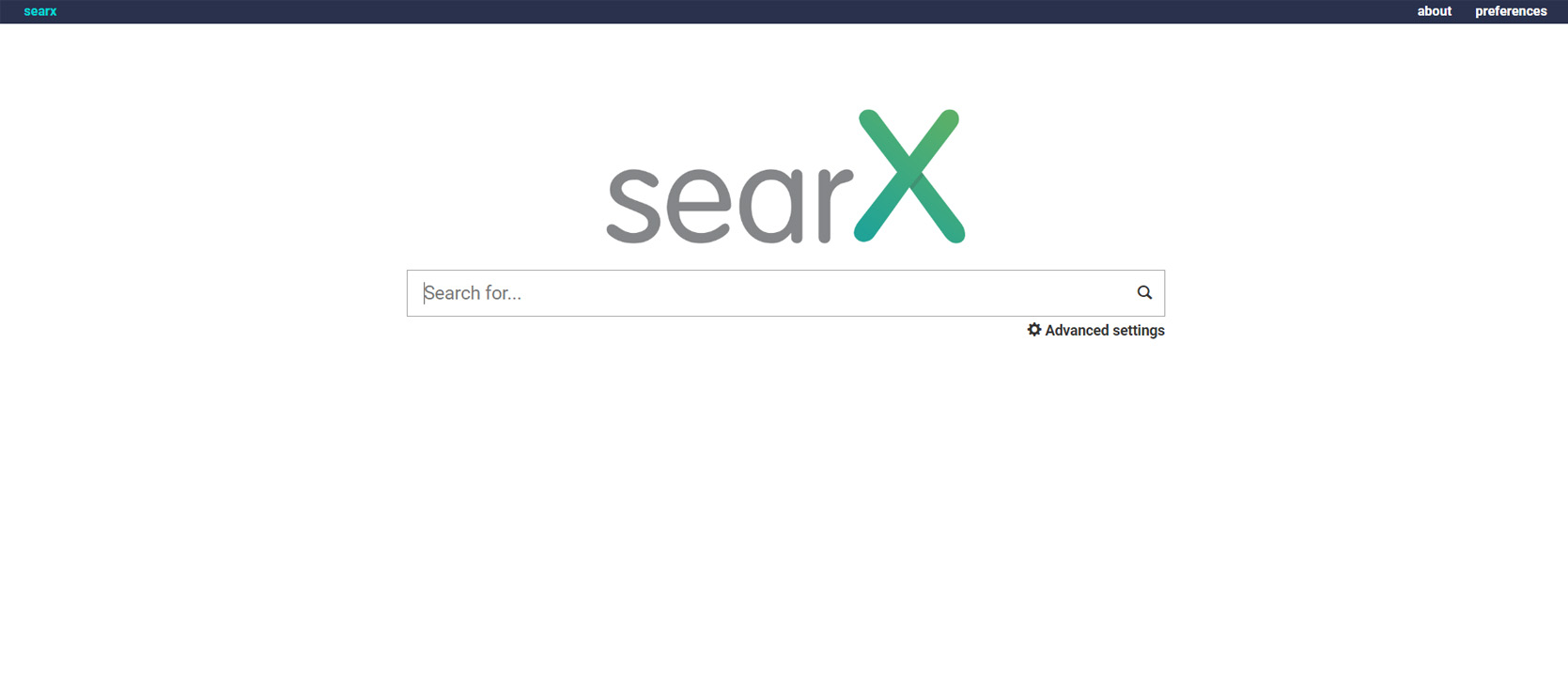 9. Ask
This search engine has been around for 25 years and was formerly known as Ask Jeeves. It used to be a popular destination, but now it's far behind the other question-and-answer sites and even pure search engines in terms of traffic. However, it has its own perks:
User-friendly: The question-and-answer structure makes it possible to conduct queries in natural language. This makes it a great option for people who aren't as tech-savvy as others. Such as senior computer users who may not have used a search engine before.
Frequently-asked questions: Frequently-asked questions (FAQs) are displayed in the search results if they are relevant to your search phrase. These FAQs can be useful tools and lead you in the right direction.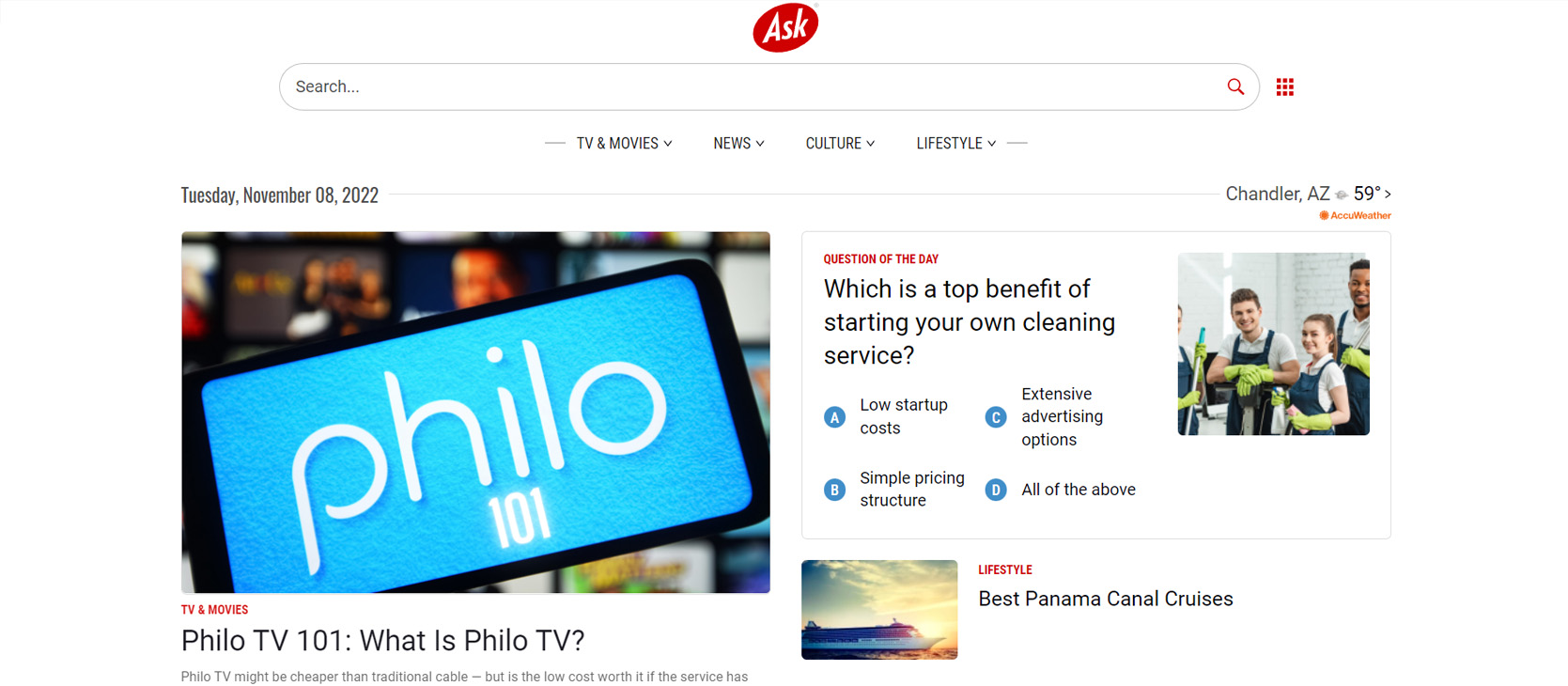 10. Brave
Brave, created by Brave Software, Inc., is an open-source browser derived from Chromium that is both free and available to the public. Brave is a browser that prioritizes privacy by disabling tracking cookies and adverts by default. Some beneficial features are:
SugarCoat: A tool integrated into Brave since the fourth quarter of 2021 that automatically replaces tracking libraries with a spoofed, privacy-preserving replacement to increase site compatibility with adblocking scripts.
BAT benefits: Moreover, it allows users to enable optional ads that pay them in Basic Attention Tokens (BAT) in exchange for their attention.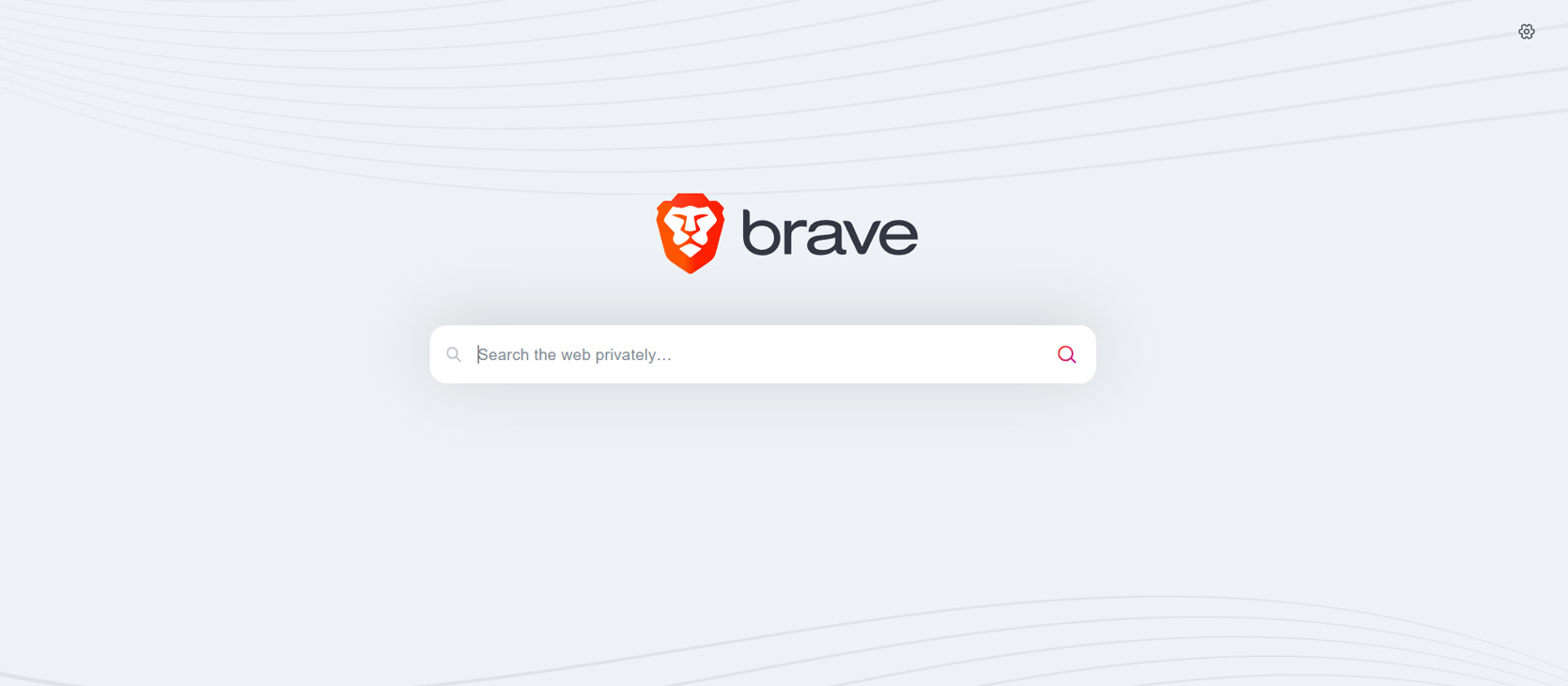 Are private search engines better than a VPN?
Protecting your privacy online requires a combination of measures. To ensure your privacy, you should utilize both a private search engine and a virtual private network (VPN). Most search engines will transmit the search terms you enter to the destination site. Signing in to a website collects information about you, including your IP address, device type, and sometimes other data.
This is a form of information leakage that many private search engines will shield you against. A virtual private network (VPN) adds to this security by masking your IP address, encrypting your data, and, in the case of AstrillVPN, scanning it for malicious software.
Conclusion
Encrypted search engines that does not track the data of its users and returns search results with additional protection and degrees of data privacy is referred to as a private search engine.
The search engine's economic model is directly related to the level of privacy it offers. Search engines that are not privately owned generate revenue through the targeting of advertisements and the sharing of users' data with other parties.
Private search engines will not track you or collect any information from you. Instead, they offer you more objective findings, which are not influenced in any way by their marketing techniques, and they reduce the amount of your digital footprint.
The current article list contains the most privacy-friendly search engines you can use in combination with AstrillVPN for more secure and private browsing.
""
Author: Arsalan Rathore
Arsalan Rathore is a tech geek who loves to pen down his thoughts and views on cybersecurity, technology innovation, entertainment, and social issues. He likes sharing his thoughts about the emerging tech trends in the market and also loves discussing online privacy issues.